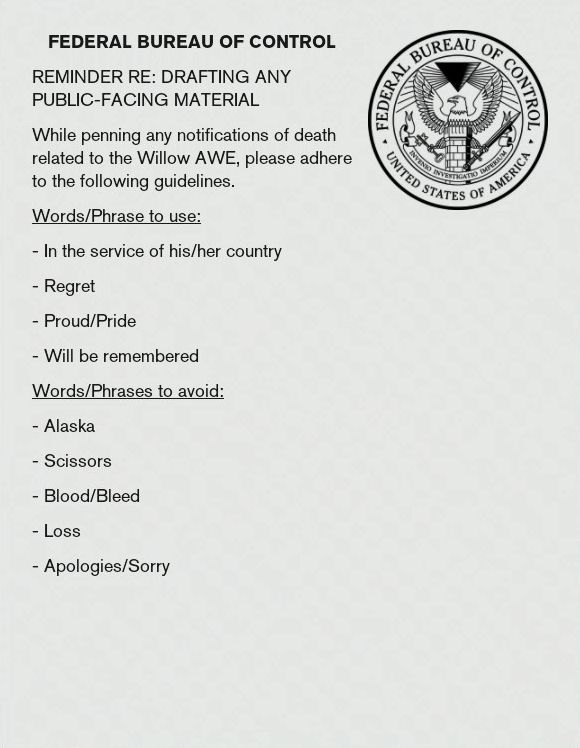 FEDERAL BUREAU OF CONTROL
REMINDER RE: DRAFTING ANY PUBLIC-FACING MATERIAL
While penning any notifications of death related to the Willow AWE, please adhere to the following guidelines.
Words/Phrase to use:
- In the service of his/her country
- Regret
- Proud/Pride
- Will be remembered
Words/Phrases to avoid:
- Alaska
- Scissors
- Blood/Bleed
- Loss
- Apologies/Sorry

I'll be honest: I have no clue about any of the redactions here and can't imagine we'll ever figure them out.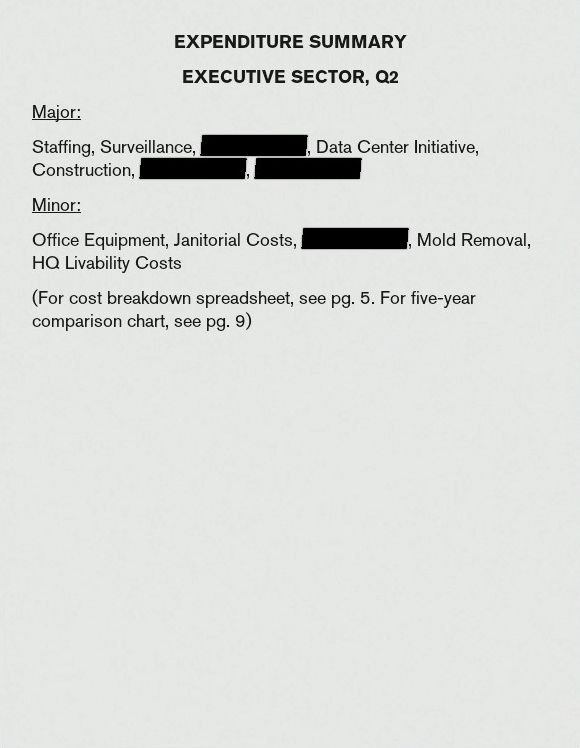 COMPILED BY
FBC Accounting Dept.
BY ORDER OF
Director Zachariah Trench

EXPENDITURE SUMMARY
EXECUTIVE SECTOR, Q2
Major:
Staffing, Surveillance,

P6 Security?

, Data Center Initiative, Construction,

Black Rock Mining?

,

HRA Production?


Minor:
Office Equipment, Janitorial Costs,

Video Production?

, Mold Removal, HQ Livability Costs

(For cost breakdown spreadsheet, see pg. 5. For five-year comparison chart, see pg. 9)

I mostly don't know why parts of this were redacted and took my best guess from the information I assume would be classified.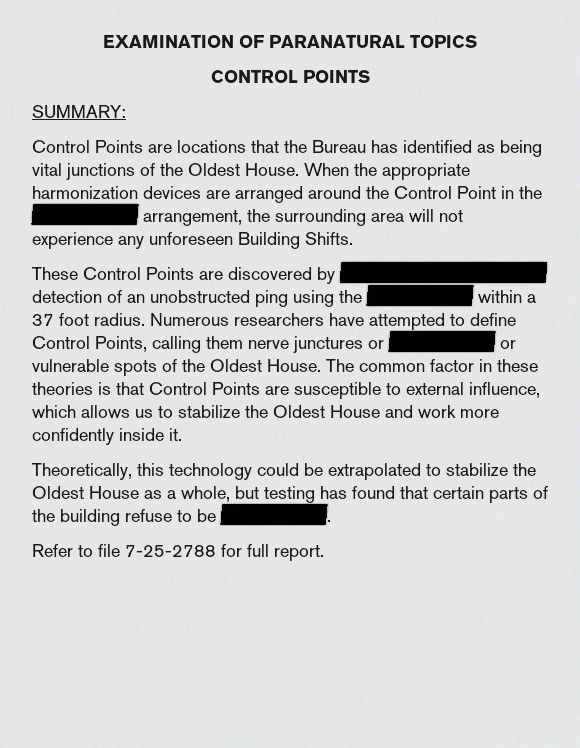 COMPILED BY
Paula Bronte and Lorenzo Dunne, Researchers
BY ORDER OF
Emily Pope, Research Specialist

EXAMINATION OF PARANATURAL TOPICS
CONTROL POINTS
SUMMARY:
Control Points are locations that the Bureau has identified as being vital junctions of the Oldest House. When the appropriate harmonization devices are arranged around the Control Point in the

circular?

arrangement, the surrounding area will not experience any unforeseen Building Shifts.
These Control Points are discovered by

Hedron Resonance Amplifier

detection of an unobstructed ping using the

Black Rock receptors?

within a 37 foot radius. Numerous researchers have attempted to define Control Points, calling them nerve junctures or

rooted points

or vulnerable spots of the Oldest House. The common factor in these theories is that Control Points are susceptible to external influence, which allows us to stabilize the Oldest House and work more confidently inside it.
Theoretically, this technology could be extrapolated to stabilize the Oldest House as a whole, but testing has found that certain parts of the building refuse to be

plotted on maps? constrained to a fixed shape?

.
Refer to file 7-25-2788 for full report.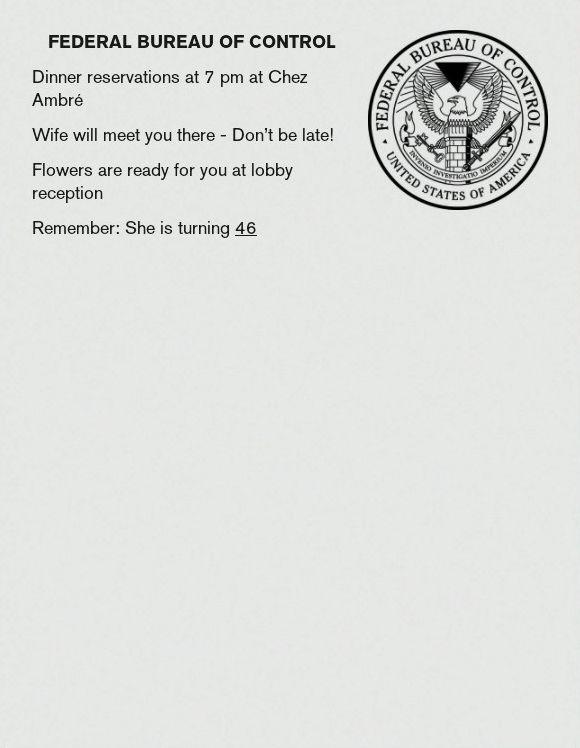 FEDERAL BUREAU OF CONTROL
Dinner reservations at 7 pm at Chez Ambré
Wife will meet you there - Don't be late!
Flowers are ready for you at lobby reception
Remember: She is turning 46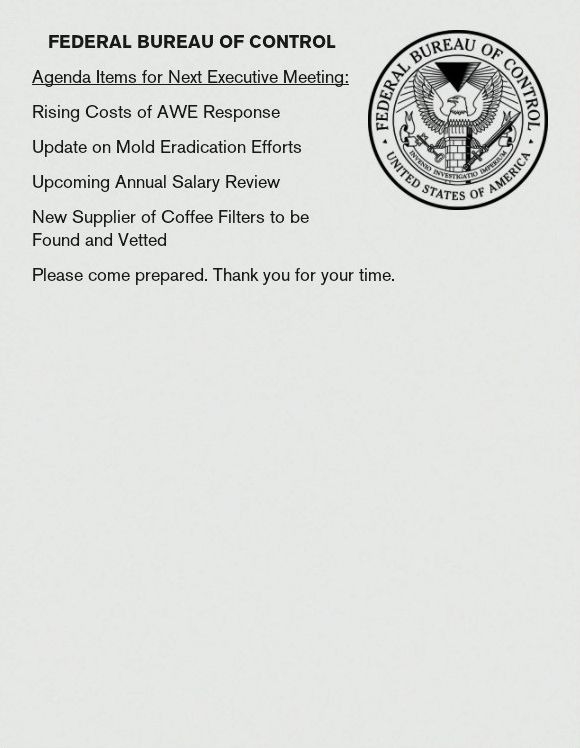 TO
Executive Staff
FROM
ADMIN
SUBJECT
Meeting Agenda

FEDERAL BUREAU OF CONTROL
Agenda Items for Next Executive Meeting:
Rising Costs of AWE Response
Update on Mold Eradication Efforts
Upcoming Annual Salary Review
New Supplier of Coffee Filters to be Found and Vetted
Please come prepared. Thank you for your time.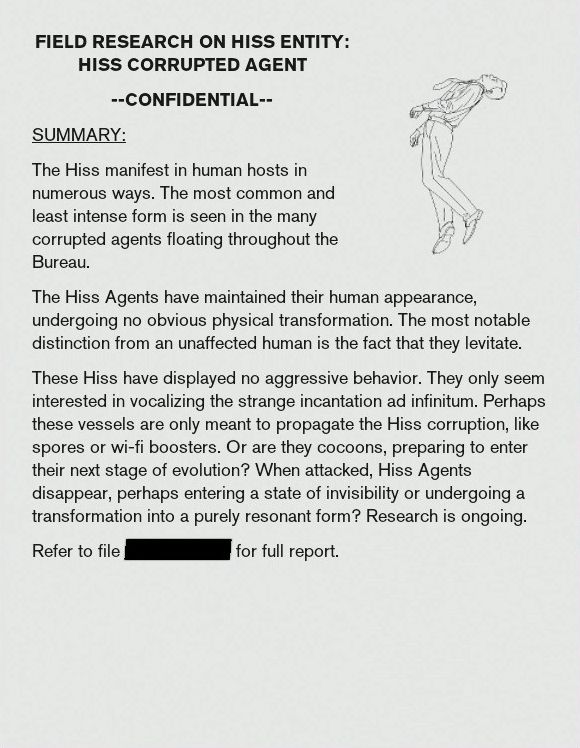 COMPILED BY
Emily Pope, Research Specialist
BY ORDER OF
Director Jesse Faden

FIELD RESEARCH ON HISS ENTITY:
HISS CORRUPTED AGENT
--CONFIDENTIAL--
SUMMARY:
The Hiss manifest in human hosts in numerous ways. The most common and least intense form is seen in the many corrupted agents floating throughout the Bureau.
The Hiss Agents have maintained their human appearance, undergoing no obvious physical transformation. The most notable distinction from an unaffected human is the fact that they levitate. These Hiss have displayed no aggressive behavior. They only seem interested in vocalizing the strange incantation ad infinitum. Perhaps these vessels are only meant to propagate the Hiss corruption, like spores or wi-fi boosters. Or are they cocoons, preparing to enter their next stage of evolution? When attacked, Hiss Agents disappear, perhaps entering a state of invisibility or undergoing a transformation into a purely resonant form? Research is ongoing.
Refer to file

some number

for full report.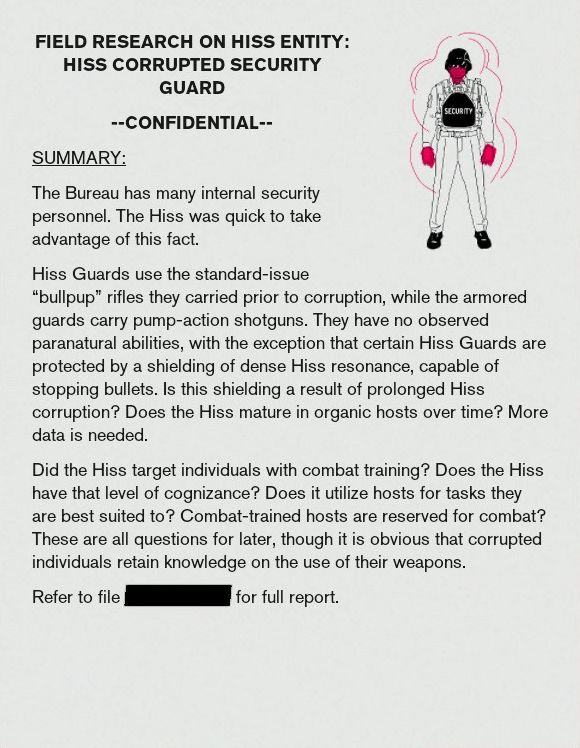 COMPlLED BY
Emily Pope, Research Specialist
BY ORDER OF
Director Jesse Faden

FIELD RESEARCH ON HISS ENTITY:
HISS CORRUPTED SECURITY GUARD
--CONFIDENTIAL--
SUMMARY:
The Bureau has many internal security personnel. The Hiss was quick to take advantage of this fact.
Hiss Guards use the standard-issue "bullpup" rifles they carried prior to corruption, while the armored guards carry pump-action shotguns. They have no observed paranatural abilities, with the exception that certain Hiss Guards are protected by a shielding of dense Hiss resonance, capable of stopping bullets. Is this shielding a result of prolonged Hiss corruption? Does the Hiss mature in organic hosts over time? More data is needed.
Did the Hiss target individuals with combat training? Does the Hiss have that level of cognizance? Does it utilize hosts for tasks they are best suited to? Combat-trained hosts are reserved for combat? These are all questions for later, though it is obvious that corrupted individuals retain knowledge on the use of their weapons.
Refer to file

some number

for full report.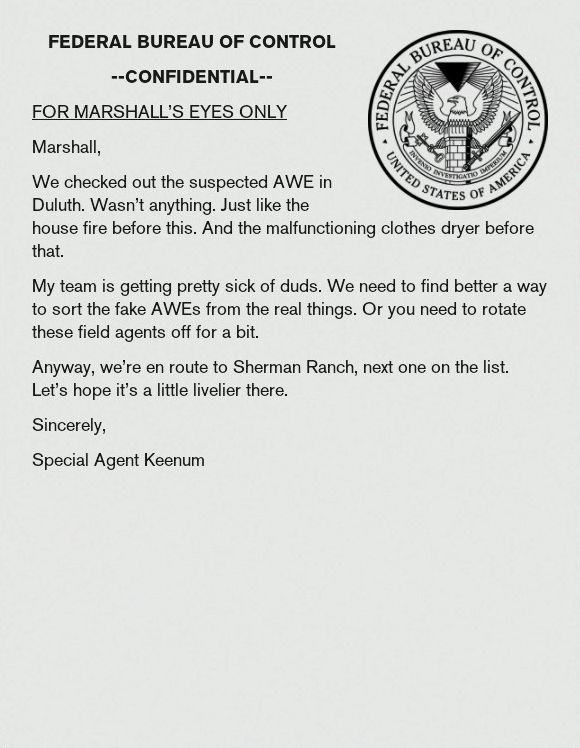 TO
H. Marshall
FROM
L. Keenum
SUBJECT
Another Dud

FEDERAL BUREAU OF CONTROL
--CONFIDENTIAL--
FOR MARSHALL'S EYES ONLY
Marshall,
We checked out the suspected AWE in Duluth. Wasn't anything. Just like the house fire before this. And the malfunctioning clothes dryer before that.
My team is getting pretty sick of duds. We need to find better a way to sort the fake AWEs from the real things. Or you need to rotate these field agents off for a bit.
Anyway, we're en route to Sherman Ranch, next one on the list. Let's hope it's a little livelier there.
Sincerely,
Special Agent Keenum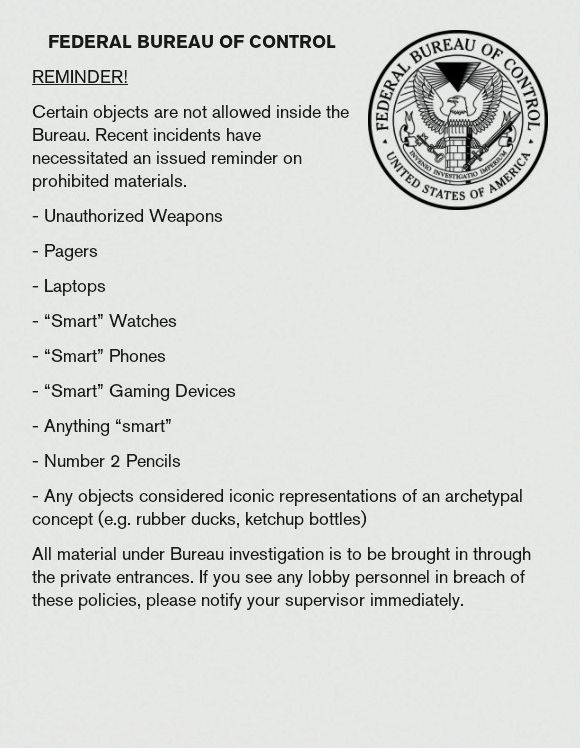 FEDERAL BUREAU OF CONTROL
REMINDER!
Certain objects are not allowed inside the Bureau. Recent incidents have necessitated an issued reminder on prohibited materials.
- Unauthorized Weapons
- Pagers
- Laptops
- "Smart" Watches
- "Smart" Phones
- "Smart" Gaming Devices
- Anything "smart"
- Number 2 Pencils
- Any objects considered iconic representations of an archetypal concept (e.g. rubber ducks, ketchup bottles)
All material under Bureau investigation is to be brought in through the private entrances. If you see any lobby personnel in breach of these policies, please notify your supervisor immediately.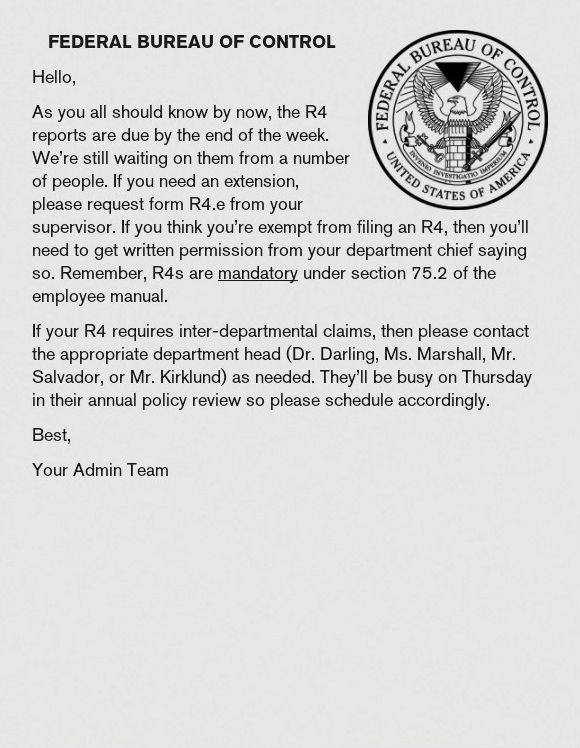 TO
Sector Staff
FROM
ADMIN
SUBJECT
R4 Reports Due Soon

FEDERAL BUREAU OF CONTROL
Hello,
As you all should know by now, the R4 reports are due by the end of the week. We're still waiting on them from a number of people. If you need an extension, please request form R4.e from your supervisor. If you think you're exempt from filing an R4, then you'll need to get written permission from your department chief saying so. Remember, R4s are mandatory under section 75.2 of the employee manual.
If your R4 requires inter-departmental claims, then please contact the appropriate department head (Dr. Darling, Ms. Marshall, Mr. Salvador, or Mr. Kirklund) as needed. They'll be busy on Thursday in their annual policy review so please schedule accordingly.
Best,
Your Admin Team

I'll have to come back to this one later, because I know what incident this is describing but I can't figure out how to make sentences out of the unredacted portions.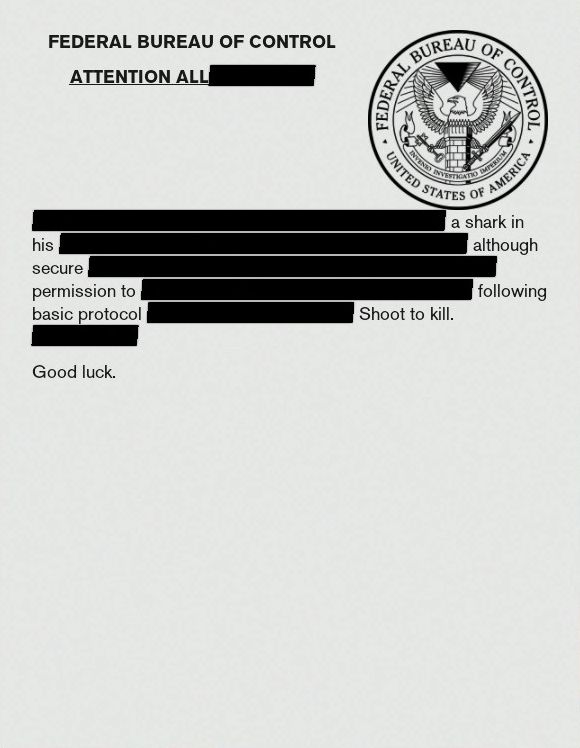 FEDERAL BUREAU OF CONTROL
ATTENTION ALL

RANGERS




Dr. Darling has reported the appearance of

a shark in his

office. The situation is volatile

although secure

and all Ranger personnel are granted

permission to

take any necessary actions

following basic protocol

to contain the animal.

Shoot to kill.

Protect secrets.


Good luck.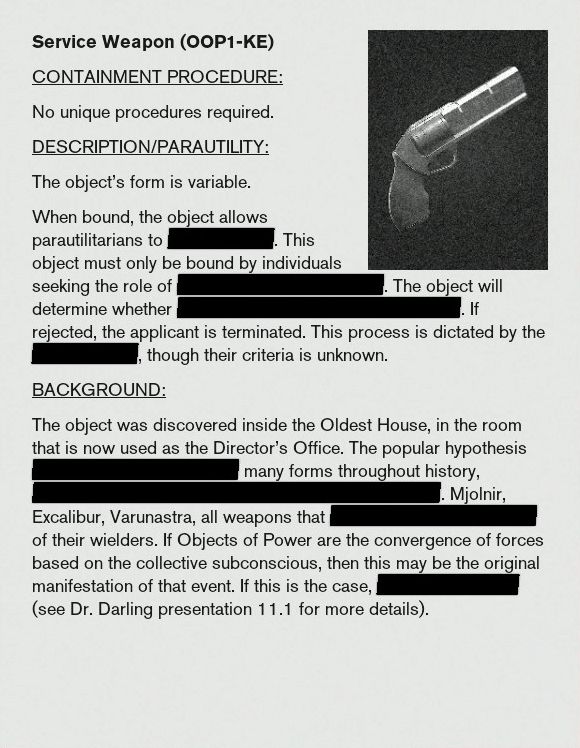 ID
Service Weapon (OOP1-KE)
ACQUISITION DATE
08/04/1964
CONTAINMENT LOCATION
n/a

Service Weapon (OOP1-KE)
CONTAINMENT PROCEDURE:
No unique procedures required.
DESCRIPTION/PARAUTILITY:
The object's form is variable.
When bound, the object allows parautilitarians to

shoot bullets

. This object must only be bound by individuals seeking the role of

Director of the FBC

. The object will determine whether

the individual is a viable Director candidate

. If rejected, the applicant is terminated. This process is dictated by the

Board

, though their criteria is unknown.
BACKGROUND:
The object was discovered inside the Oldest House, in the room that is now used as the Director's Office. The popular hypothesis

is that the weapon has taken

many forms throughout history,

always assuming a form that fits the level of technology

. Mjolnir, Excalibur, Varunastra, all weapons that

are said to have judged the worth

of their wielders. If Objects of Power are the convergence of forces based on the collective subconscious, then this may be the original manifestation of that event. If this is the case,

it may control the others

(see Dr. Darling presentation 11.1 for more details).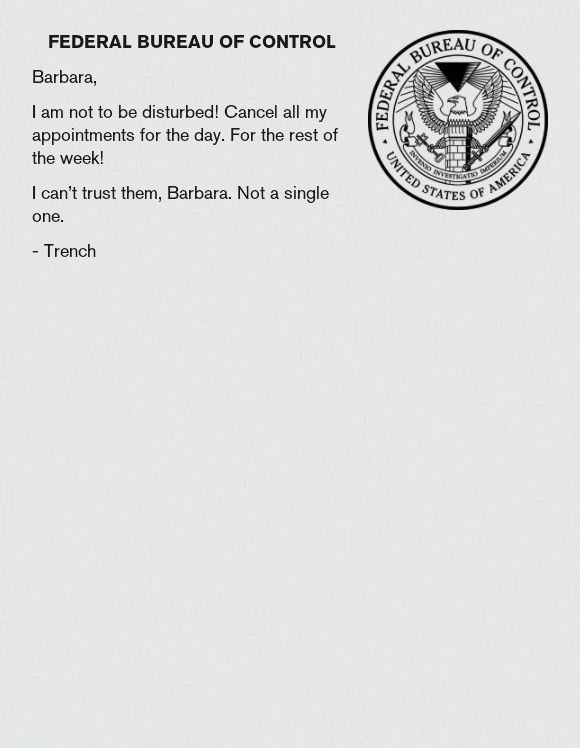 FEDERAL BUREAU OF CONTROL
Barbara,
I am not to be disturbed! Cancel all my appointments for the day. For the rest of the week!
I can't trust them, Barbara. Not a single one.
- Trench

I think this may include the closest we're ever going to get to a description of the Willow AWE, so that's worth noting. I have no idea why this was redacted either.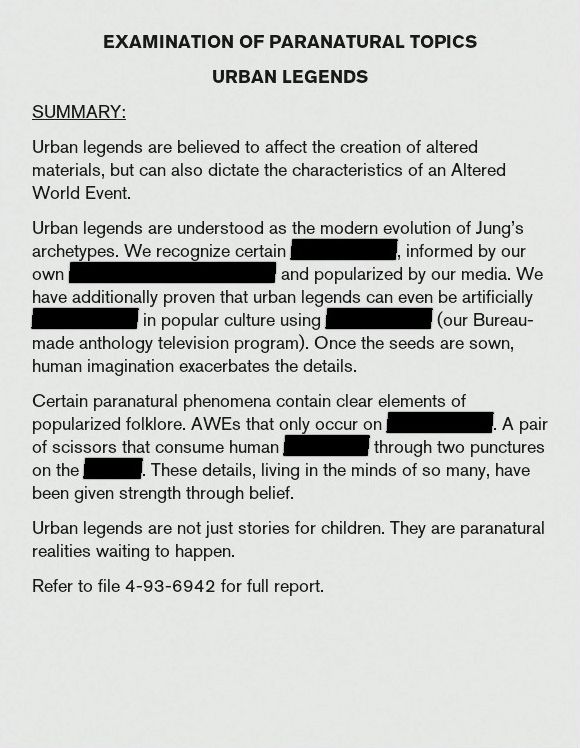 COMPILED BY
Paula Bronte and Lorenzo Dunne, Researchers
BY ORDER OF
Emily Pope, Research Specialist

EXAMINATION OF PARANATURAL TOPICS
URBAN LEGENDS
SUMMARY:
Urban legends are believed to affect the creation of altered materials, but can also dictate the characteristics of an Altered World Event.
Urban legends are understood as the modern evolution of Jung's archetypes. We recognize certain

recurring patterns

, informed by our own

knowledge of historical records

and popularized by our media. We have additionally proven that urban legends can even be artificially

created

in popular culture using

Night Springs

(our Bureau-made anthology television program). Once the seeds are sown, human imagination exacerbates the details.
Certain paranatural phenomena contain clear elements of popularized folklore. AWEs that only occur on

full moon nights

. A pair of scissors that consume human

blood

through two punctures on the

neck

. These details, living in the minds of so many, have been given strength through belief.
Urban legends are not just stories for children. They are paranatural realities waiting to happen.
Refer to file 4-93-6942 for full report.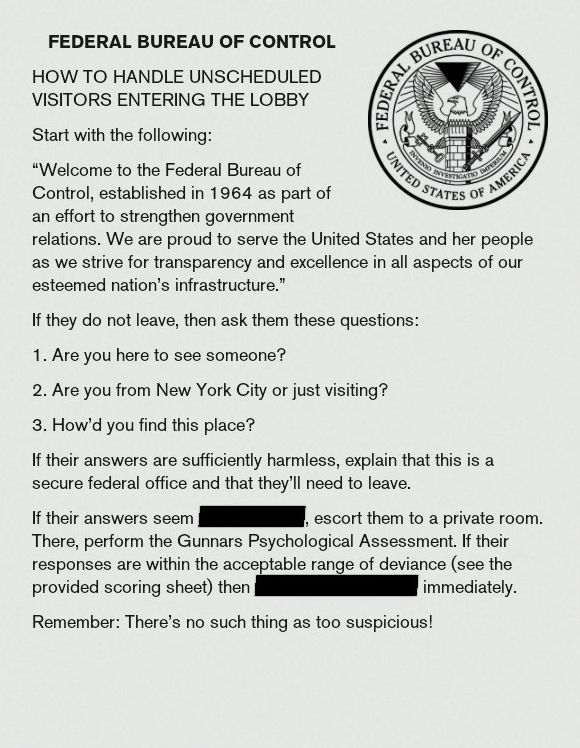 FEDERAL BUREAU OF CONTROL
HOW TO HANDLE UNSCHEDULED VISITORS ENTERING THE LOBBY
Start with the following:
"Welcome to the Federal Bureau of Control, established in 1964 as part of an effort to strengthen government relations. We are proud to serve the United States and her people as we strive for transparency and excellence in all aspects of our esteemed nation's infrastructure."
If they do not leave, then ask them these questions:
1. Are you here to see someone?
2. Are you from New York City or just visiting?
3. How'd you find this place?
If their answers are sufficiently harmless, explain that this is a secure federal office and that they'll need to leave.
If their answers seem

too knowledgeable

, escort them to a private room. There, perform the Gunnars Psychological Assessment. If their responses are within the acceptable range of deviance (see the provided scoring sheet) then

contact Security

immediately.
Remember: There's no such thing as too suspicious!