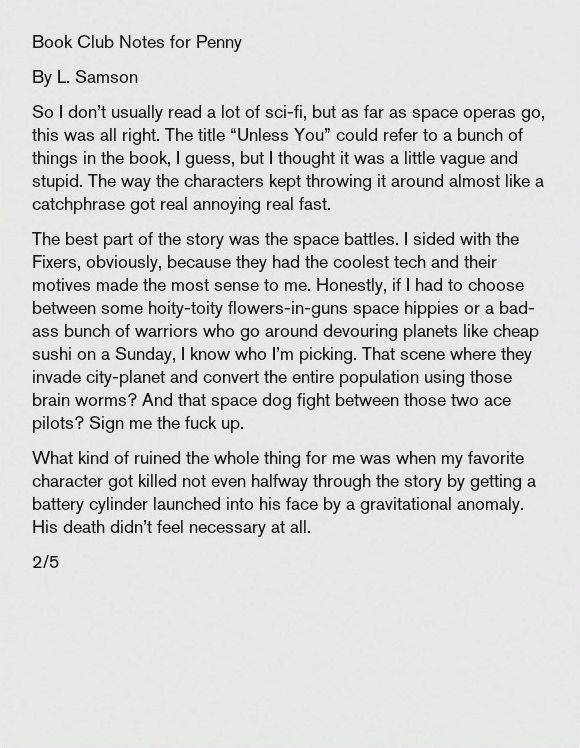 Book Club Notes for Penny
By L. Samson
So I don't usually read a lot of sci-fi, but as far as space operas go, this was all right. The title "Unless You" could refer to a bunch of things in the book, I guess, but I thought it was a little vague and stupid. The way the characters kept throwing it around almost like a catchphrase got real annoying real fast.
The best part of the story was the space battles. I sided with the Fixers, obviously, because they had the coolest tech and their motives made the most sense to me. Honestly, if I had to choose between some hoity-toity flowers-in-guns space hippies or a bad-ass bunch of warriors who go around devouring planets like cheap sushi on a Sunday, I know who I'm picking. That scene where they invade city-planet and convert the entire population using those brain worms? And that space dog fight between those two ace pilots? Sign me the fuck up.
What kind of ruined the whole thing for me was when my favorite character got killed not even halfway through the story by getting a battery cylinder launched into his face by a gravitational anomaly. His death didn't feel necessary at all.
2/5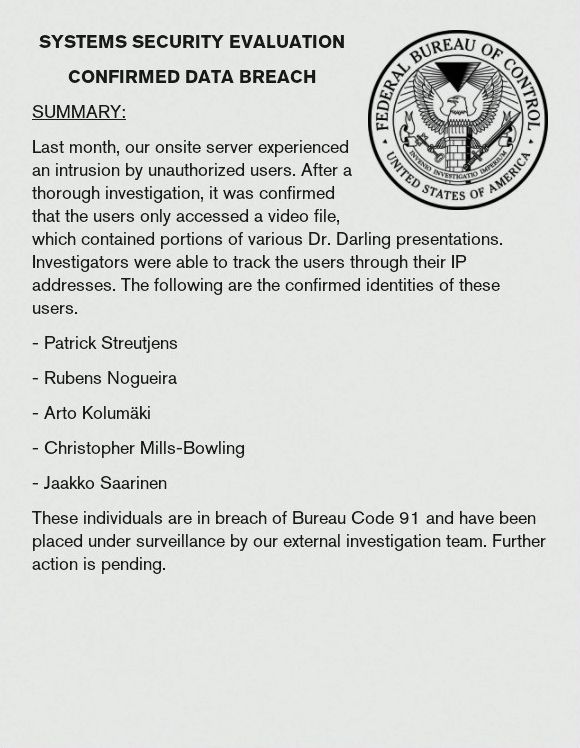 SYSTEMS SECURITY EVALUATION
CONFIRMED DATA BREACH
SUMMARY:
Last month, our onsite server experienced an intrusion by unauthorized users. After a thorough investigation, it was confirmed that the users only accessed a video file, which contained portions of various Dr. Darling presentations. Investigators were able to track the users through their IP addresses. The following are the confirmed identities of these users.
- Patrick Streutjens
- Rubens Nogueira
- Arto Kolumäki
- Christopher Mills-Bowling
- Jaakko Saarinen
These individuals are in breach of Bureau Code 91 and have been placed under surveillance by our external investigation team. Further action is pending.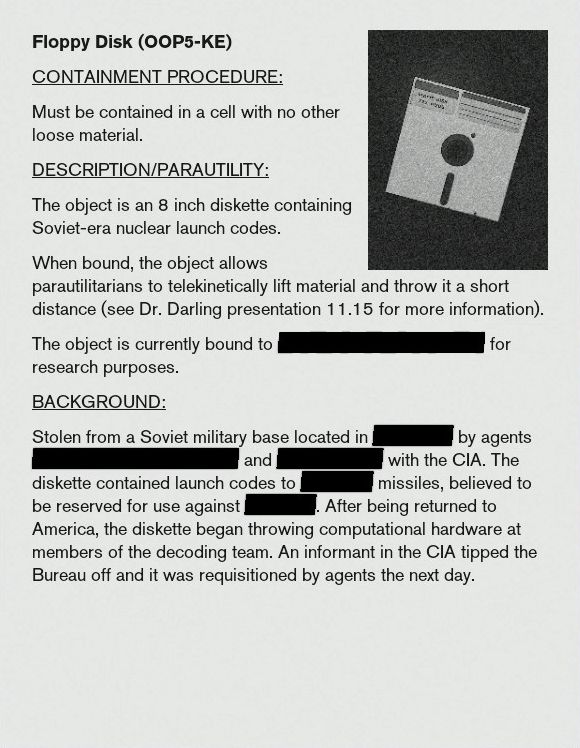 ID
Floppy Disk (OOP5-KE)
ACQUISITION DATE
03/11/1974
CONTAINMENT LOCATION
[REDACTED]

Floppy Disk (OOP5-KE)
CONTAINMENT PROCEDURE:
Must be contained in a cell with no other loose material.
DESCRIPTION/PARAUTILITY:
The object is an 8 inch diskette containing Soviet-era nuclear launch codes.
When bound, the object allows parautilitarians to telekinetically lift material and throw it a short distance (see Dr. Darling presentation 11.15 for more information).
The object is currently bound to

Director Northmoor

for research purposes.
BACKGROUND:
Stolen from a Soviet military base located in

somewhere in Russia, I assume

by agents

names, I assume, probably with no immediate significance to us

and

another name

with the CIA. The diskette contained launch codes to

nuclear

missiles, believed to be reserved for use against

America

. After being returned to America, the diskette began throwing computational hardware at members of the decoding team. An informant in the CIA tipped the Bureau off and it was requisitioned by agents the next day.



COMPILED BY
Emily Pope, Research Specialist
BY ORDER OF
Director Jesse Faden

FIELD RESEARCH ON HISS ENTITY:
HISS BARRIER
--CONFIDENTIAL--
SUMMARY:
The Hiss resonance field is a physical impediment that is difficult to define.
Hiss Barriers appear as ways to impede escape or access by Bureau personnel. Two methods have been discovered for lowering them. 1) Destroy the multiple concentrated resonance sources found in the vicinity. 2) Destroy the Hiss entities in the area.
The resonance fields seem to require support for their size and density from other, non-connected sources of Hiss resonance. Without the ability to draw from these sources, the Barrier will fall.
Does an inactive structure made of Hiss resonance qualify as a conscious being? Does the distinction make any difference when considering the Hiss? What does the very act of building walls to prevent our movement tell us about the Hiss? To what degree is it watching and planning?
Refer to file

some number

for full report.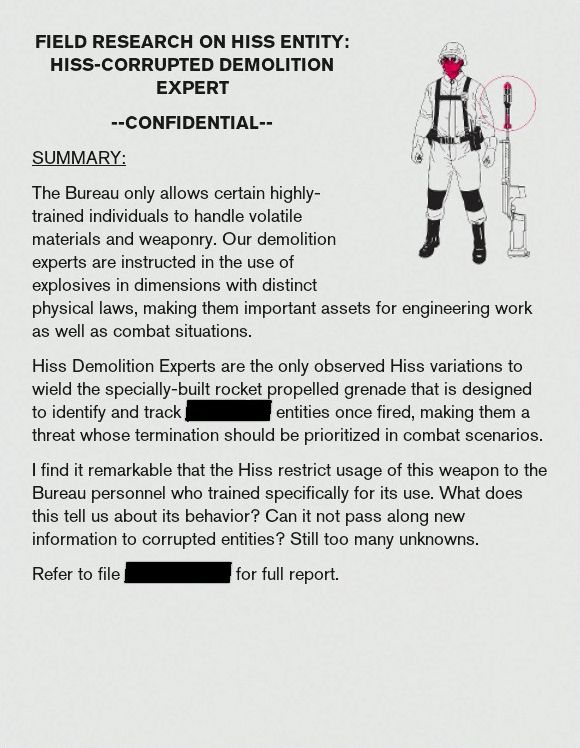 COMPILED BY
Emily Pope, Research Specialist
BY ORDER OF
Director Jesse Faden

FIELD RESEARCH ON HISS ENTITY:
HISS-CORRUPTED DEMOLITION EXPERT
--CONFIDENTIAL--
SUMMARY:
The Bureau only allows certain highly-trained individuals to handle volatile materials and weaponry. Our demolition experts are instructed in the use of explosives in dimensions with distinct physical laws, making them important assets for engineering work as well as combat situations.
Hiss Demolition Experts are the only observed Hiss variations to wield the specially-built rocket propelled grenade that is designed to identify and track

hostile?

entities once fired, making them a threat whose termination should be prioritized in combat scenarios.
I find it remarkable that the Hiss restrict usage of this weapon to the Bureau personnel who trained specifically for its use. What does this tell us about its behavior? Can it not pass along new information to corrupted entities? Still too many unknowns.
Refer to file

some number

for full report.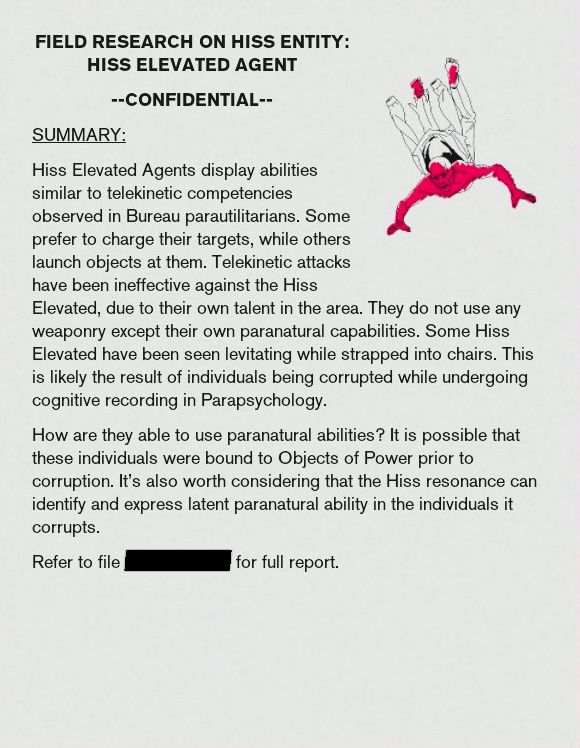 COMPILED BY
Emily Pope, Research Specialist
BY ORDER OF
Director Jesse Faden

FIELD RESEARCH ON HISS ENTITY:
HISS ELEVATED AGENT
--CONFIDENTIAL--
SUMMARY:
Hiss Elevated Agents display abilities similar to telekinetic competencies observed in Bureau parautilitarians. Some prefer to charge their targets, while others launch objects at them. Telekinetic attacks have been ineffective against the Hiss Elevated, due to their own talent in the area. They do not use any weaponry except their own paranatural capabilities. Some Hiss Elevated have been seen levitating while strapped into chairs. This is likely the result of individuals being corrupted while undergoing cognitive recording in Parapsychology.
How are they able to use paranatural abilities? It is possible that these individuals were bound to Objects of Power prior to corruption. It's also worth considering that the Hiss resonance can identify and express latent paranatural ability in the individuals it corrupts.
Refer to file

some number

for full report.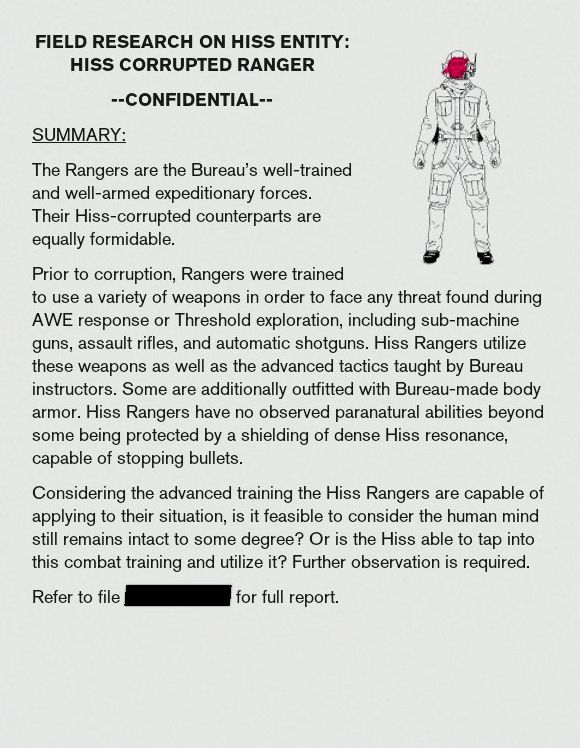 COMPILED BY
Emily Pope, Research Specialist
BY ORDER OF
Director Jesse Faden

FIELD RESEARCH ON HISS ENTITY:
HISS CORRUPTED RANGER
--CONFIDENTIAL--
SUMMARY:
The Rangers are the Bureau's well-trained and well-armed expeditionary forces. Their Hiss-corrupted counterparts are equally formidable.
Prior to corruption, Rangers were trained to use a variety of weapons in order to face any threat found during AWE response or Threshold exploration, including sub-machine guns, assault rifles, and automatic shotguns. Hiss Rangers utilize these weapons as well as the advanced tactics taught by Bureau instructors. Some are additionally outfitted with Bureau-made body armor. Hiss Rangers have no observed paranatural abilities beyond some being protected by a shielding of dense Hiss resonance, capable of stopping bullets.
Considering the advanced training the Hiss Rangers are capable of applying to their situation, is it feasible to consider the human mind still remains intact to some degree? Or is the Hiss able to tap into this combat training and utilize it? Further observation is required.
Refer to file

some number

for full report.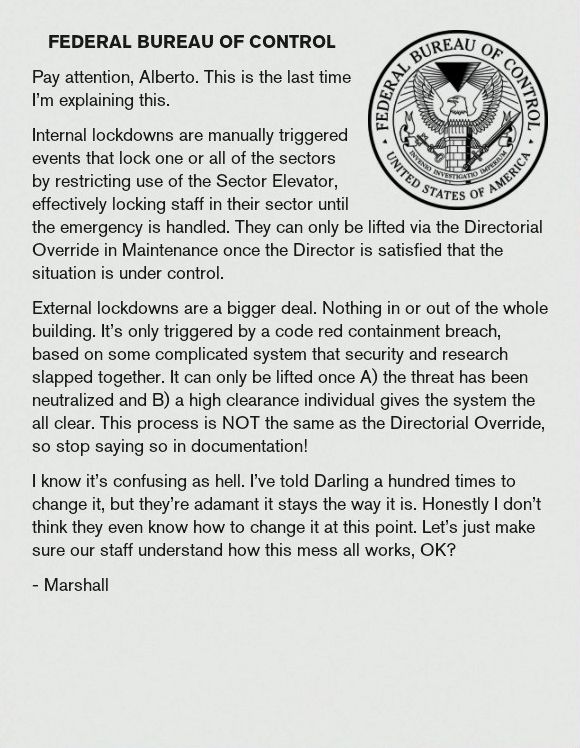 TO
A. Tommasi
FROM
H. Marshall
SUBJECT
Proper Distinction of Lockdown

FEDERAL BUREAU OF CONTROL
Pay attention, Alberto. This is the last time I'm explaining this.
Internal lockdowns are manually triggered events that lock one or all of the sectors by restricting use of the Sector Elevator, effectively locking staff in their sector until the emergency is handled. They can only be lifted via the Directorial Override in Maintenance once the Director is satisfied that the situation is under control.
External lockdowns are a bigger deal. Nothing in or out of the whole building. It's only triggered by a code red containment breach, based on some complicated system that security and research slapped together. It can only be lifted once A) the threat has been neutralized and B) a high clearance individual gives the system the all clear. This process is NOT the same as the Directorial Override, so stop saying so in documentation!
I know it's confusing as hell. I've told Darling a hundred times to change it, but they're adamant it stays the way it is. Honestly I don't think they even know how to change it at this point. Let's just make sure our staff understand how this mess all works, OK?
- Marshall

This is the AWE we previously saw a list of banned words for, including "scissors", "blood", and "Alaska". I guess those scissors were vicious!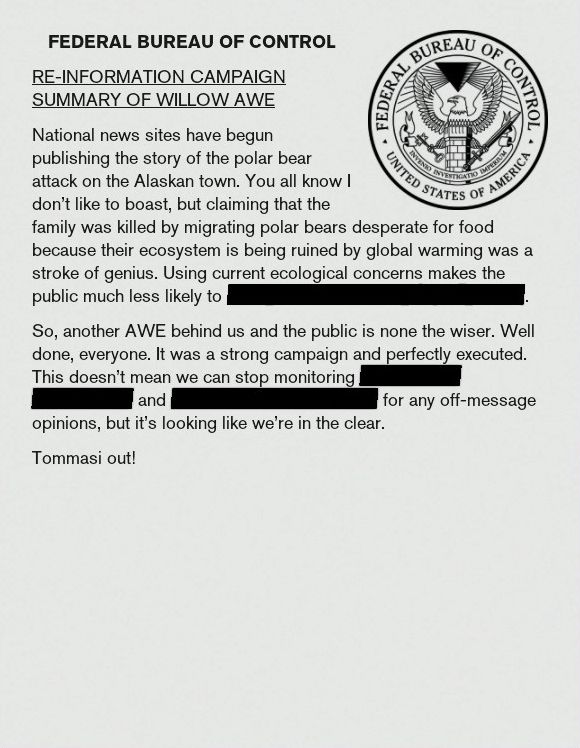 FEDERAL BUREAU OF CONTROL
RE-INFORMATION CAMPAIGN
SUMMARY OF WILLOW AWE
National news sites have begun publishing the story of the polar bear attack on the Alaskan town. You all know I don't like to boast, but claiming that the family was killed by migrating polar bears desperate for food because their ecosystem is being ruined by global warming was a stroke of genius. Using current ecological concerns makes the public much less likely to

suspect the involvement of an Altered Item

.
So, another AWE behind us and the public is none the wiser. Well done, everyone. It was a strong campaign and perfectly executed. This doesn't mean we can stop monitoring

local news, editorials,

and

calls to America Overnight

for any off-message opinions, but it's looking like we're in the clear.
Tommasi out!