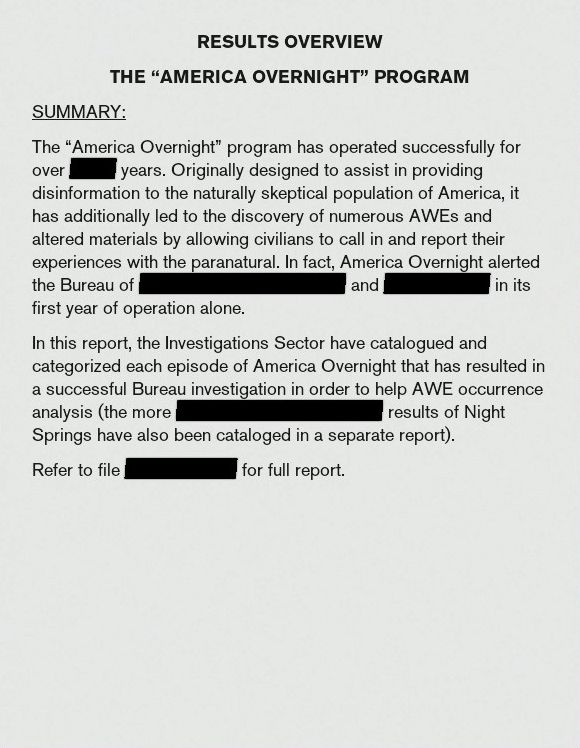 COMPILED BY
Remy Denis, Chief Investigator
ORDER OF
Director Zachariah Trench

RESULTS OVERVIEW
THE "AMERICA OVERNIGHT" PROGRAM
SUMMARY:
The "America Overnight" program has operated successfully for over

ten?

years. Originally designed to assist in providing disinformation to the naturally skeptical population of America, it has additionally led to the discovery of numerous AWEs and altered materials by allowing civilians to call in and report their experiences with the paranatural. In fact, America Overnight alerted the Bureau of

the incidents in Ordinary

and

Bright Falls?

in its first year of operation alone.
In this report, the Investigations Sector have catalogued and categorized each episode of America Overnight that has resulted in a successful Bureau investigation in order to help AWE occurrence analysis (the more

distinctly supernatural

results of Night Springs have also been cataloged in a separate report).
Refer to file

some number

for full report.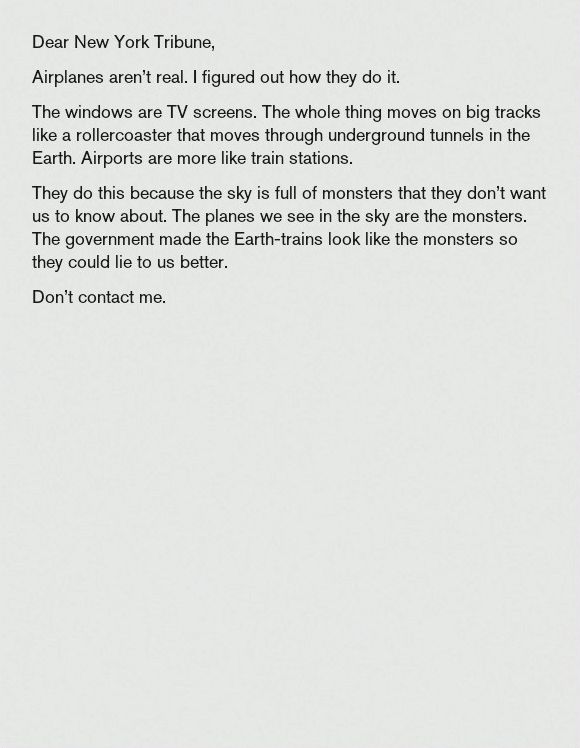 Dear New York Tribune,
Airplanes aren't real. I figured out how they do it.
The windows are TV screens. The whole thing moves on big tracks like a rollercoaster that moves through underground tunnels in the Earth. Airports are more like train stations.
They do this because the sky is full of monsters that they don't want us to know about. The planes we see in the sky are the monsters. The government made the Earth-trains look like the monsters so they could lie to us better.
Don't contact me.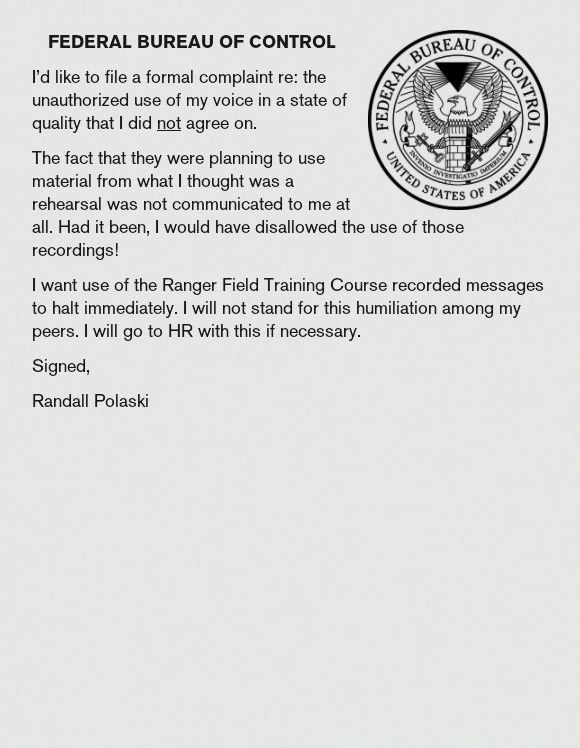 FEDERAL BUREAU OF CONTROL
I'd like to file a formal complaint re: the unauthorized use of my voice in a state of quality that I did not agree on.
The fact that they were planning to use material from what I thought was a rehearsal was not communicated to me at all. Had it been, I would have disallowed the use of those recordings!
I want use of the Ranger Field Training Course recorded messages to halt immediately. I will not stand for this humiliation among my peers. I will go to HR with this if necessary.
Signed,
Randall Polaski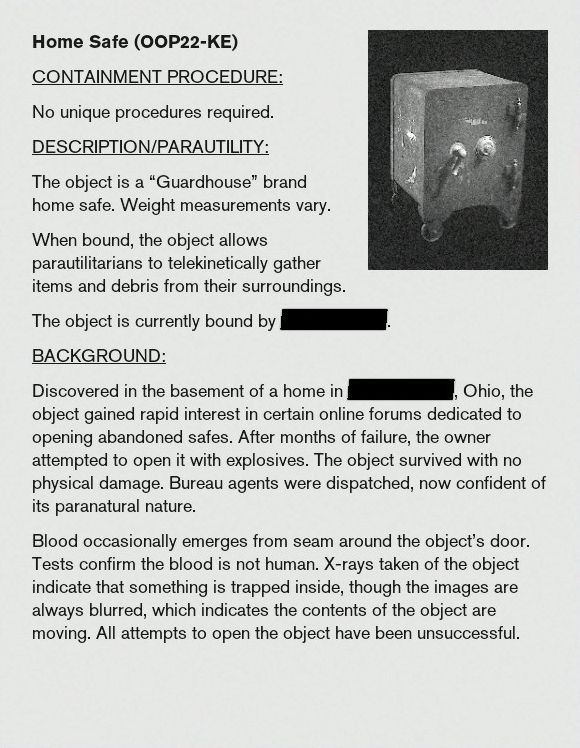 ID
Home safe (OOP22-KE)
ACQUISITION DATE
11/28/2014
CONTAINMENT LOCATION
[REDACTED]

Home Safe (OOP22-KE)
CONTAINMENT PROCEDURE:
No unique procedures required.
DESCRIPTION/PARAUTILITY:
The object is a "Guardhouse" brand home safe. Weight measurements vary.
When bound, the object allows parautilitarians to telekinetically gather
items and debris from their surroundings.
The object is currently bound by

Northmoor

.
BACKGROUND:
Discovered in the basement of a home in

Springfield?

, Ohio, the object gained rapid interest in certain online forums dedicated to opening abandoned safes. After months of failure, the owner attempted to open it with explosives. The object survived with no physical damage. Bureau agents were dispatched, now confident of its paranatural nature.
Blood occasionally emerges from seam around the object's door. Tests confirm the blood is not human. X-rays taken of the object indicate that something is trapped inside, though the images are always blurred, which indicates the contents of the object are moving. All attempts to open the object have been unsuccessful.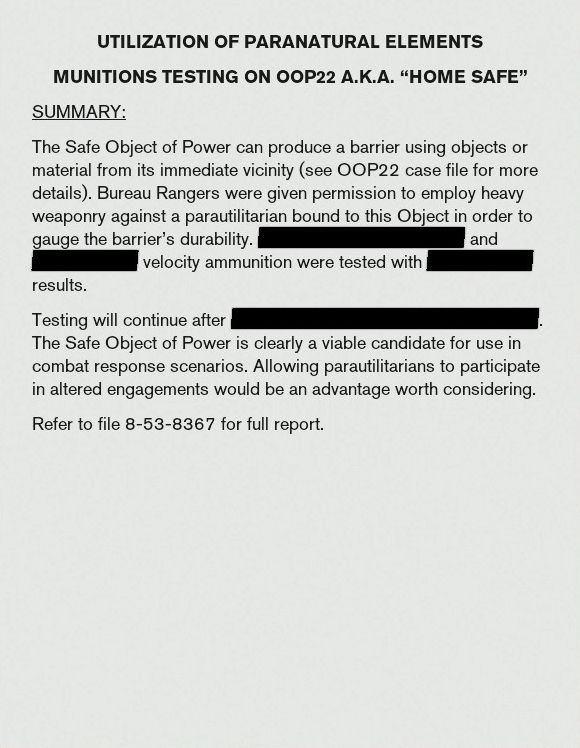 COMPILED BY
Emily Pope, Research Specialist
BY ORDER OF
Helen Marshall, Head of Operations

UTILIZATION OF PARANATURAL ELEMENTS
MUNITIONS TESTING ON OOP22 A.K.A. "HOME SAFE"
SUMMARY:
The Safe Object of Power can produce a barrier using objects or material from its immediate vicinity (see OOP22 case file for more details). Bureau Rangers were given permission to employ heavy weaponry against a parautilitarian bound to this Object in order to gauge the barrier's durability.

High-yield explosives

and

supersonic

velocity ammunition were tested with

negative

results.
Testing will continue after

its self-generated barrier can be removed

. The Safe Object of Power is clearly a viable candidate for use in combat response scenarios. Allowing parautilitarians to participate in altered engagements would be an advantage worth considering.
Refer to file 8-53-8367 for full report.

I've searched for any record of Canadian presence on Ross Island, or anywhere in Antarctica, and turned up nothing. It's clearly so secret that no record of it exists.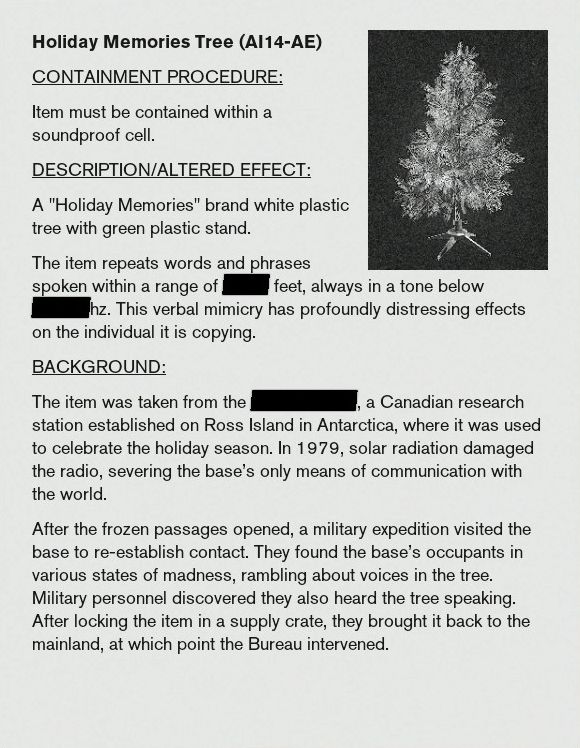 ID
Holiday Memories Tree (AI14-AE)
ACQUISITION DATE
06/02/1980
CONTAINMENT LOCATION
Panopticon — Floor 02, Unit 10
Holiday Memories Tree (AI14-AE)
CONTAINMENT PROCEDURE:
Item must be contained within a soundproof cell.
DESCRIPTION/ALTERED EFFECT:
A "Holiday Memories" brand white plastic tree with green plastic stand.
The item repeats words and phrases spoken within a range of

20?

feet, always in a tone below

1500?

hz. This verbal mimicry has profoundly distressing effects on the individual it is copying.
BACKGROUND:
The item was taken from the

Nonexistent!

, a Canadian research station established on Ross Island in Antarctica, where it was used to celebrate the holiday season. In 1979, solar radiation damaged the radio, severing the base's only means of communication with the world.
After the frozen passages opened, a military expedition visited the base to re-establish contact. They found the base's occupants in various states of madness, rambling about voices in the tree. Military personnel discovered they also heard the tree speaking. After locking the item in a supply crate, they brought it back to the mainland, at which point the Bureau intervened.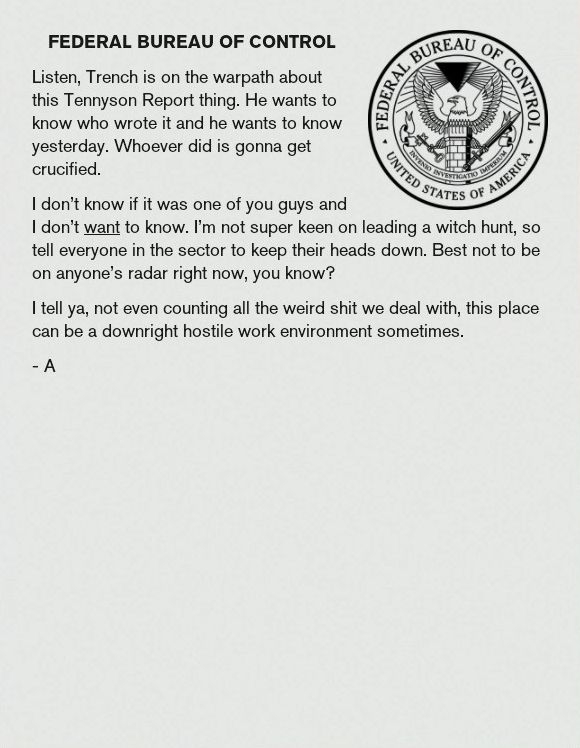 FEDERAL BUREAU OF CONTROL
Listen, Trench is on the warpath about this Tennyson Report thing. He wants to know who wrote it and he wants to know yesterday. Whoever did is gonna get crucified.
I don't know if it was one of you guys and I don't want to know. I'm not super keen on leading a witch hunt, so tell everyone in the sector to keep their heads down. Best not to be on anyone's radar right now, you know?
I tell ya, not even counting all the weird shit we deal with, this place can be a downright hostile work environment sometimes.
- A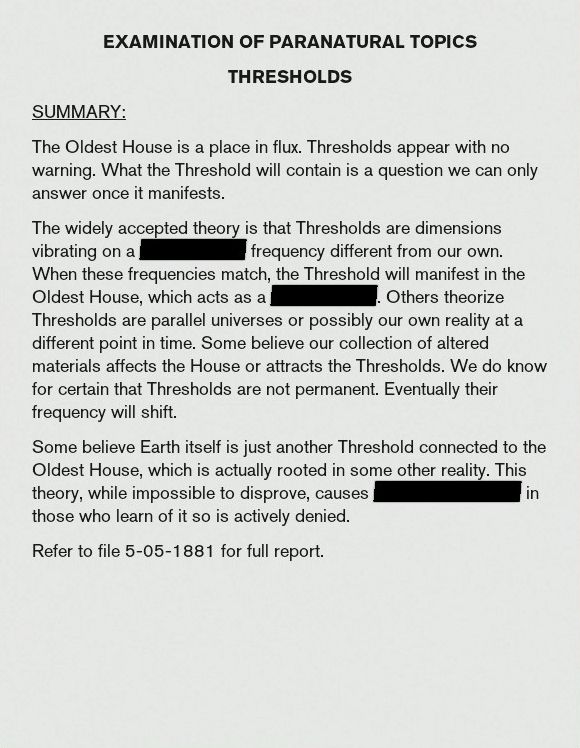 COMPILED BY
Dr. Carla Vaughn, Research Specialist
BY ORDER OF
Dr. Casper Darling, Head of Research
EXAMINATION OF PARANATURAL TOPICS
THRESHOLDS
SUMMARY:
The Oldest House is a place in flux. Thresholds appear with no warning. What the Threshold will contain is a question we can only answer once it manifests.
The widely accepted theory is that Thresholds are dimensions vibrating on a

resonant

frequency different from our own. When these frequencies match, the Threshold will manifest in the Oldest House, which acts as a

stabilizer?

. Others theorize Thresholds are parallel universes or possibly our own reality at a different point in time. Some believe our collection of altered materials affects the House or attracts the Thresholds. We do know for certain that Thresholds are not permanent. Eventually their frequency will shift.
Some believe Earth itself is just another Threshold connected to the Oldest House, which is actually rooted in some other reality. This theory, while impossible to disprove, causes

incurable insanity

in those who learn of it so is actively denied.
Refer to file 5-05-1881 for full report.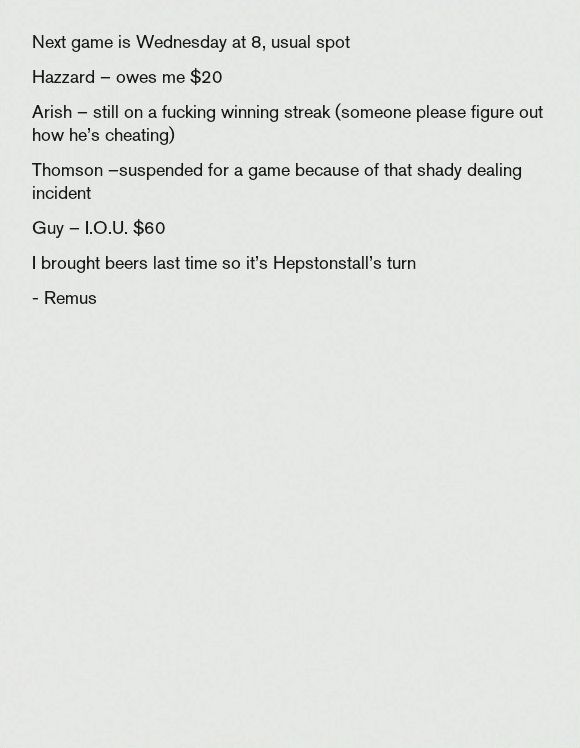 Next game is Wednesday at 8, usual spot
Hazzard — owes me $20
Arish — still on a fucking winning streak (someone please figure out how he's cheating)
Thomson —suspended for a game because of that shady dealing incident
Guy - I.O.U. $60
I brought beers last time so it's Hepstonstall's turn.
- Remus