Clearly, most if not all of the Altered Items described in these files are not based on any real events. Some of them are references to earlier Remedy games, particularly Alan Wake, but others just seem to be made up entirely. I have looked for any information about similar events or people, but most of the time, I can't find anything even close. In this case, I did manage to find Geraldine Farrar, an opera singer who performed in Berlin and had a very public marriage-related scandal, but it didn't end her career, and she retired in Connecticut. She did have some connections in Maine, but that's it, and there's no reference to a mannequin anywhere that I can find. Still, it's always interesting to learn something new, and it's better than not having a name to fill in at all.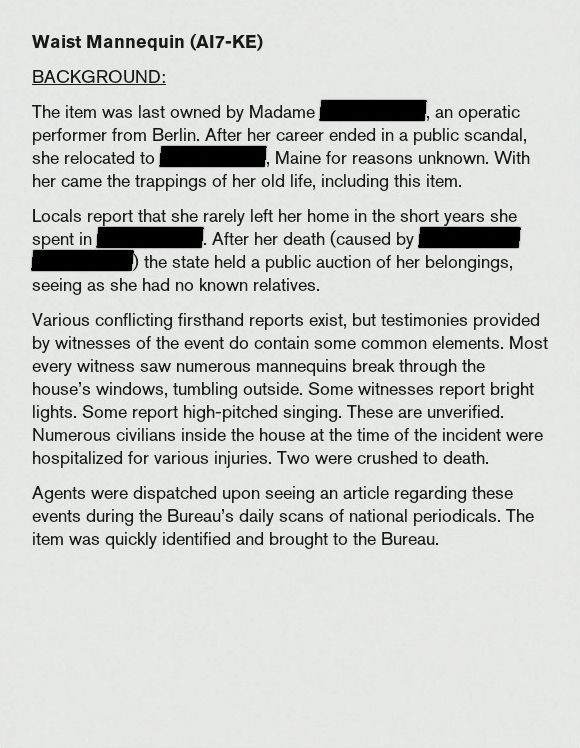 ID
Waist Mannequin (AI7-KE)
ACQUISITION DATE
12/23/1967
CONTAINMENT LOCATION
Panopticon — Floor 04, Unit 11

Waist Mannequin (AI7-KE)
BACKGROUND:
The item was last owned by Madame

Geraldine Farrar?

, an operatic performer from Berlin. After her career ended in a public scandal, she relocated to

Farmington?

, Maine for reasons unknown. With her came the trappings of her old life, including this item.
Locals report that she rarely left her home in the short years she spent in

Farmington?

. After her death (caused by

heart disease?

) the state held a public auction of her belongings, seeing as she had no known relatives.
Various conflicting firsthand reports exist, but testimonies provided by witnesses of the event do contain some common elements. Most every witness saw numerous mannequins break through the house's windows, tumbling outside. Some witnesses report bright lights. Some report high-pitched singing. These are unverified. Numerous civilians inside the house at the time of the incident were hospitalized for various injuries. Two were crushed to death.
Agents were dispatched upon seeing an article regarding these events during the Bureau's daily scans of national periodicals. The item was quickly identified and brought to the Bureau.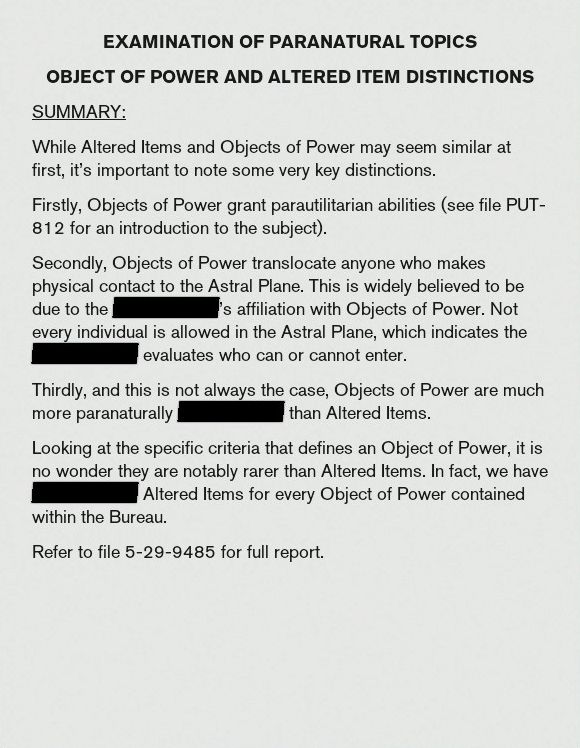 COMPILED BY
Emily Pope, Research Specialist
BY ORDER OF
Dr. Casper Darling, Head of Research

EXAMINATION OF PARANATURAL TOPICS
OBJECT OF POWER AND ALTERED ITEM DISTINCTIONS
SUMMARY:
While Altered Items and Objects of Power may seem similar at first, it's important to note some very key distinctions.
Firstly, Objects of Power grant parautilitarian abilities (see file PUT-812 for an introduction to the subject).
Secondly, Objects of Power translocate anyone who makes physical contact to the Astral Plane. This is widely believed to be due to the

Board

's affiliation with Objects of Power. Not every individual is allowed in the Astral Plane, which indicates the

Board

evaluates who can or cannot enter.
Thirdly, and this is not always the case, Objects of Power are much more paranaturally

active? independent?

than Altered Items.
Looking at the specific criteria that defines an Object of Power, it is no wonder they are notably rarer than Altered Items. In fact, we have

twelve?

Altered Items for every Object of Power contained within the Bureau.
Refer to file 5-29-9485 for full report.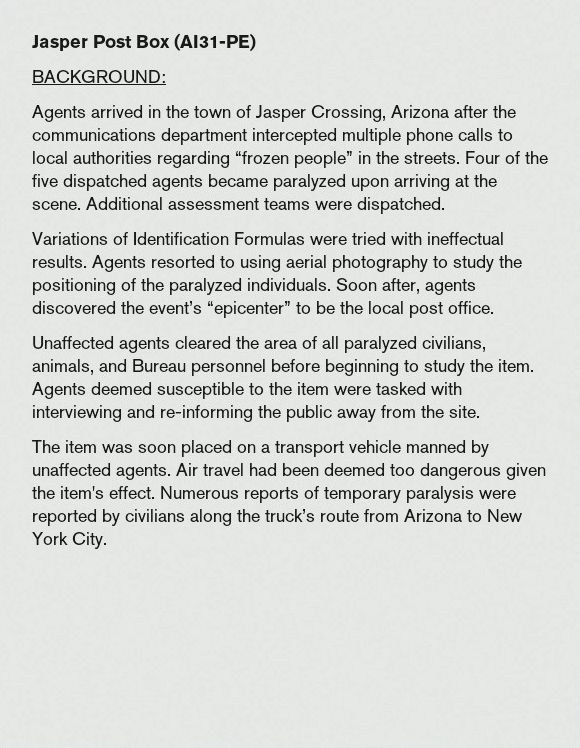 ID
Jasper Post Box (AI31-PE)
ACQUISITION DATE
06/15/1986
CONTAINMENT LOCATION
Panopticon — Floor 01, Unit 13

Jasper Post Box (AI31-PE)
BACKGROUND:
Agents arrived in the town of Jasper Crossing, Arizona after the communications department intercepted multiple phone calls to local authorities regarding "frozen people" in the streets. Four of the five dispatched agents became paralyzed upon arriving at the scene. Additional assessment teams were dispatched.
Variations of Identification Formulas were tried with ineffectual results. Agents resorted to using aerial photography to study the positioning of the paralyzed individuals. Soon after, agents discovered the event's "epicenter" to be the local post office.
Unaffected agents cleared the area of all paralyzed civilians, animals, and Bureau personnel before beginning to study the item. Agents deemed susceptible to the item were tasked with interviewing and re-informing the public away from the site.
The item was soon placed on a transport vehicle manned by unaffected agents. Air travel had been deemed too dangerous given the item's effect. Numerous reports of temporary paralysis were reported by civilians along the truck's route from Arizona to New York City.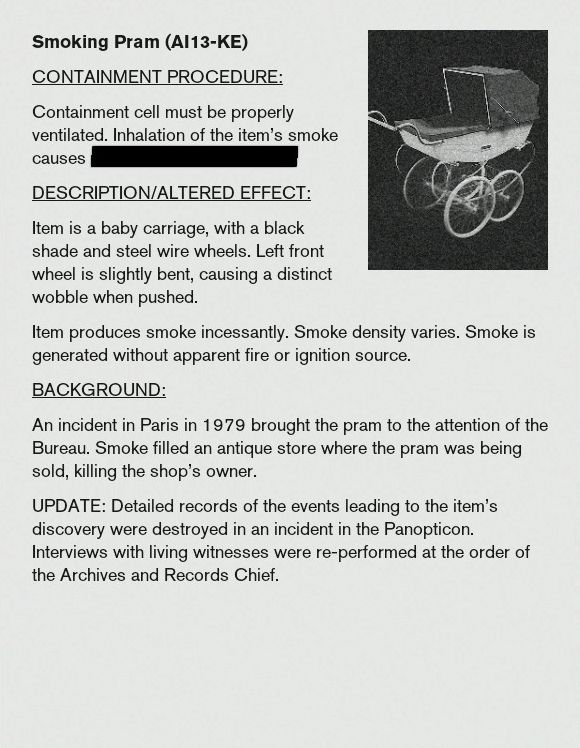 ID
Smoking Pram (AI13-KE)
ACQUISITION DATE
08/05/1979
CONTAINMENT LOCATION
Panopticon — Floor 02, Unit 11

Smoking Pram (AI13-KE)
CONTAINMENT PROCEDURE:
Containment cell must be properly ventilated. Inhalation of the item's smoke causes

death by suffocation

.
DESCRIPTION/ALTERED EFFECT:
Item is a baby carriage, with a black shade and steel wire wheels. Left front wheel is slightly bent, causing a distinct wobble when pushed.
Item produces smoke incessantly. Smoke density varies. Smoke is generated without apparent fire or ignition source.
BACKGROUND:
An incident in Paris in 1979 brought the pram to the attention of the Bureau. Smoke filled an antique store where the pram was being sold, killing the shop's owner.
UPDATE: Detailed records of the events leading to the item's discovery were destroyed in an incident in the Panopticon. Interviews with living witnesses were re-performed at the order of the Archives and Records Chief.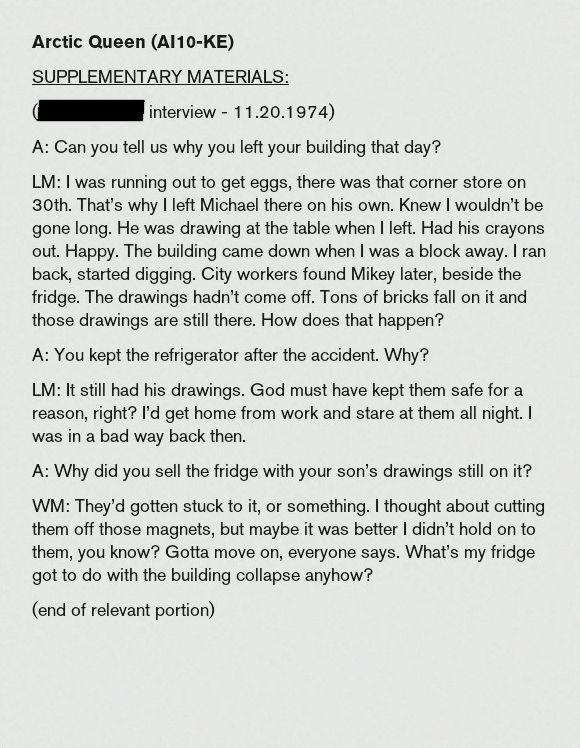 ID
Arctic Queen (AI10-KE)
ACQUISITION DATE
11/18/1974
CONTAINMENT LOCATION
Panopticon — Floor 04, Unit 15

Arctic Queen (AI10-KE)
SUPPLEMENTARY MATERIALS:


people's names?

interview - 11.20.1974)
A: Can you tell us why you left your building that day?
LM: I was running out to get eggs, there was that corner store on 30th. That's why I left Michael there on his own. Knew I wouldn't be gone long. He was drawing at the table when I left. Had his crayons out. Happy. The building came down when I was a block away. I ran back, started digging. City workers found Mikey later, beside the fridge. The drawings hadn't come off. Tons of bricks fall on it and those drawings are still there. How does that happen?
A: You kept the refrigerator after the accident. Why?
LM: It still had his drawings. God must have kept them safe for a reason, right? I'd get home from work and stare at them all night. I was in a bad way back then.
A: Why did you sell the fridge with your son's drawings still on it?
WM: They'd gotten stuck to it, or something. I thought about cutting them off those magnets, but maybe it was better I didn't hold on to them, you know? Gotta move on, everyone says. What's my fridge got to do with the building collapse anyhow?
(end of relevant portion)

I really feel like I should be able to identify more of the redacted material here, but even after everything else I've learned about this incident, I still don't know what happened and don't have any reasonable guesses.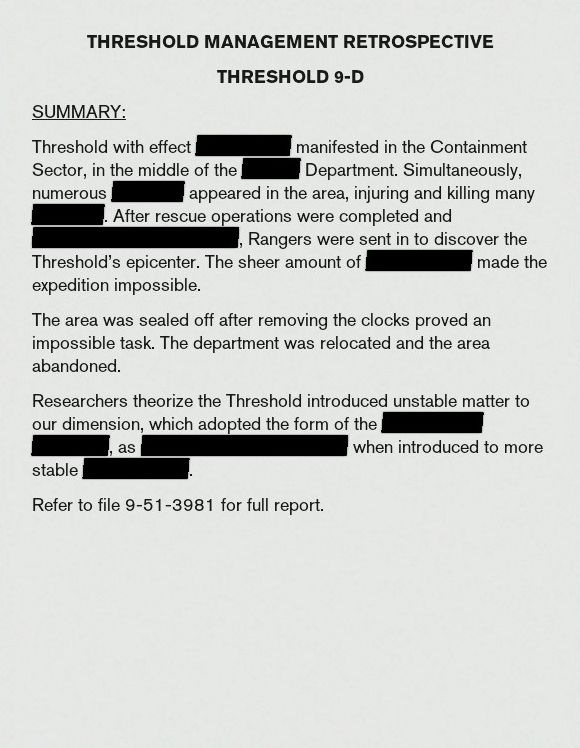 COMPILED BY
Lin Salvador, Head of Security
BY ORDER OF
Director Zachariah Trench

THRESHOLD MANAGEMENT RETROSPECTIVE
THRESHOLD 9-D
SUMMARY:
Threshold with effect

unknown?

manifested in the Containment Sector, in the middle of the

Logistics

Department. Simultaneously, numerous

clocks

appeared in the area, injuring and killing many

employees?

. After rescue operations were completed and

a Motel cord established?

, Rangers were sent in to discover the Threshold's epicenter. The sheer amount of

clocks

made the expedition impossible.
The area was sealed off after removing the clocks proved an impossible task. The department was relocated and the area abandoned.
Researchers theorize the Threshold introduced unstable matter to our dimension, which adopted the form of the

nearest identifiable object?

as

camouflage

when introduced to more stable

material?

.
Refer to file 9-51-3981 for full report.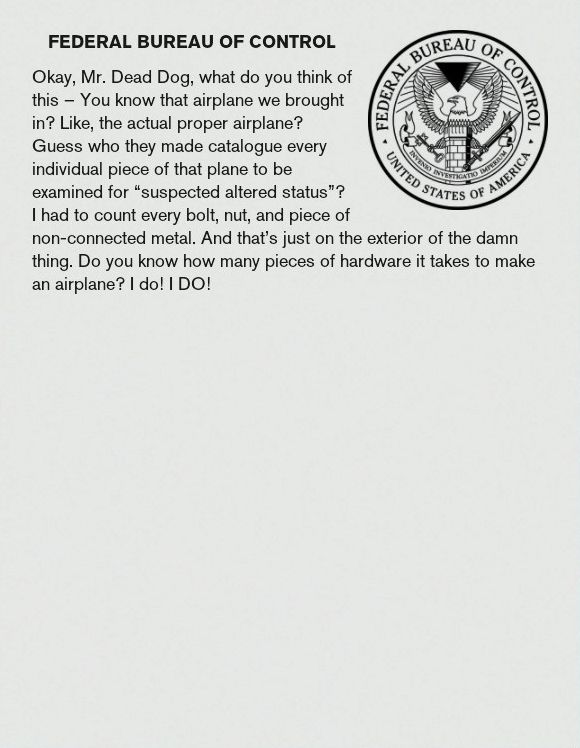 FEDERAL BUREAU OF CONTROL
Okay, Mr. Dead Dog, what do you think of this — You know that airplane we brought in? Like, the actual proper airplane? Guess who they made catalogue every individual piece of that plane to be examined for "suspected altered status"? I had to count every bolt, nut, and piece of metal. And that's just on the exterior of the damn thing. Do you know how many pieces of hardware it takes to make an airplane? I do! I DO!