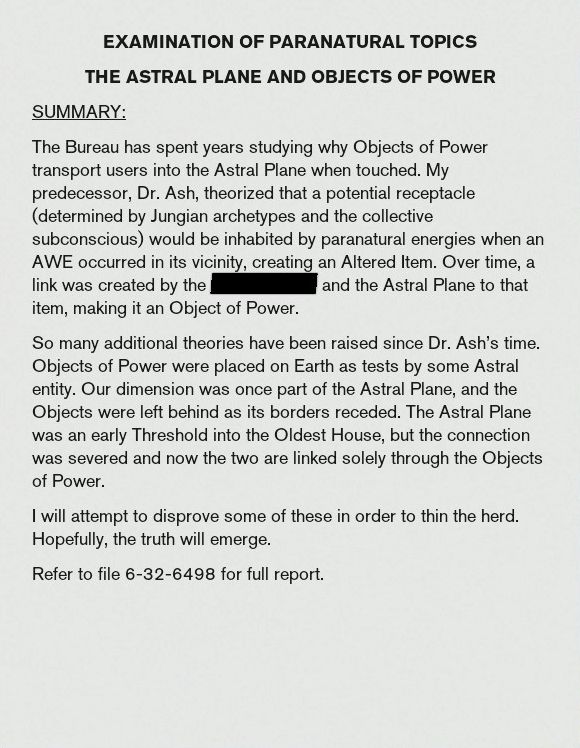 COMPILED BY
Dr. Casper Darling, Head of Research
BY ORDER OF
n/a

EXAMINATION OF PARANATURAL TOPICS
THE ASTRAL PLANE AND OBJECTS OF POWER
SUMMARY:
The Bureau has spent years studying why Objects of Power transport users into the Astral Plane when touched. My predecessor, Dr. Ash, theorized that a potential receptacle (determined by Jungian archetypes and the collective subconscious) would be inhabited by paranatural energies when an AWE occurred in its vicinity, creating an Altered Item. Over time, a link was created by the

Board

and the Astral Plane to that item, making it an Object of Power.
So many additional theories have been raised since Dr. Ash's time. Objects of Power were placed on Earth as tests by some Astral entity. Our dimension was once part of the Astral Plane, and the Objects were left behind as its borders receded. The Astral Plane was an early Threshold into the Oldest House, but the connection was severed and now the two are linked solely through the Objects of Power.
I will attempt to disprove some of these in order to thin the herd. Hopefully, the truth will emerge.
Refer to file 6-32-6498 for full report.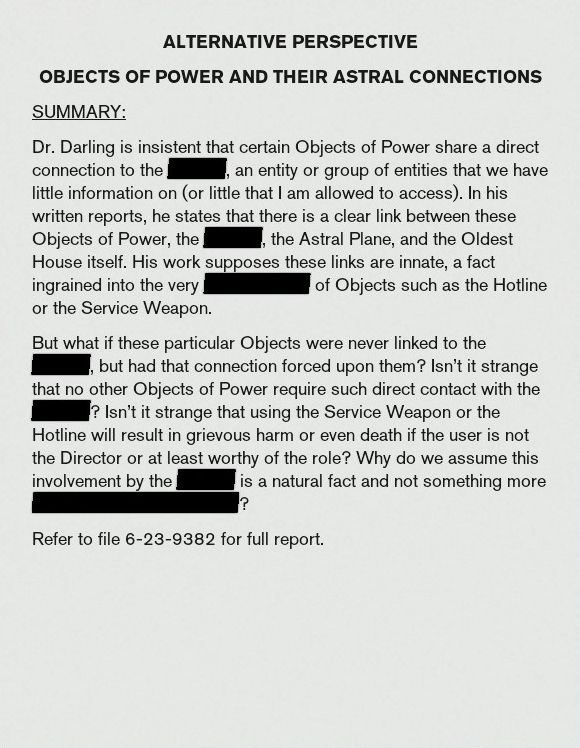 COMPILED BY
Emily Pope Research Specialist
BY ORDER OF
n/a

ALTERNATIVE PERSPECTIVE
OBJECTS OF POWER AND THEIR ASTRAL CONNECTIONS
SUMMARY:
Dr. Darling is insistent that certain Objects of Power share a direct connection to the

Board

, an entity or group of entities that we have little information on (or little that I am allowed to access). In his written reports, he states that there is a clear link between these Objects of Power, the

Board

, the Astral Plane, and the Oldest House itself. His work supposes these links are innate, a fact ingrained into the very

origin?

of Objects such as the Hotline or the Service Weapon.
But what if these particular Objects were never linked to the

Board

but had that connection forced upon them? Isn't it strange that no other Objects of Power require such direct contact with the

Board

? Isn't it strange that using the Service Weapon or the Hotline will result in grievous harm or even death if the user is not the Director or at least worthy of the role? Why do we assume this involvement by the

Board

is a natural fact and not something more

intentionally destructive?

?
Refer to file 6-23-9382 for full report.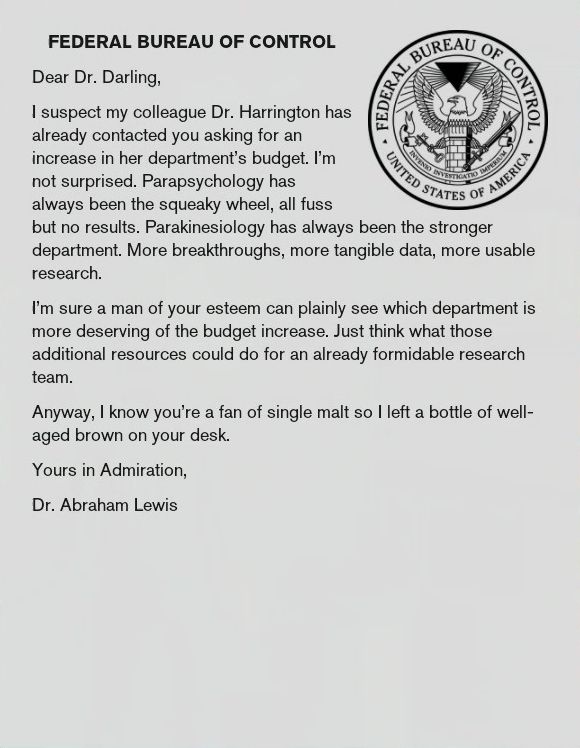 TO
C. Darling
FROM
A. Lewis
SUBJECT
Parakinesiology Budget

FEDERAL BUREAU OF CONTROL
Dear Dr. Darling,
I suspect my colleague Dr. Harrington has already contacted you asking for an increase in her department's budget. I'm not surprised. Parapsychology has always been the squeaky wheel, all fuss but no results. Parakinesiology has always been the stronger department. More breakthroughs, more tangible data, more usable research.
I'm sure a man of your esteem can plainly see which department is more deserving of the budget increase. Just think what those additional resources could do for an already formidable research team.
Anyway, I know you're a fan of single malt so I left a bottle of well-aged brown on your desk.
Yours in Admiration,
Dr. Abraham Lewis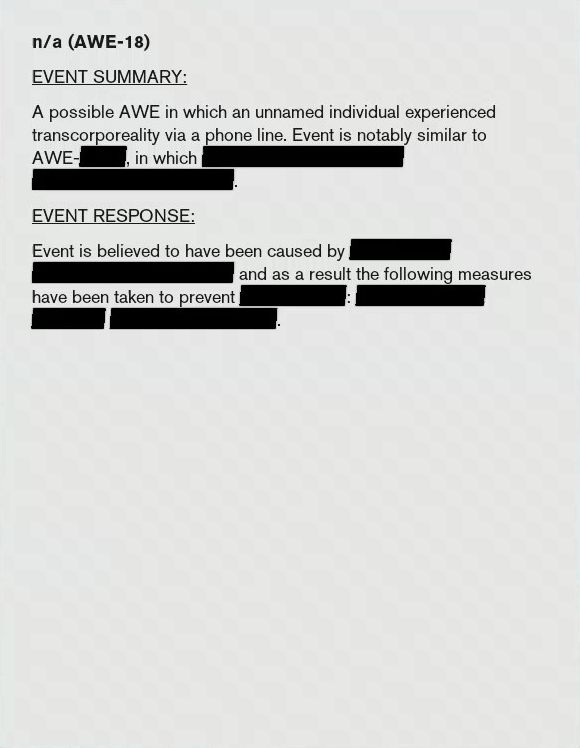 ID
AWE-18
EVENT DATE
06/17/1993
EVENT LOCATION
n/a

n/a (AWE-18)
EVENT SUMMARY:
A possible AWE in which an unnamed individual experienced transcorporeality via a phone line. Event is notably similar to
AWE-

17

, in which

a light cord transported victims to the Oceanside Motel and Casino

.
EVENT RESPONSE:
Event is believed to have been caused by

misuse of the Hotline?

and as a result the following measures have been taken to prevent

a reoccurrence

:

locking it behind a firebreak

with additional security

.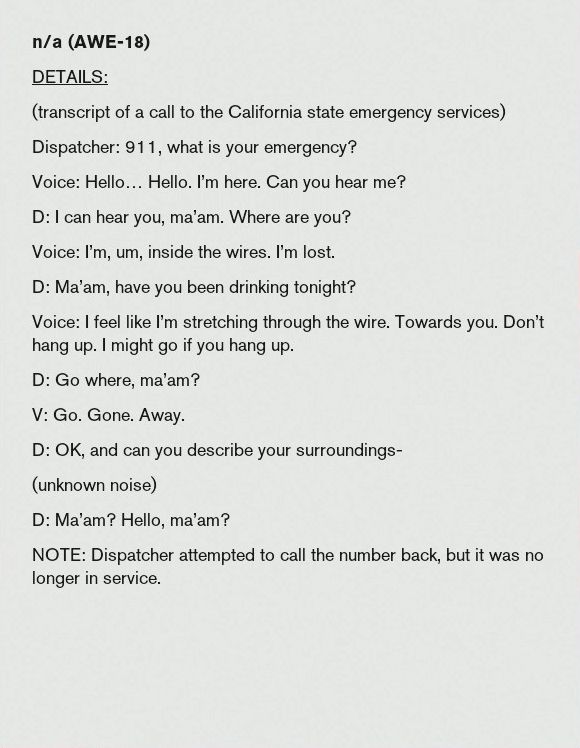 ID
AWE-18
EVENT DATE
06/17/1993
EVENT LOCATION
n/a

n/a (AWE-18)
DETAILS:
(transcript of a call to the California state emergency services)
Dispatcher: 911, what is your emergency?
Voice: Hello... Hello. I'm here. Can you hear me?
D: I can hear you, ma'am. Where are you?
Voice: I'm, um, inside the wires. I'm lost.
D: Ma'am, have you been drinking tonight?
Voice: I feel like I'm stretching through the wire. Towards you. Don't hang up. I might go if you hang up.
D: Go where, ma'am?
V: Go. Gone. Away.
D: OK, and can you describe your surroundings-
(unknown noise)
D: Ma'am? Hello, ma'am?
NOTE: Dispatcher attempted to call the number back, but it was no longer in service.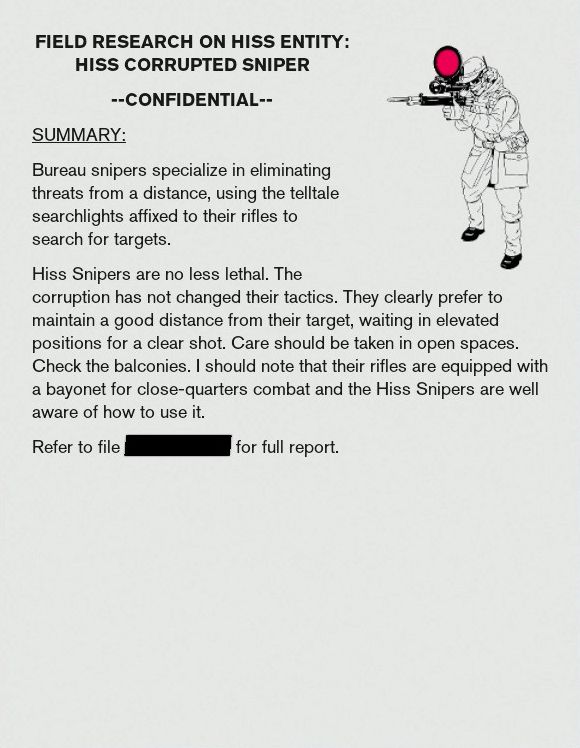 COMPILED BY
Emily Pope, Research Specialist
BY ORDER OF
Director Jesse Faden

FIELD RESEARCH ON HISS ENTITY:
HISS CORRUPTED SNIPER
--CONFIDENTIAL--
SUMMARY:
Bureau snipers specialize in eliminating threats from a distance, using the telltale searchlights affixed to their rifles to search for targets.
Hiss Snipers are no less lethal. The corruption has not changed their tactics. They clearly prefer to maintain a good distance from their target, waiting in elevated positions for a clear shot. Care should be taken in open spaces. Check the balconies. I should note that their rifles are equipped with a bayonet for close-quarters combat and the Hiss Snipers are well aware of how to use it.
Refer to file

some number

for full report.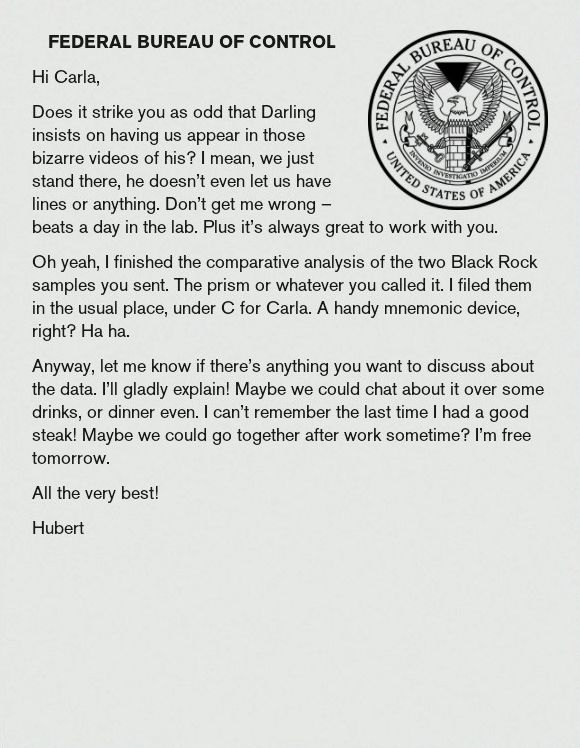 TO
C. Vaughn
FROM
H. Tan
SUBJECT
Black Rock Sample Analysis

FEDERAL BUREAU OF CONTROL
Hi Carla,
Does it strike you as odd that Darling insists on having us appear in those bizarre videos of his? I mean, we just stand there, he doesn't even let us have lines or anything. Don't get me wrong — beats a day in the lab. Plus it's always great to work with you.
Oh yeah, I finished the comparative analysis of the two Black Rock samples you sent. The prism or whatever you called it. I filed them in the usual place, under C for Carla. A handy mnemonic device, right? Ha ha.
Anyway, let me know if there's anything you want to discuss about the data. I'll gladly explain! Maybe we could chat about it over some drinks, or dinner even. I can't remember the last time I had a good steak! Maybe we could go together after work sometime? I'm free tomorrow.
All the very best!
Hubert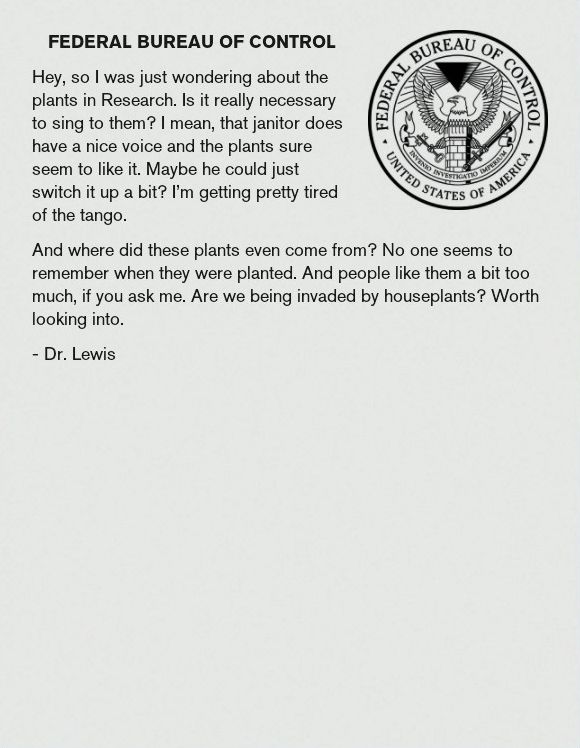 FEDERAL BUREAU OF CONTROL
Hey, so I was just wondering about the plants in Research. Is it really necessary to sing to them? I mean, that janitor does have a nice voice and the plants sure seem to like it. Maybe he could just switch it up a bit? I'm getting pretty tired of the tango.
And where did these plants even come from? No one seems to remember when they were planted. And people like them a bit too much, if you ask me. Are we being invaded by houseplants? Worth looking into.
- Dr. Lewis

Obviously, the same warning as always applies to all of my guesses about the redacted portions of documents, but it's really obvious what this one is talking about, and it's one of the biggest spoilers the game has to offer. If you're at all interested in waiting until the game intends for you to know what's behind the mysteries, don't peek at the black bars here.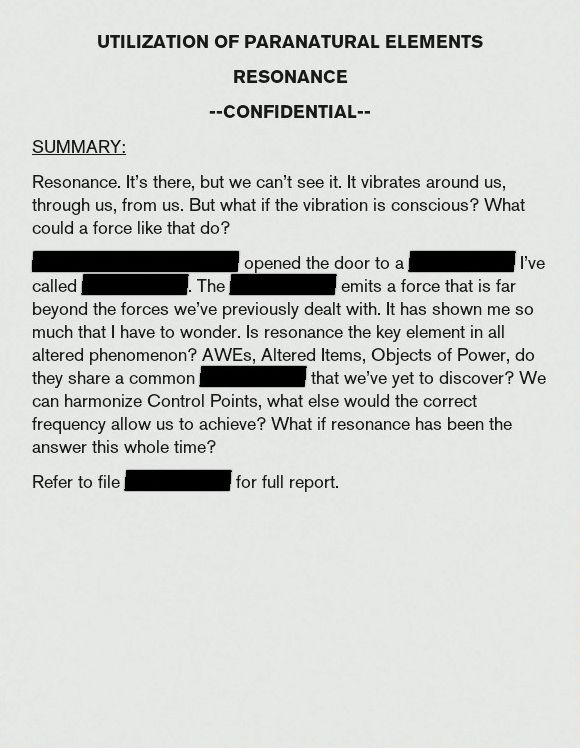 COMPILED BY
Dr. Casper Darling, Head of Research
BY ORDER OF
n/a

UTILIZATION OF PARANATURAL ELEMENTS
RESONANCE
--CONFIDENTIAL--
SUMMARY:
Resonance. It's there, but we can't see it. It vibrates around us, through us, from us. But what if the vibration is conscious? What could a force like that do?


The Slide Projector

opened the door to a

resonance

I've called

Hedron

. The

Hedron

emits a force that is far beyond the forces we've previously dealt with. It has shown me so much that I have to wonder. Is resonance the key element in all altered phenomenon? AWEs, Altered Items, Objects of Power, do they share a common

resonance

that we've yet to discover? We can harmonize Control Points, what else would the correct frequency allow us to achieve? What if resonance has been the answer this whole time?
Refer to file

some number

for full report.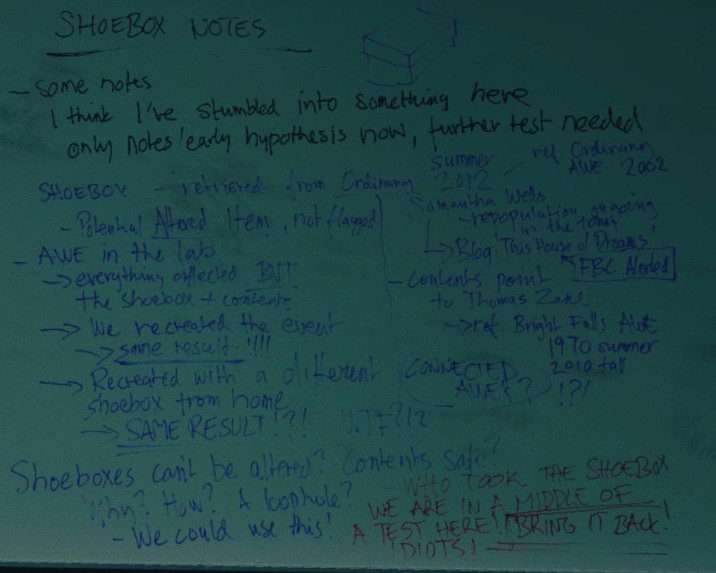 SHOEBOX NOTES
- some notes
I think I've stumbled into something here
only notes/early hypothesis now, further test needed

SHOEBOX - retrieved from Ordinary
- Potential Altered Item , not flagged
AWE in the lab
-> everything affected BUT the shoebox + contents
-> We recreated the event -> same result!!!!
-> Recreated with a different shoebox from home -> SAME RESULT!?! WTF?!?

summer 2012 - ref Ordinary AWE 2002
Samantha Wells - repopulation ongoing in the [town? tone? toilet?]
-> Blog: 'This House of Dreams' <- FBC Alerted
- contents point to Thomas Zane
-> ref Bright Falls AWE 1970 summer
2010 fall
CONNECTED AWE's? !?!

Shoeboxes can't be altered? Contents safe?
Why? How? A loophole?
- We could use this!

WHO TOOK THE SHOEBOX
WE ARE IN A MIDDLE OF A TEST HERE!! BRING IT BACK!
IDIOTS!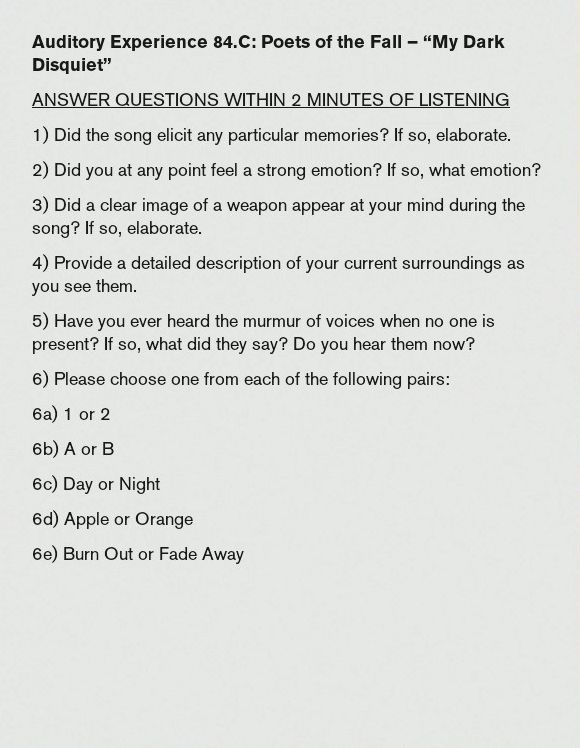 Auditory Experience 84.C: Poets of the Fall — "My Dark Disquiet"
ANSWER QUESTIONS WITHIN 2 MINUTES OF LISTENING
1) Did the song elicit any particular memories? If so, elaborate.
2) Did you at any point feel a strong emotion? If so, what emotion?
3) Did a clear image of a weapon appear at your mind during the song? If so, elaborate.
4) Provide a detailed description of your current surroundings as you see them.
5) Have you ever heard the murmur of voices when no one is present? If so, what did they say? Do you hear them now?
6) Please choose one from each of the following pairs:
6a) 1 or 2
6b) A or B
6c) Day or Night
6d) Apple or Orange
6e) Burn Out or Fade Away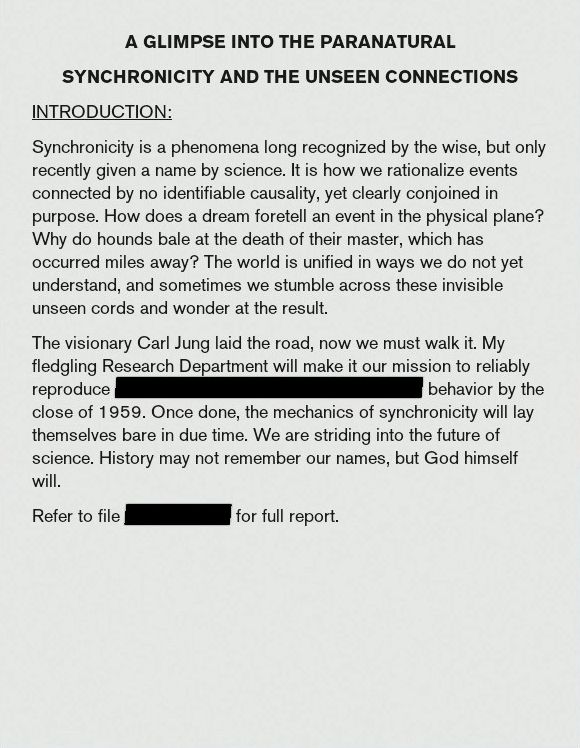 PENNED BY
Dr. Theodore Ash, Head of Research
BY AUTHORITY OF
n/a

A GLIMPSE INTO THE PARANATURAL
SYNCHRONICITY AND THE UNSEEN CONNECTIONS
INTRODUCTION:
Synchronicity is a phenomena long recognized by the wise, but only recently given a name by science. It is how we rationalize events connected by no identifiable causality, yet clearly conjoined in purpose. How does a dream foretell an event in the physical plane? Why do hounds bale at the death of their master, which has occurred miles away? The world is unified in ways we do not yet understand, and sometimes we stumble across these invisible unseen cords and wonder at the result.
The visionary Carl Jung laid the road, now we must walk it. My fledgling Research Department will make it our mission to reliably reproduce

demonstrably induced synchronous

behavior by the close of 1959. Once done, the mechanics of synchronicity will lay themselves bare in due time. We are striding into the future of science. History may not remember our names, but God himself will.
Refer to file

some number

for full report.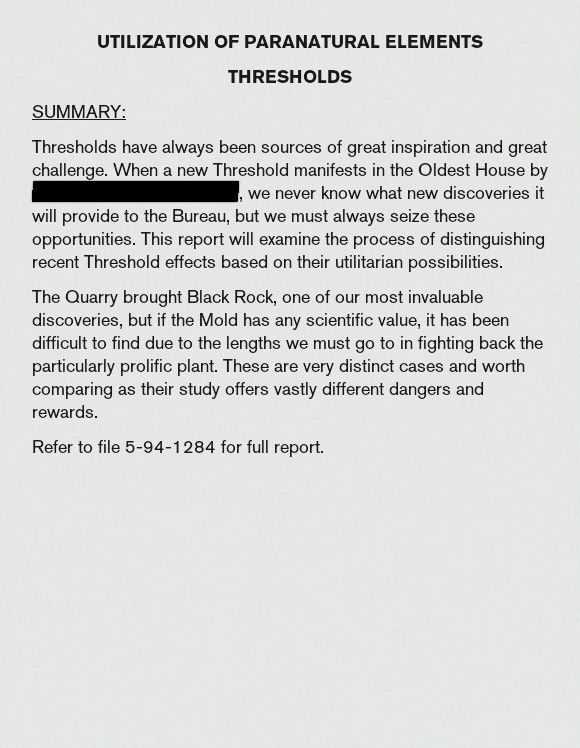 COMPILED BY
Dr. Casper Darling, Head of Research
BY ORDER OF
n/a

UTILIZATION OF PARANATURAL ELEMENTS
THRESHOLDS
SUMMARY:
Thresholds have always been sources of great inspiration and great challenge. When a new Threshold manifests in the Oldest House by

displacing a department

, we never know what new discoveries it will provide to the Bureau, but we must always seize these opportunities. This report will examine the process of distinguishing recent Threshold effects based on their utilitarian possibilities.
The Quarry brought Black Rock, one of our most invaluable discoveries, but if the Mold has any scientific value, it has been difficult to find due to the lengths we must go to in fighting back the particularly prolific plant. These are very distinct cases and worth comparing as their study offers vastly different dangers and rewards.
Refer to file 5-94-1284 for full report.