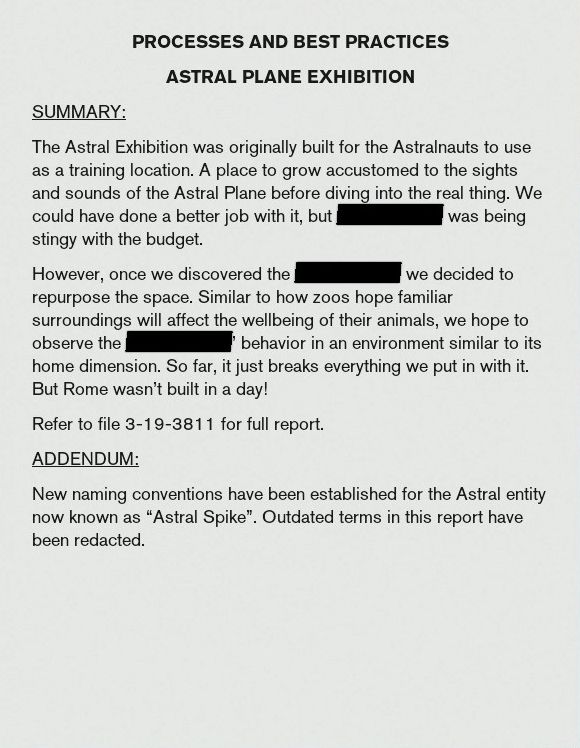 COMPILED BY
Dr. Casper Darling, Head of Research
BY ORDER OF
n/a

PROCESSES AND BEST PRACTICES
ASTRAL PLANE EXHIBITION
SUMMARY:
The Astral Exhibition was originally built for the Astralnauts to use as a training location. A place to grow accustomed to the sights and sounds of the Astral Plane before diving into the real thing. We could have done a better job with it, but

Trench

was being stingy with the budget.
However, once we discovered the

Astral Fugue

we decided to repurpose the space. Similar to how zoos hope familiar surroundings will affect the wellbeing of their animals, we hope to observe the

Astral Fugue's

behavior in an environment similar to its home dimension. So far, it just breaks everything we put in with it. But Rome wasn't built in a day!
Refer to file 3-19-3811 for full report.
ADDENDUM:
New naming conventions have been established for the Astral entity now known as "Astral Spike". Outdated terms in this report have been redacted.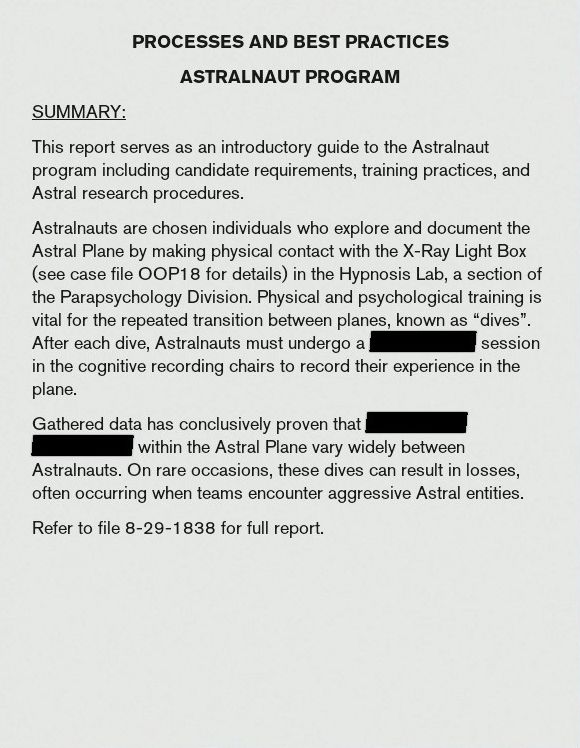 COMPILED BY
Dr. Bethany Harrington, Parapsychology Dept. Chief
BY ORDER OF
Dr. Casper Darling, Head of Research

PROCESSES AND BEST PRACTICES
ASTRALNAUT PROGRAM
SUMMARY:
This report serves as an introductory guide to the Astralnaut program including candidate requirements, training practices, and Astral research procedures.
Astralnauts are chosen individuals who explore and document the Astral Plane by making physical contact with the X-Ray Light Box (see case file OOP18 for details) in the Hypnosis Lab, a section of the Parapsychology Division. Physical and psychological training is vital for the repeated transition between planes, known as "dives". After each dive, Astralnauts must undergo a

recording

session in the cognitive recording chairs to record their experience in the plane.
Gathered data has conclusively proven that

the locations visited?

within the Astral Plane vary widely between Astralnauts. On rare occasions, these dives can result in losses, often occurring when teams encounter aggressive Astral entities.
Refer to file 8-29-1838 for full report.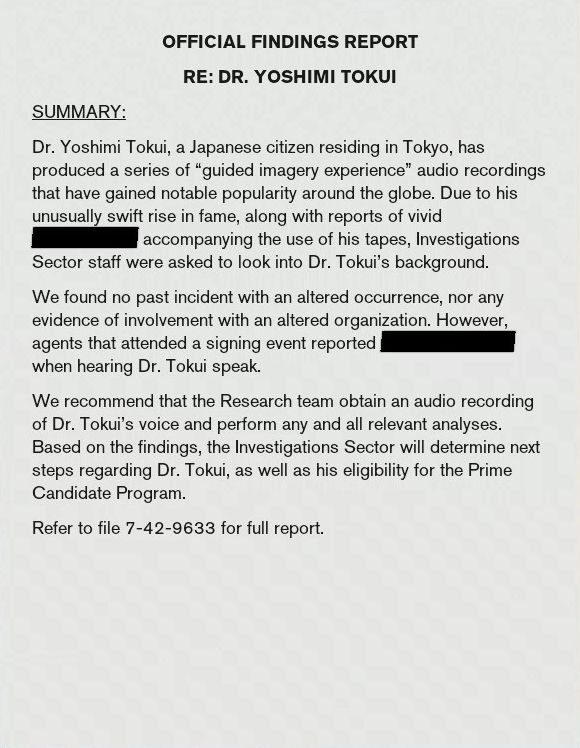 COMPILED BY
Lisa Keenum, Special Agent
BY ORDER OF
Dr. Casper Darling, Head of Research

OFFICIAL FINDINGS REPORT
RE: DR. YOSHIMI TOKUI
SUMMARY:
Dr. Yoshimi Tokui, a Japanese citizen residing in Tokyo, has produced a series of "guided imagery experience" audio recordings that have gained notable popularity around the globe. Due to his unusually swift rise in fame, along with reports of vivid

hallucinations

accompanying the use of his tapes, Investigations Sector staff were asked to look into Dr. Tokui's background.
We found no past incident with an altered occurrence, nor any evidence of involvement with an altered organization. However, agents that attended a signing event reported

hallucinations

when hearing Dr. Tokui speak.
We recommend that the Research team obtain an audio recording of Dr. Tokui's voice and perform any and all relevant analyses. Based on the findings, the Investigations Sector will determine next steps regarding Dr. Tokui, as well as his eligibility for the Prime Candidate Program.
Refer to file 7-42-9633 for full report.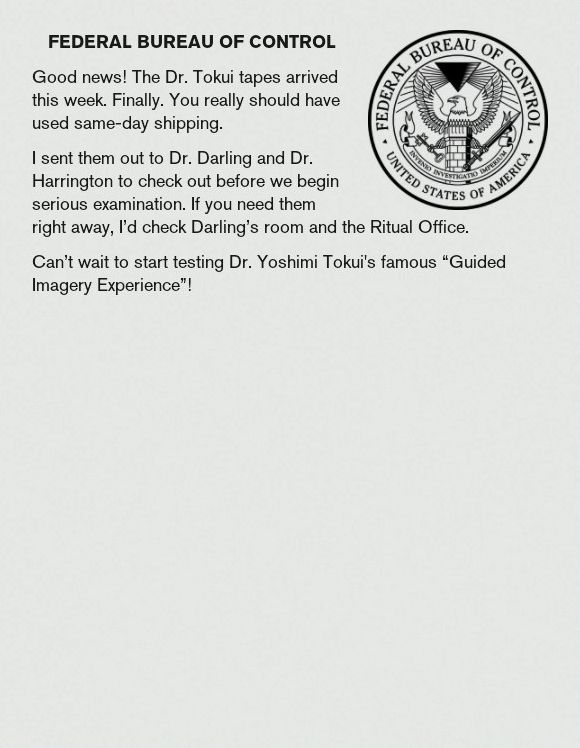 FEDERAL BUREAU OF CONTROL
Good news! The Dr. Tokui tapes arrived this week. Finally. You really should have used same-day shipping.
I sent them out to Dr. Darling and Dr. Harrington to check out before we begin serious examination. If you need them right away, I'd check Darling's room and the Ritual Office.
Can't wait to start testing Dr. Yoshimi Tokui's famous "Guided Imagery Experience"!

The literature on groupthink is actually pretty fascinating, and it's easy to see why Dr. Ash was so fascinated with it. Not to be confused with Solomon Asch and his Conformity experiments, of course. Irving Janis was one of the pioneers, if not THE pioneer, of Groupthink theory, which is downright scary to read in the summer of 2020. There's not much I can find on Robert Baron, but he had a very different theory of what causes the phenomenon.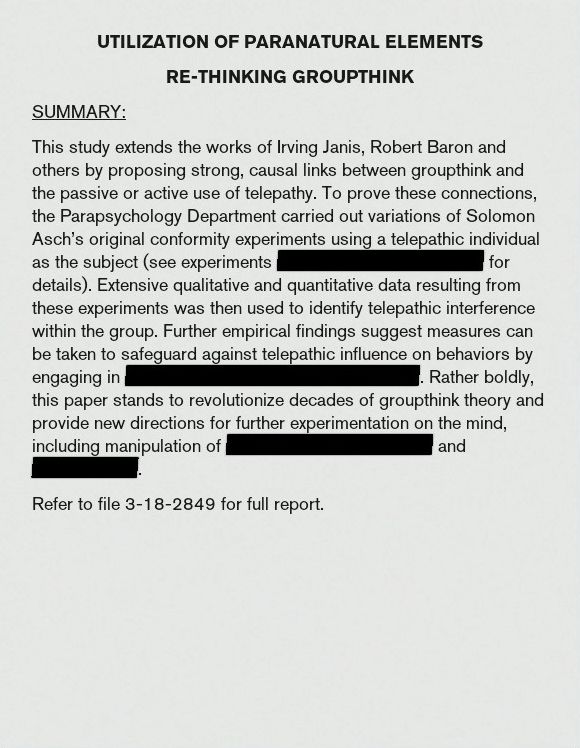 COMPILED BY
Paula Bronte, Researcher
BY ORDER OF
Emily Pope, Research Specialist

UTILIZATION OF PARANATURAL ELEMENTS
RE-THINKING GROUPTHINK
SUMMARY:
This study extends the works of Irving Janis, Robert Baron and others by proposing strong, causal links between groupthink and the passive or active use of telepathy. To prove these connections, the Parapsychology Department carried out variations of Solomon Asch's original conformity experiments using a telepathic individual as the subject (see experiments

don't know the numbers, but we'll see a report on one of these in the next part

for details). Extensive qualitative and quantitative data resulting from these experiments was then used to identify telepathic interference within the group. Further empirical findings suggest measures can be taken to safeguard against telepathic influence on behaviors by engaging in

repeated ritual behaviors

. Rather boldly, this paper stands to revolutionize decades of groupthink theory and provide new directions for further experimentation on the mind, including manipulation of

individual actions

and

thoughts

.
Refer to file 3-18-2849 for full report.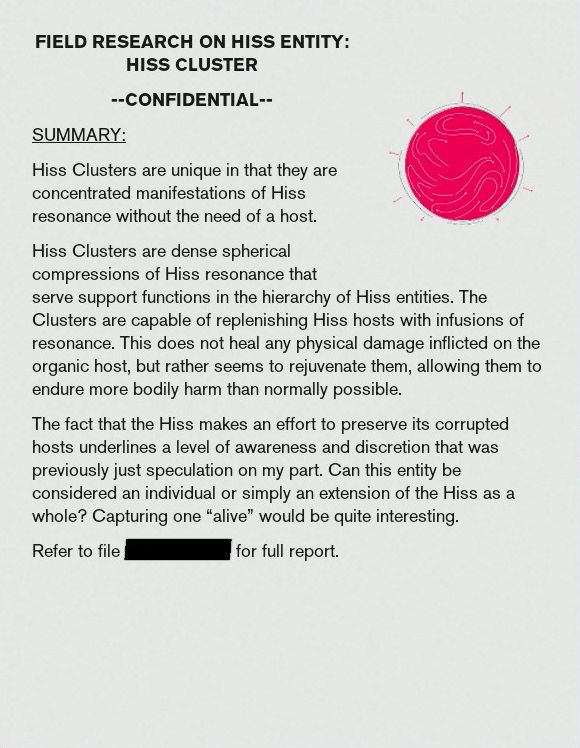 COMPILED BY
Emily Pope, Research Specialist
BY ORDER OF
Director Jesse Faden

FIELD RESEARCH ON HISS ENTITY:
HISS CLUSTER
--CONFIDENTIAL--
SUMMARY:
Hiss Clusters are unique in that they are concentrated manifestations of Hiss resonance without the need of a host.
Hiss Clusters are dense spherical compressions of Hiss resonance that serve support functions in the hierarchy of Hiss entities. The Clusters are capable of replenishing Hiss hosts with infusions of resonance. This does not heal any physical damage inflicted on the organic host, but rather seems to rejuvenate them, allowing them to endure more bodily harm than normally possible.
The fact that the Hiss makes an effort to preserve its corrupted hosts underlines a level of awareness and discretion that was previously just speculation on my part. Can this entity be considered an individual or simply an extension of the Hiss as a whole? Capturing one "alive" would be quite interesting.
Refer to file

some number

for full report.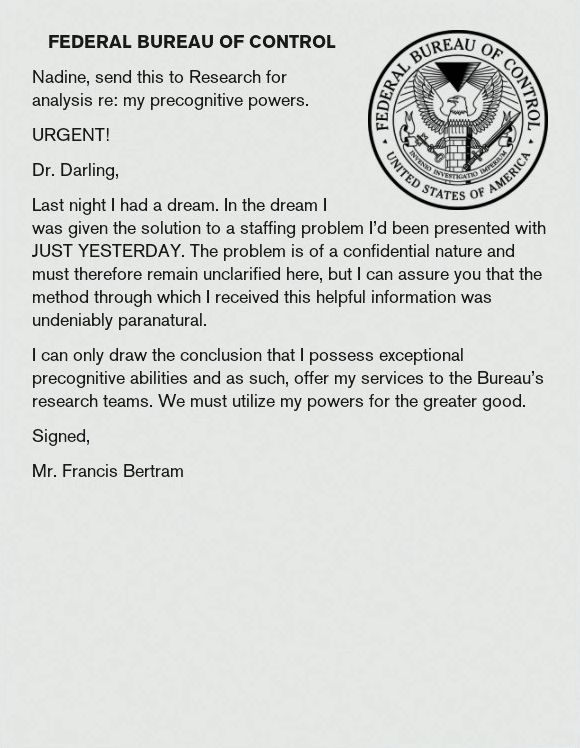 FEDERAL BUREAU OF CONTROL
Nadine, send this to Research for analysis re: my precognitive powers.
URGENT!
Dr. Darling,
Last night I had a dream. In the dream I was given the solution to a staffing problem I'd been presented with JUST YESTERDAY. The problem is of a confidential nature and must therefore remain unclarified here, but I can assure you that the method through which I received this helpful information was undeniably paranatural.
I can only draw the conclusion that I possess exceptional precognitive abilities and as such, offer my services to the Bureau's research teams. We must utilize my powers for the greater good.
Signed,
Mr. Francis Bertram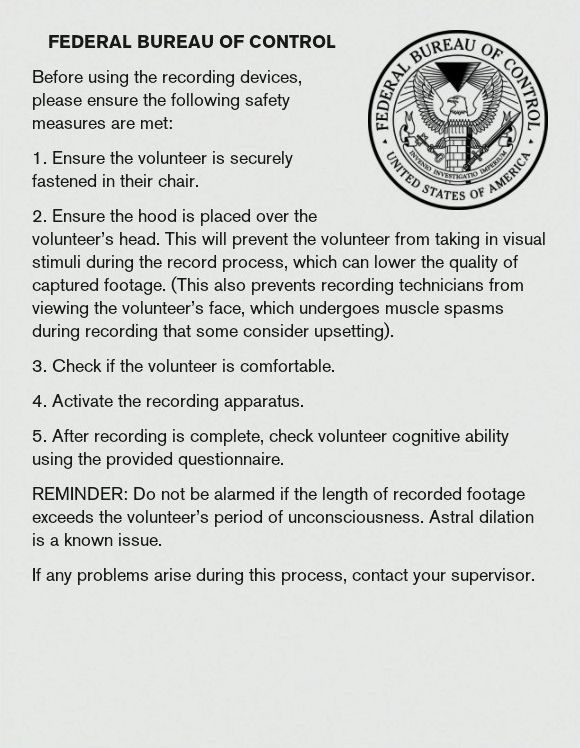 FEDERAL BUREAU OF CONTROL
Before using the recording devices, please ensure the following safety measures are met:
1. Ensure the volunteer is securely fastened in their chair.
2. Ensure the hood is placed over the volunteer's head. This will prevent the volunteer from taking in visual stimuli during the record process, which can lower the quality of captured footage. (This also prevents recording technicians from viewing the volunteer's face, which undergoes muscle spasms during recording that some consider upsetting).
3. Check if the volunteer is comfortable.
4. Activate the recording apparatus.
5. After recording is complete, check volunteer cognitive ability using the provided questionnaire.
REMINDER: Do not be alarmed if the length of recorded footage exceeds the volunteer's period of unconsciousness. Astral dilation is a known issue.
If any problems arise during this process, contact your supervisor.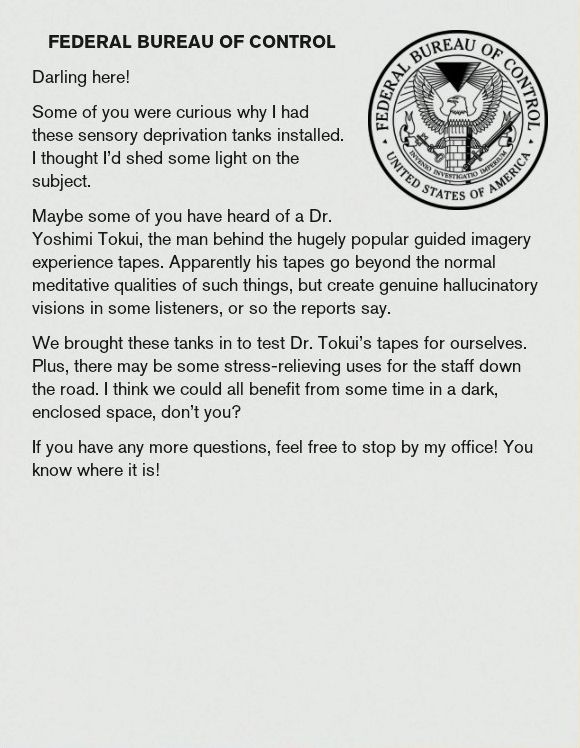 FEDERAL BUREAU OF CONTROL
Darling here!
Some of you were curious why I had these sensory deprivation tanks installed. I thought I'd shed some light on the subject.
Maybe some of you have heard of a Dr. Yoshimi Tokui, the man behind the hugely popular guided imagery experience tapes. Apparently his tapes go beyond the normal meditative qualities of such things, but create genuine hallucinatory visions in some listeners, or so the reports say.
We brought these tanks in to test Dr. Tokui's tapes for ourselves. Plus, there may be some stress-relieving uses for the staff down the road. I think we could all benefit from some time in a dark, enclosed space, don't you?
If you have any more questions, feel free to stop by my office! You know where it is!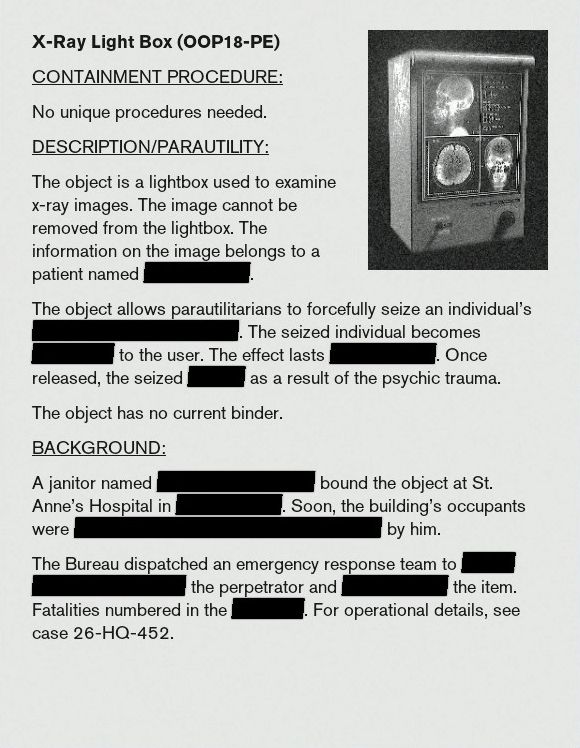 ID
X-Ray Light Box (OOP18-PE)
ACQUISITION,DATE
09/01/2003
CONTAINMENT LOCATION
Parapsychology Department, Research Sector

X-Ray Light Box (OOP18-PE)
CONTAINMENT PROCEDURE:
No unique procedures needed.
DESCRIPTION/PARAUTILITY:
The object is a lightbox used to examine x-ray images. The image cannot be removed from the lightbox. The information on the image belongs to a patient named

M. Cage

.
The object allows parautilitarians to forcefully seize an individual's

conscious mind

. The seized individual becomes

an ally

to the user. The effect lasts

one minute?

. Once released, the seized

dies

as a result of the psychic trauma.
The object has no current binder.
BACKGROUND:
A janitor named

probably not Ahti unless...

bound the object at St. Anne's Hospital in

Ripon? Brno?

. Soon, the building's occupants were

helplessly entranced

by him.
The Bureau dispatched an emergency response team to

seize and detain

the perpetrator and

recover

the item. Fatalities numbered in the

hundreds

. For operational details, see case 26-HQ-452.

azsedcf on the Something Awful forum pointed out that the MRI image in the X-Ray Lightbox has some barely readable text, so here's a blown-up version of the screen and my best reading of it, based on a bit of Internet research. Looks like the patient may have dilated cardiomyopathy?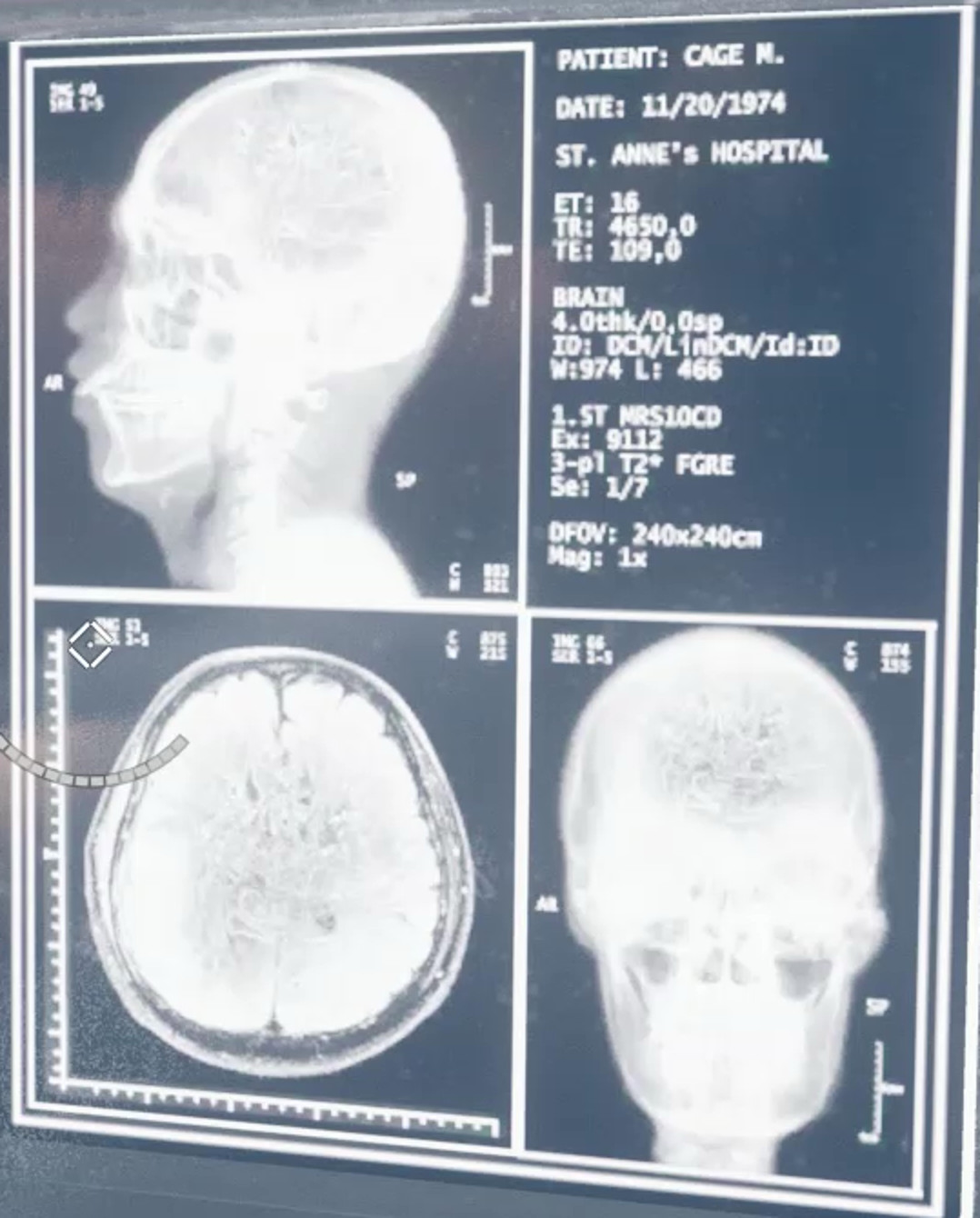 PATIENT: Cage M.

DATE: 11/20/1974

ST. ANNE's HOSPITAL

ET: 16
TR: 4650,0
TE: 109,0

BRAIN
4.0thk/0,0sp
ID: DCM/L1nDCM/Id:ID
W:974 L: 466

1.ST MRS10CD
Ex: 9112
3-pl T2* FGRE
5e: 1/7
DFOV: 240x240cm
Mag: 1x