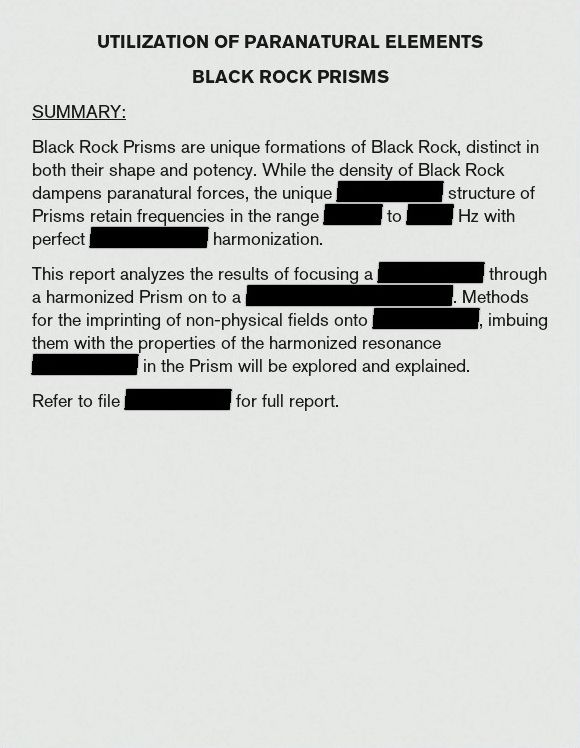 COMPILED BY
Dr. Casper Darling, Head of Research
BY ORDER OF
n/a

UTILIZATION OF PARANATURAL ELEMENTS
BLACK ROCK PRISMS
SUMMARY:
Black Rock Prisms are unique formations of Black Rock, distinct in both their shape and potency. While the density of Black Rock dampens paranatural forces, the unique

polyhedral

structure of Prisms retain frequencies in the range

100?

to

800?

Hz with perfect

polyphonic?

harmonization.
This report analyzes the results of focusing a

sound wave

through a harmonized Prism on to a

wearable container

. Methods for the imprinting of non-physical fields onto

FBC agents

, imbuing them with the properties of the harmonized resonance

concentrated

in the Prism will be explored and explained.
Refer to file

some number

for full report.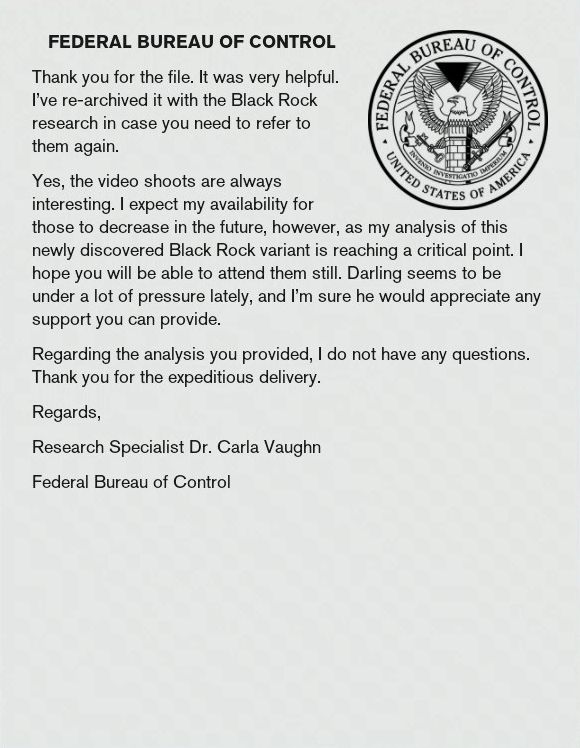 TO
H. Tan
FROM
C. Vaughn
SUBJECT
RE: Black Rock Sample Analysis

FEDERAL BUREAU OF CONTROL
Thank you for the file. It was very helpful. I've re-archived it with the Black Rock research in case you need to refer to them again.
Yes, the video shoots are always interesting. I expect my availability for those to decrease in the future, however, as my analysis of this newly discovered Black Rock variant is reaching a critical point. I hope you will be able to attend them still. Darling seems to be under a lot of pressure lately, and I'm sure he would appreciate any support you can provide.
Regarding the analysis you provided, I do not have any questions. Thank you for the expeditious delivery.
Regards,
Research Specialist Dr. Carla Vaughn
Federal Bureau of Control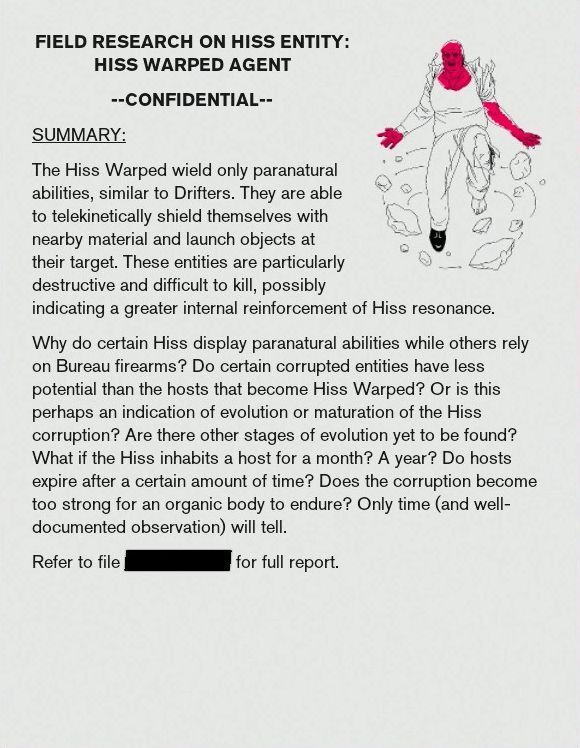 COMPILED BY
Emily Pope, Research Specialist
BY ORDER OF
Director Jesse Faden

FIELD RESEARCH ON HISS ENTITY:
HISS WARPED AGENT
--CONFIDENTIAL--
SUMMARY:
The Hiss Warped wield only paranatural abilities, similar to Drifters. They are able to telekinetically shield themselves with nearby material and launch objects at their target. These entities are particularly destructive and difficult to kill, possibly indicating a greater internal reinforcement of Hiss resonance.
Why do certain Hiss display paranatural abilities while others rely on Bureau firearms? Do certain corrupted entities have less potential than the hosts that become Hiss Warped? Or is this perhaps an indication of evolution or maturation of the Hiss corruption? Are there other stages of evolution yet to be found? What if the Hiss inhabits a host for a month? A year? Do hosts expire after a certain amount of time? Does the corruption become too strong for an organic body to endure? Only time (and well-documented observation) will tell.
Refer to file

some number

for full report.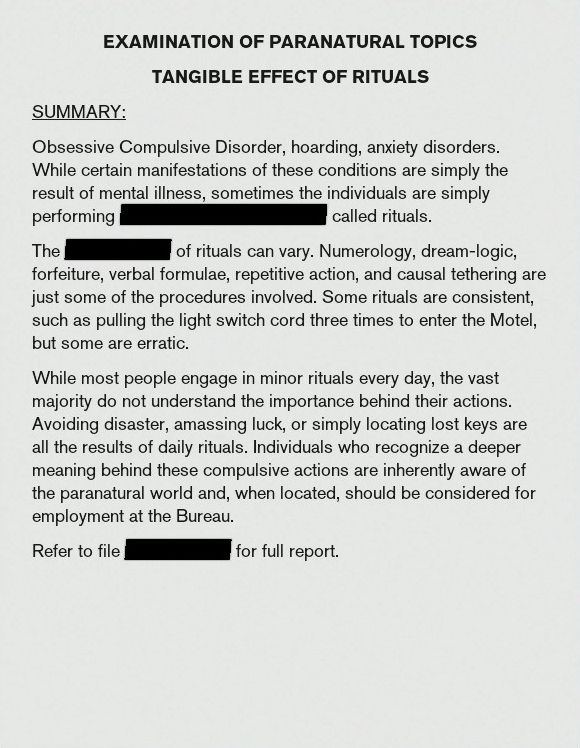 COMPILED BY
Emily Pope, Research Specialist
BY ORDER OF
Dr. Casper Darling, Head of Research

EXAMINATION OF PARANATURAL TOPICS
TANGIBLE EFFECT OF RITUALS
SUMMARY:
Obsessive Compulsive Disorder, hoarding, anxiety disorders. While certain manifestations of these conditions are simply the result of mental illness, sometimes the individuals are simply performing

supernaturally powerful procedures

called rituals.
The

nature and effects

of rituals can vary. Numerology, dream-logic, forfeiture, verbal formulae, repetitive action, and causal tethering are just some of the procedures involved. Some rituals are consistent, such as pulling the light switch cord three times to enter the Motel, but some are erratic.
While most people engage in minor rituals every day, the vast majority do not understand the importance behind their actions. Avoiding disaster, amassing luck, or simply locating lost keys are all the results of daily rituals. Individuals who recognize a deeper meaning behind these compulsive actions are inherently aware of the paranatural world and, when located, should be considered for employment at the Bureau.
Refer to file

some number

for full report.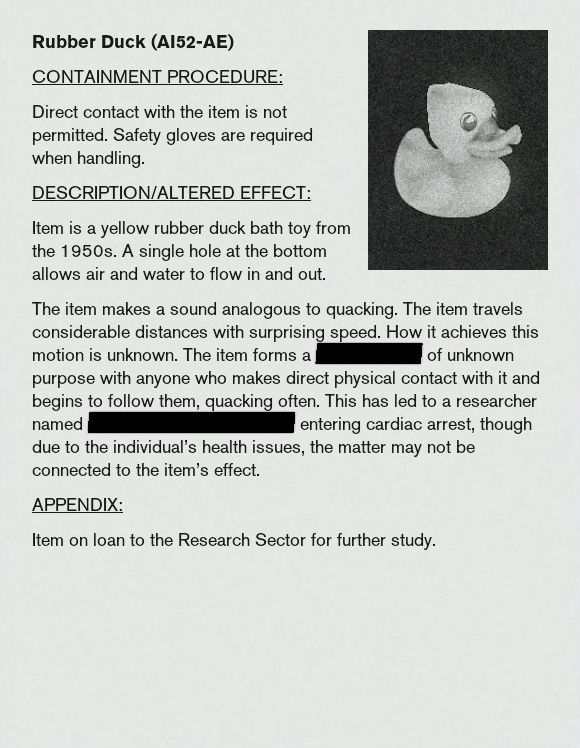 ID
Rubber Duck (AI52-AE)
ACQUISITION DATE
01/02/2001
CONTAINMENT LOCATION
Panopticon — Floor 03, Unit 06

Rubber Duck (AI52-AE)
CONTAINMENT PROCEDURE:
Direct contact with the item is not permitted. Safety gloves are required
when handling.
DESCRIPTION/ALTERED EFFECT:
Item is a yellow rubber duck bath toy from the 1950s. A single hole at the bottom allows air and water to flow in and out.
The item makes a sound analogous to quacking. The item travels considerable distances with surprising speed. How it achieves this motion is unknown. The item forms a

psychic bond

of unknown purpose with anyone who makes direct physical contact with it and begins to follow them, quacking often. This has led to a researcher named

the same guy who stole it? probably not though

entering cardiac arrest, though due to the individual's health issues, the matter may not be connected to the item's effect.
APPENDIX:
Item on loan to the Research Sector for further study.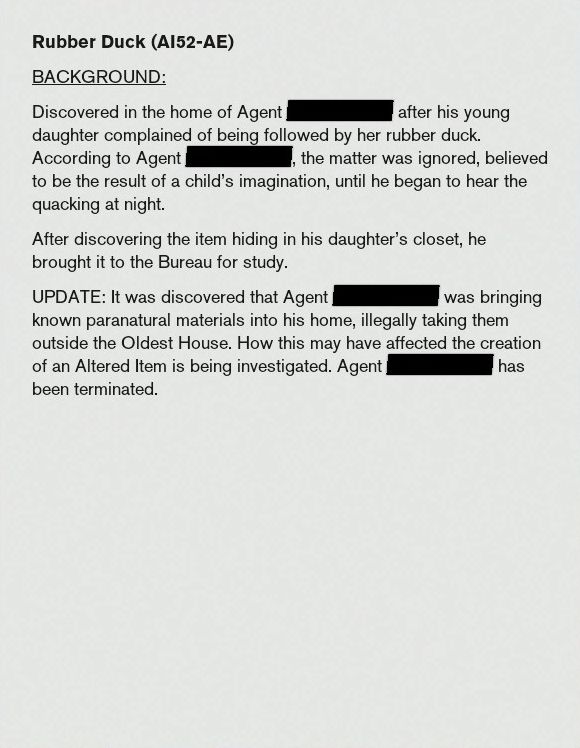 ID
Rubber Duck (AI52-AE)
ACQUISITION DATE
01/02/2001
CONTAINMENT LOCATION
Panopticon — Floor 03, Unit 06

Rubber Duck (AI52-AE)
BACKGROUND:
Discovered in the home of Agent

Name Here

after his young daughter complained of being followed by her rubber duck. According to Agent

Name Here

, the matter was ignored, believed to be the result of a child's imagination, until he began to hear the quacking at night.
After discovering the item hiding in his daughter's closet, he brought it to the Bureau for study.
UPDATE: It was discovered that Agent

Name Here

was bringing known paranatural materials into his home, illegally taking them outside the Oldest House. How this may have affected the creation of an Altered Item is being investigated. Agent

Name Here

has been terminated.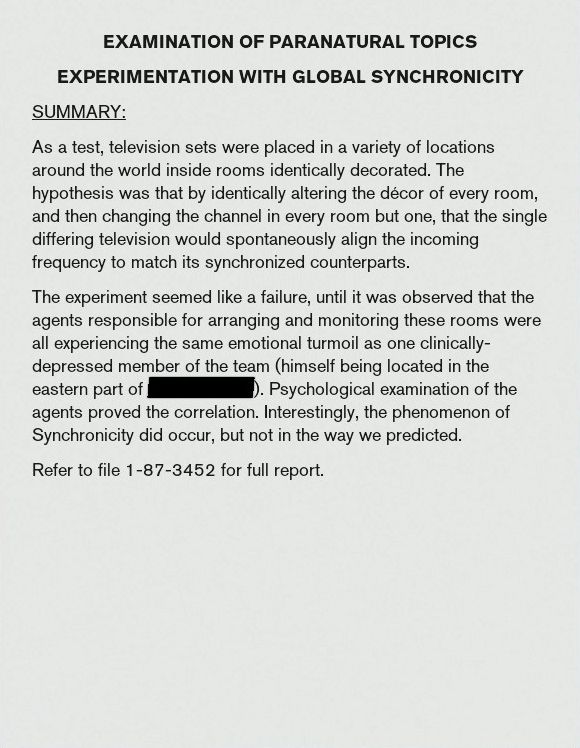 COMPILED BY
Dr. Jerrod Gronson, Synchronicity Department Chief
BY ORDER OF
Dr. Casper Darling, Head of Research

EXAMINATION OF PARANATURAL TOPICS
EXPERIMENTATION WITH GLOBAL SYNCHRONICITY
SUMMARY:
As a test, television sets were placed in a variety of locations around the world inside rooms identically decorated. The hypothesis was that by identically altering the décor of every room, and then changing the channel in every room but one, that the single differing television would spontaneously align the incoming frequency to match its synchronized counterparts.
The experiment seemed like a failure, until it was observed that the agents responsible for arranging and monitoring these rooms were all experiencing the same emotional turmoil as one clinically-depressed member of the team (himself being located in the eastern part of

READER HOMETOWN HERE

).Psychological examination of the agents proved the correlation. Interestingly, the phenomenon of Synchronicity did occur, but not in the way we predicted.
Refer to file 1-87-3452 for full report.

This innocent-looking document is another one whose redactions are obvious in nature, but the details will give away more than you may want to know.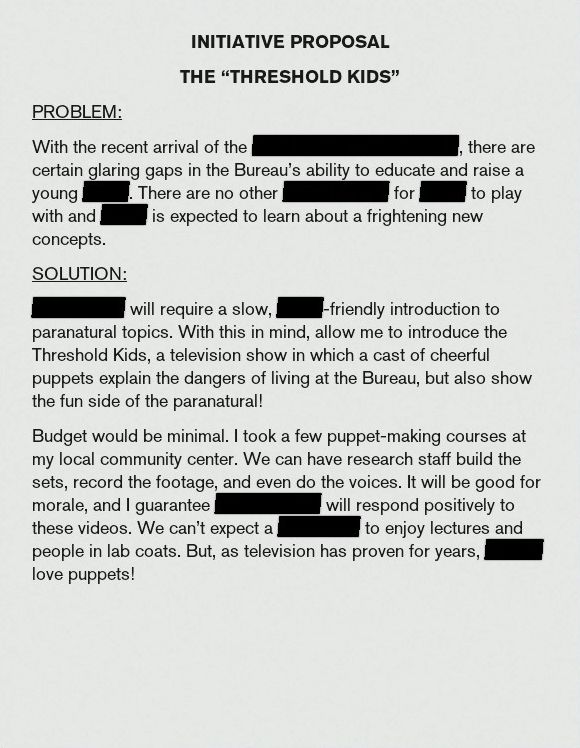 COMPILED BY
Bethany Harrington, Parapsychologist
BY ORDER OF
Director Zachariah Trench

INITIATIVE PROPOSAL
THE "THRESHOLD KIDS"
PROBLEM:
With the recent arrival of the

sixth Prime Candidate

, there are certain glaring gaps in the Bureau's ability to educate and raise a young

child

. There are no other

children

for

Dylan

to play with and

Dylan

is expected to learn about a frightening new concepts.
SOLUTION:


The PCP

will require a slow,

child

-friendly introduction to paranatural topics. With this in mind, allow me to introduce the Threshold Kids, a television show in which a cast of cheerful puppets explain the dangers of living at the Bureau, but also show the fun side of the paranatural!
Budget would be minimal. I took a few puppet-making courses at my local community center. We can have research staff build the sets, record the footage, and even do the voices. It will be good for morale, and I guarantee

Dylan Faden

will respond positively to these videos. We can't expect a

young child

to enjoy lectures and people in lab coats. But, as television has proven for years,

children

love puppets!