Chapter 9: Side Story 1: The Trials of Sisyphus



When I wake up this early summer morning, I can feel already that this is to be an auspicious day, if for no other reason that maybe my neighbors will stop their daily fucking firing of a small-but-particularly-hefty child's weight in fireworks after tonight. The upside of the active pandemic destroying any ability to go outside or actually do anything interesting at all is that the high school football field I live right next to has stopped blasting out Top 40's hits every Friday night from its sound system. The worst part, for the record, isn't even the noise, it's the guy in the unit next to me screaming out his window for them to turn it down, clearly completely fucking oblivious as to how any of this shit works. However, while football may be gone, the people who live next door seem eager to fill the resulting void in the "terrorizing your neighbors" industry. If the passing of July 4th abates this, I'll be happy for it.

But no. This is not what I sensed coming that fateful morning. That is something darker, more haunting, more malicious. It is something primordial, lurking in the negative space of my brain, within fear and doubt. It is the world's justice, come to strike me down.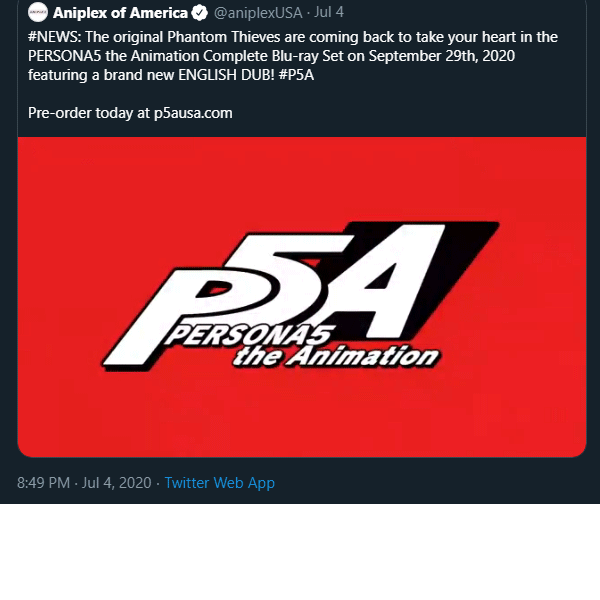 are you FUCKING KIDDING M—





I hadn't really watched much of the Persona 5 anime, despite finishing an entire LP of the game and currently being four updates deep into another LP of its rerelease. I never even finished the Persona 4 anime, and the P5 one had something of a reputation for being not just cheap but actively uninspired. One of the main things I knew about it was that the end of its original run just… stops at a certain point in the story, leaving a hilarious amount of stuff unresolved that has to be finished up in two OVAs. I had no particular interest in watching this anime, but I had an out, because I was familiar with the licensor, Aniplex…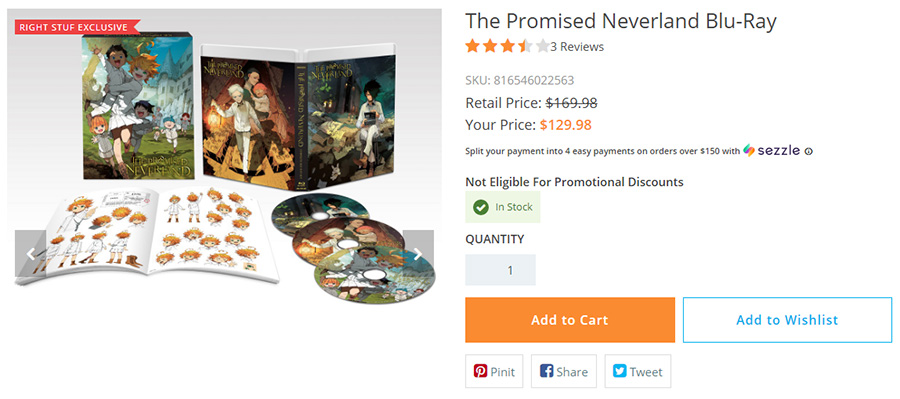 ...because they're bullshit.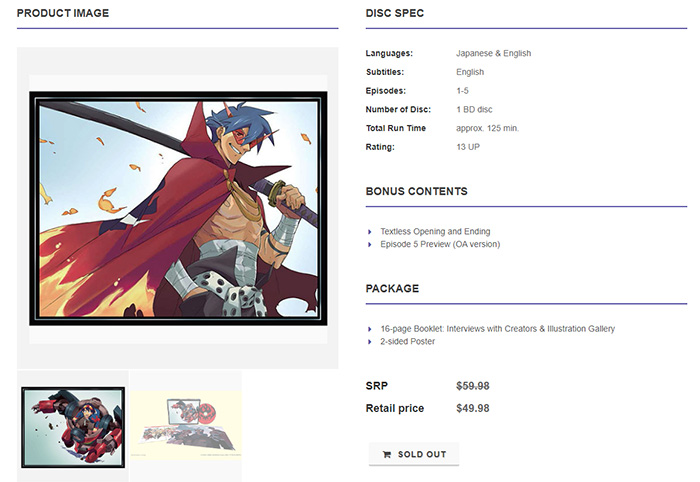 Yeah, I'll totally pay $10 an episode for Gurren Lagann, a 13-year-old show that I don't even particularly like anymore! And this sold out!




$90 for six episodes of a twelve episode series? What a steal! And if you don't like that, you can always pay $130 for My Little Sister Can't Be This Cute! Season 2!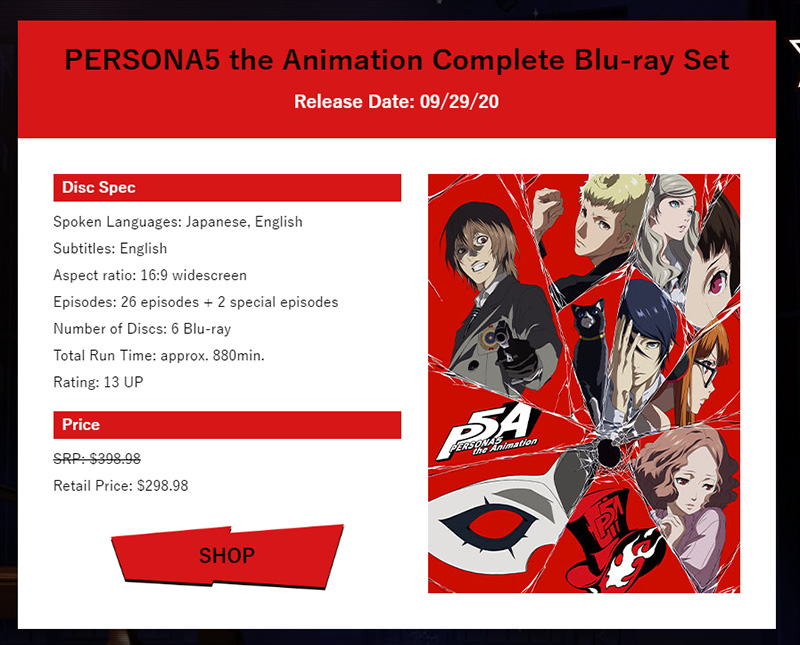 And Persona 5 was not any different here, which was almost a relief honestly.

Now, Aniplex is also notable for actually putting effort into their dub productions, and that was notable here as well; the trailer they posted with the announcement made a significant effort to show off that yes, all the characters in it (which would be all the playable characters, Sae, the twins, and Igor) have the same voice actors as the game. But that just makes it worse because now I feel obligated to watch it! And I already know it's bad! But, again, it's a smooth triple hundo. I may have just spent a different three hundred dollars I got as a birthday present last month on Nendoroids, but I draw the line here! No more!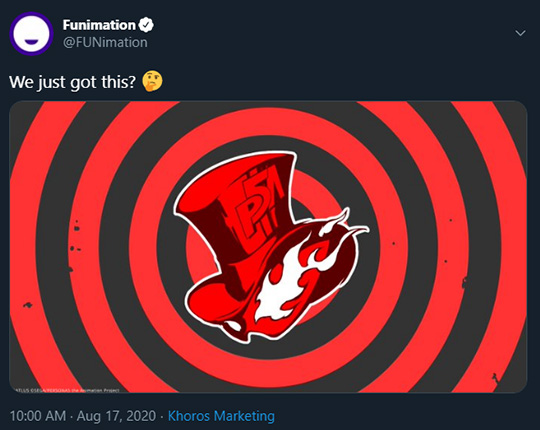 oh jesus CHRIST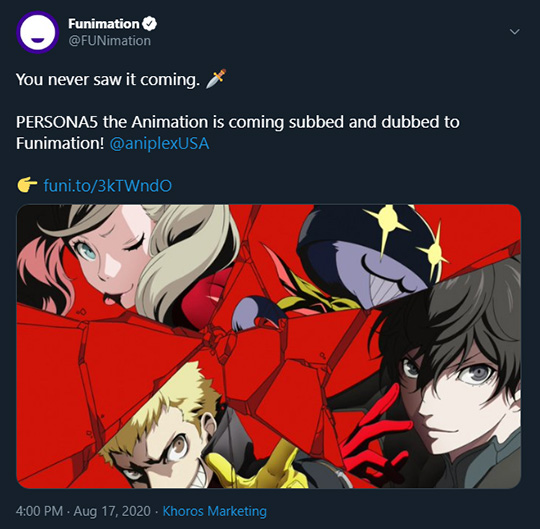 FUCK

Episode 1

Welp, whatever, I guess I'll just level my crafters while this episode plays, I don't give a fuck.




So, there's no English credits on the Funimation stream, and the Blu-ray isn't out yet so I can't actually check the voice actors, but something is… off about Igor's voice. I think it's still David Lodge, but either they have him doing a slightly different affect or the voice filter is just missing or altered. I would assume the latter because I'm familiar with the ADR director for the series and I'm fairly certain they worked on the game. Either way, it's less booming and more… creepy.
On that note, they didn't get the same voice actor for the most important role in the game, That One Detective What Has The Fish Eyes Going On Who Tortures Joker At The Beginning! 0/10!
I will say that every named character who appears in this episode (plus the SIU Director, ugh, who is neither named nor actually appears, we just hear his voice over the phone) has the same VA.






Jeez, this art. These aren't cherry-picked, these are all parts of fairly long, static shots, if not important ones. That third one with the MC ("Ren Amamiya," for the record) standing in place with no face lasts eighteen seconds!
When Ren shows up at Leblanc for the first time, the news report the old couple are watching is about a psychotic breakdown, just like in the game. But this time, the old man says "Damn millennials…" and folks, I squealed.
The script is better in some places (or at least more efficient because they have so, so much less time to work with), worse in others.
The main character doesn't really fall well into any conception of him I ever had. Him talking more ends up negatively affecting the character because in the game, there was at least a sense of… purpose in the beginning, I guess? Like, he was aware of how fucked his situation was, and was clearly resigned to the way people were going to view him. Here, when Sojiro describes the incident, Ren weakly objects, which just kind of comes off a little pathetic. Like, you haven't internalized how pointless it is to resist in your current situation, but you can't even muster a more forceful response? He doesn't even raise his voice. That plus all the shots of Ren frowning and depressed just make him seem like a total doormat. In the game I feel like the character would either at least take it more begrudgingly or be annoyed and smarmy.
The pace, the pace, the pace. It's unbelievable. I guess they wanted to replicate the structure of the P4 anime, which moved the protagonist's first Persona awakening up a bit so they could fit it at the end of the first episode. Despite P5 having less game before the equivalent event in its story, the ways they have to chop things down end up incredibly jarring. Nothing has any room to breathe whatsoever. Chief example of this being the protagonist heading to school with Sojiro, which is followed by the train scene and the scene with Sojiro in traffic… then a scene with Sae occurs, and then we skip to the scene in the rain with Ann the next day. It's incredibly disorienting because it's not even immediately clear that the front and back ends of the flashforward take place on different days.
Also worth noting: the scene with Principal Kobayakawa, Kawakami, and Sojiro where Kawakami drops the flyer for the maid service in Royal? That bit was taken directly from the anime!
They still aren't pronouncing "Takamaki" right, lord help me
Kamoshida is still D.C. Douglas, but... his Shadow has a really fucking weird voice filter now! It's really bizarre!
I'm fairly certain that outside of the OP, which plays over the end credits of this episode, there isn't any new music in the whole thing. Which, uh, not good, considering the music in the game is kind of distracting in this case and doesn't do nearly the job actually writing new music meant to be an anime score would.
As this episode was ending I clicked on a YouTube video in my other monitor and the preroll ad was that one where I'm 100% sure the voice actor is Max Mittelman, weird.

We might check back in periodically with these because I'm an idiot who's desperate for this to take even fucking longer for some godforsaken reason.