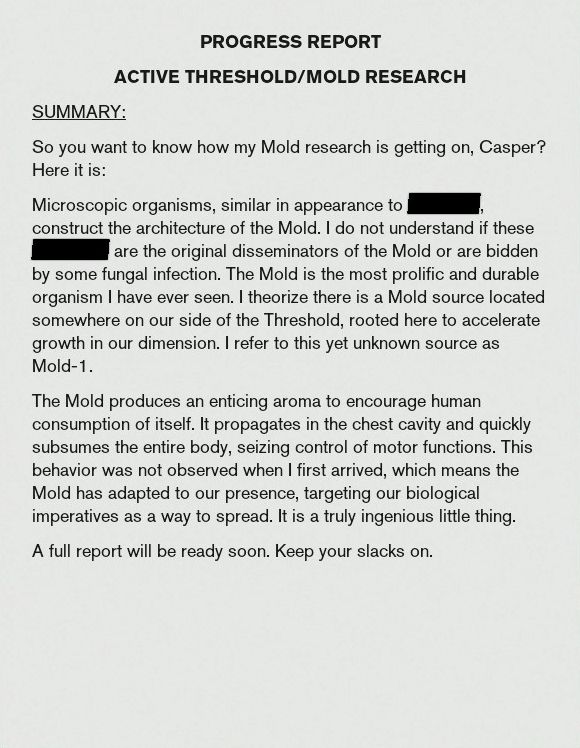 COMPILED BY
Dr. Raya Underhill, Contract Threshold Specialist
BY ORDER OF
Dr. Casper Darling, Head of Research

PROGRESS REPORT
ACTIVE THRESHOLD/MOLD RESEARCH
SUMMARY:
So you want to know how my Mold research is getting on, Casper? Here it is:
Microscopic organisms, similar in appearance to

bacteria

construct the architecture of the Mold. I do not understand if these

bacteria

are the original disseminators of the Mold or are bidden by some fungal infection. The Mold is the most prolific and durable organism I have ever seen. I theorize there is a Mold source located somewhere on our side of the Threshold, rooted here to accelerate growth in our dimension. I refer to this yet unknown source as Mold-1.
The Mold produces an enticing aroma to encourage human consumption of itself. It propagates in the chest cavity and quickly subsumes the entire body, seizing control of motor functions. This behavior was not observed when I first arrived, which means the Mold has adapted to our presence, targeting our biological imperatives as a way to spread. It is a truly ingenious little thing.
A full report will be ready soon. Keep your slacks on.

I think it's interesting that we found this report on the Bremen Basket in the Threshold where the Mold, which seems to affect humans specifically and also has mind-altering properties, is growing. Maybe they were studying the Basket here and the Mold appeared as a result. Environmental storytelling?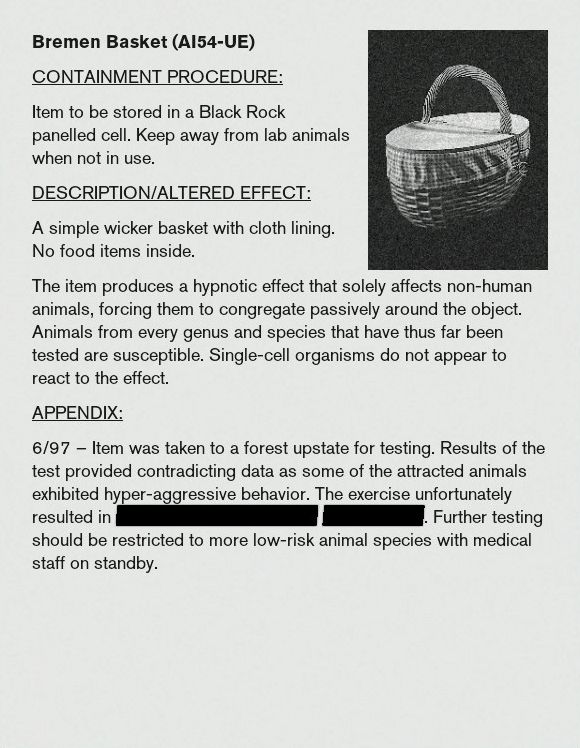 ID
Bremen Basket (AI54-UE)
ACQUISITION DATE
04/23/2002
CONTAINMENT LOCATION
Panopticon — Floor 01, Unit 14

Bremen Basket (AI54-UE)
CONTAINMENT PROCEDURE:
Item to be stored in a Black Rock panelled cell. Keep away from lab animals when not in use.
DESCRIPTION/ALTERED EFFECT:
A simple wicker basket with cloth lining. No food items inside.
The item produces a hypnotic effect that solely affects non-human animals, forcing them to congregate passively around the object. Animals from every genus and species that have thus far been tested are susceptible. Single-cell organisms do not appear to react to the effect.
APPENDIX:
6/97 — Item was taken to a forest upstate for testing. Results of the test provided contradicting data as some of the attracted animals exhibited hyper-aggressive behavior. The exercise unfortunately resulted in

the deaths of several employees

and cryptid rumors?

. Further testing should be restricted to more low-risk animal species with medical staff on standby.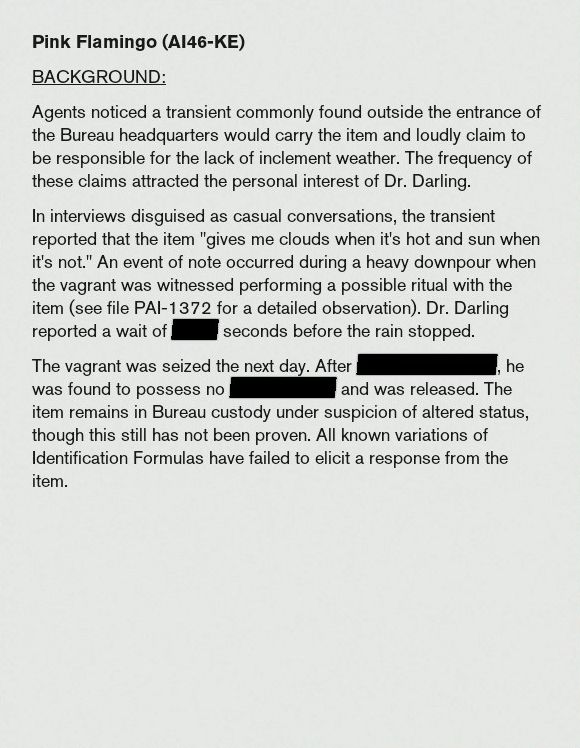 ID
Pink Flamingo (AI46-KE)
ACQUISITION DATE
08/12/1997
CONTAINMENT LOCATION
Panopticon — Floor 04, Unit 16

Pink Flamingo (AI46-KE)
BACKGROUND:
Agents noticed a transient commonly found outside the entrance of the Bureau headquarters would carry the item and loudly claim to be responsible for the lack of inclement weather. The frequency of these claims attracted the personal interest of Dr. Darling.
In interviews disguised as casual conversations, the transient reported that the item "gives me clouds when it's hot and sun when it's not." An event of note occurred during a heavy downpour when the vagrant was witnessed performing a possible ritual with the item (see file PAI-1372 for a detailed observation). Dr. Darling reported a wait of

thirty?

seconds before the rain stopped.
The vagrant was seized the next day. After

extensive testing?

, he was found to possess no

parautility

and was released. The item remains in Bureau custody under suspicion of altered status, though this still has not been proven. All known variations of Identification Formulas have failed to elicit a response from the item.

The essay referenced here was in Central Research - see the final document here.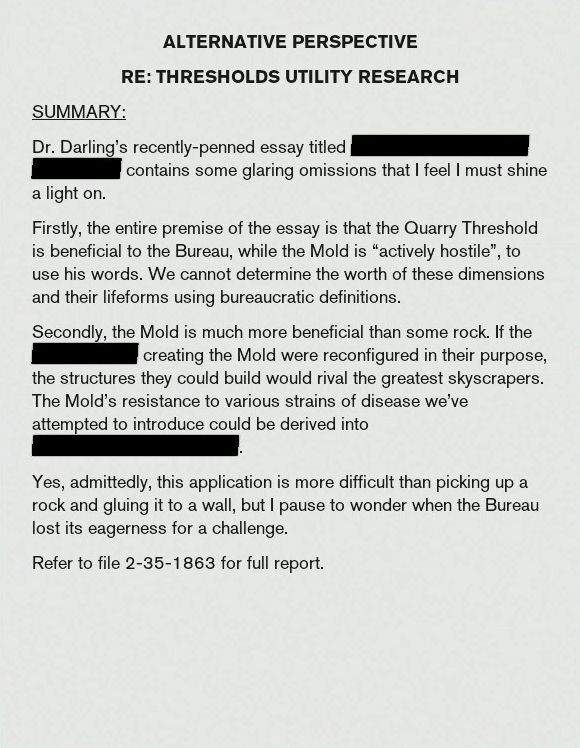 COMPILED BY
Dr. Raya Underhill, Contract Threshold Specialist
BY ORDER OF
n/a

ALTERNATIVE PERSPECTIVE
RE: THRESHOLDS UTILITY RESEARCH
SUMMARY:
Dr. Darling's recently-penned essay titled

Utilization of Paranatural Elements

contains some glaring omissions that I feel I must shine a light on.
Firstly, the entire premise of the essay is that the Quarry Threshold is beneficial to the Bureau, while the Mold is "actively hostile", to use his words. We cannot determine the worth of these dimensions and their lifeforms using bureaucratic definitions.
Secondly, the Mold is much more beneficial than some rock. If the

microorganisms

creating the Mold were reconfigured in their purpose, the structures they could build would rival the greatest skyscrapers. The Mold's resistance to various strains of disease we've attempted to introduce could be derived into

universal vaccines

.
Yes, admittedly, this application is more difficult than picking up a rock and gluing it to a wall, but I pause to wonder when the Bureau lost its eagerness for a challenge.
Refer to file 2-35-1863 for full report.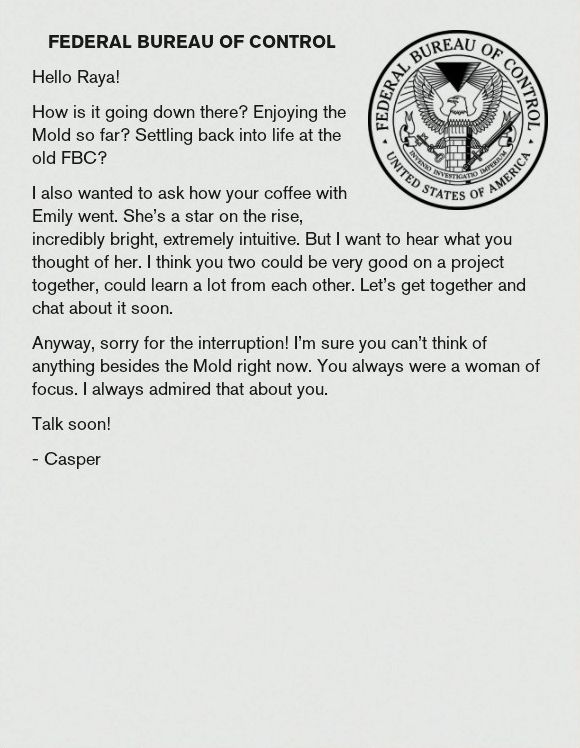 TO
R. Underhill
FROM
C. Darling
SUBJECT
How's it going?

FEDERAL BUREAU OF CONTROL
Hello Raya!
How is it going down there? Enjoying the Mold so far? Settling back into life at the old FBC?
I also wanted to ask how your coffee with Emily went. She's a star on the rise, incredibly bright, extremely intuitive. But I want to hear what you thought of her. I think you two could be very good on a project together, could learn a lot from each other. Let's get together and chat about it soon.
Anyway, sorry for the interruption! I'm sure you can't think of anything besides the Mold right now. You always were a woman of focus. I always admired that about you.
Talk soon!
- Casper