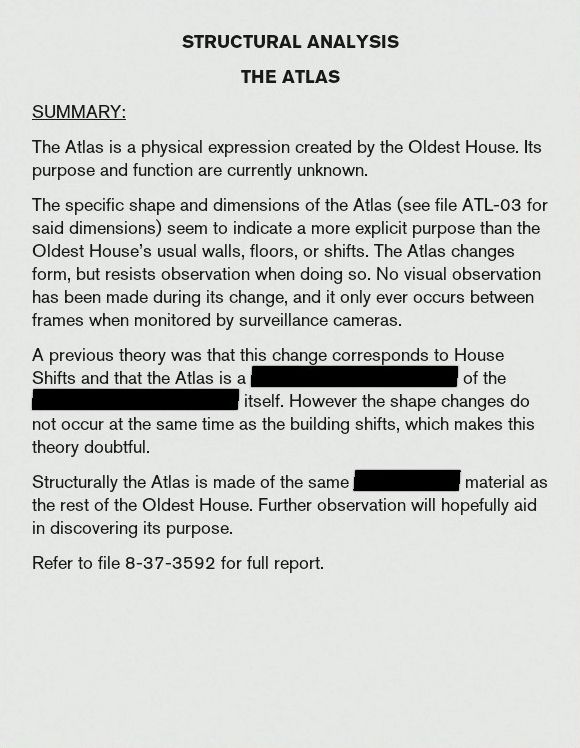 COMPILED BY
Dr. Hubert Tan, Research Specialist
BY ORDER OF
Dr. Casper Darling, Head of Research

STRUCTURAL ANALYSIS
THE ATLAS
SUMMARY:
The Atlas is a physical expression created by the Oldest House. Its purpose and function are currently unknown.
The specific shape and dimensions of the Atlas (see file ATL-03 for said dimensions) seem to indicate a more explicit purpose than the Oldest House's usual walls, floors, or shifts. The Atlas changes form, but resists observation when doing so. No visual observation has been made during its change, and it only ever occurs between frames when monitored by surveillance cameras.
A previous theory was that this change corresponds to House Shifts and that the Atlas is a

self-updating blueprint

of the

Oldest House

itself. However the shape changes do not occur at the same time as the building shifts, which makes this theory doubtful.
Structurally the Atlas is made of the same

otherworldly?

material as the rest of the Oldest House. Further observation will hopefully aid in discovering its purpose.
Refer to file 8-37-3592 for full report.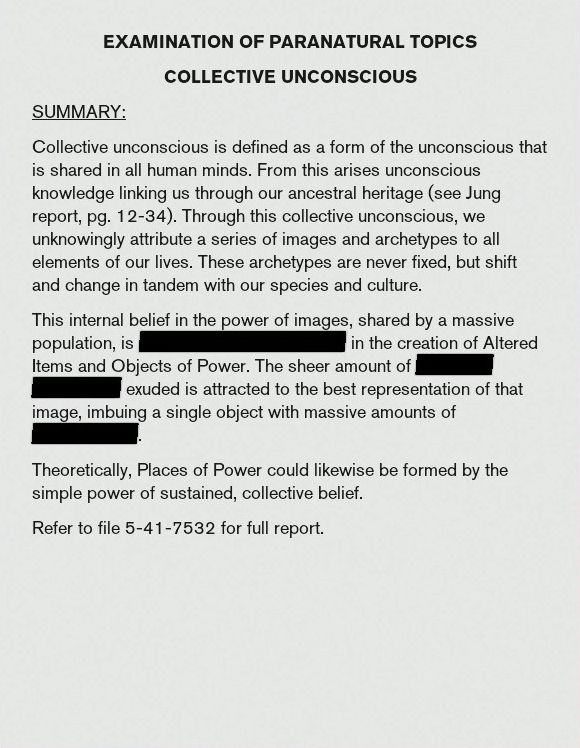 COMPILED BY
Paula Bronte and Lorenzo Dunne, Researchers
BY ORDER OF
Emily Pope, Research Specialist

EXAMINATION OF PARANATURAL TOPICS
COLLECTIVE UNCONSCIOUS
SUMMARY:
Collective unconscious is defined as a form of the unconscious that is shared in all human minds. From this arises unconscious knowledge linking us through our ancestral heritage (see Jung report, pg. 12-34). Through this collective unconscious, we unknowingly attribute a series of images and archetypes to all elements of our lives. These archetypes are never fixed, but shift and change in tandem with our species and culture.
This internal belief in the power of images, shared by a massive population, is

known to be instrumental

in the creation of Altered Items and Objects of Power. The sheer amount of

astral energy?

exuded is attracted to the best representation of that image, imbuing a single object with massive amounts of

paranature

.
Theoretically, Places of Power could likewise be formed by the simple power of sustained, collective belief.
Refer to file 5-41-7532 for full report.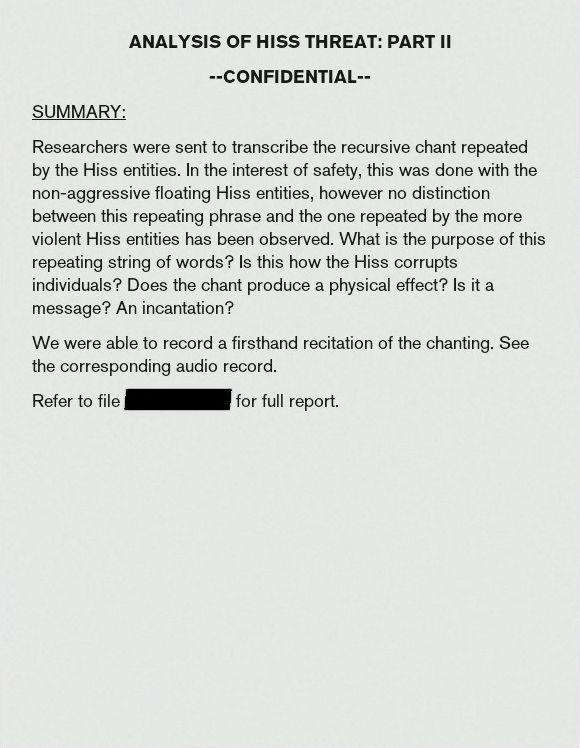 COMPILED BY
Emily Pope, Research Specialist
BY ORDER OF
Director Jesse Faden

ANALYSIS OF HISS THREAT: PART II
--CONFIDENTIAL--
SUMMARY:
Researchers were sent to transcribe the recursive chant repeated by the Hiss entities. In the interest of safety, this was done with the non-aggressive floating Hiss entities, however no distinction between this repeating phrase and the one repeated by the more violent Hiss entities has been observed. What is the purpose of this repeating string of words? Is this how the Hiss corrupts individuals? Does the chant produce a physical effect? Is it a message? An incantation?
We were able to record a firsthand recitation of the chanting. See the corresponding audio record.
Refer to file

some number

for full report.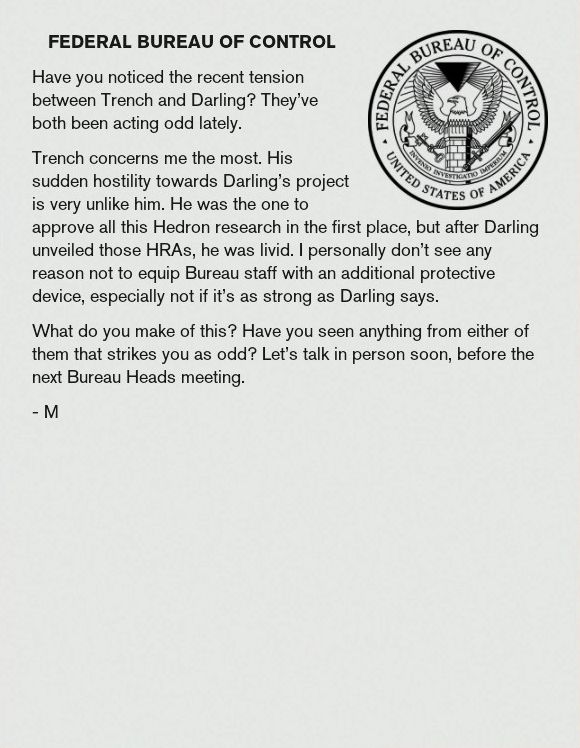 TO
L. Salvador
FROM
H. Marshall
SUBJECT
Potential Problem

FEDERAL BUREAU OF CONTROL
Have you noticed the recent tension between Trench and Darling? They've both been acting odd lately.
Trench concerns me the most. His sudden hostility towards Darling's project is very unlike him. He was the one to approve all this Hedron research in the first place, but after Darling unveiled those HRAs, he was livid. I personally don't see any reason not to equip Bureau staff with an additional protective device, especially not if it's as strong as Darling says.
What do you make of this? Have you seen anything from either of them that strikes you as odd? Let's talk in person soon, before the next Bureau Heads meeting.
- M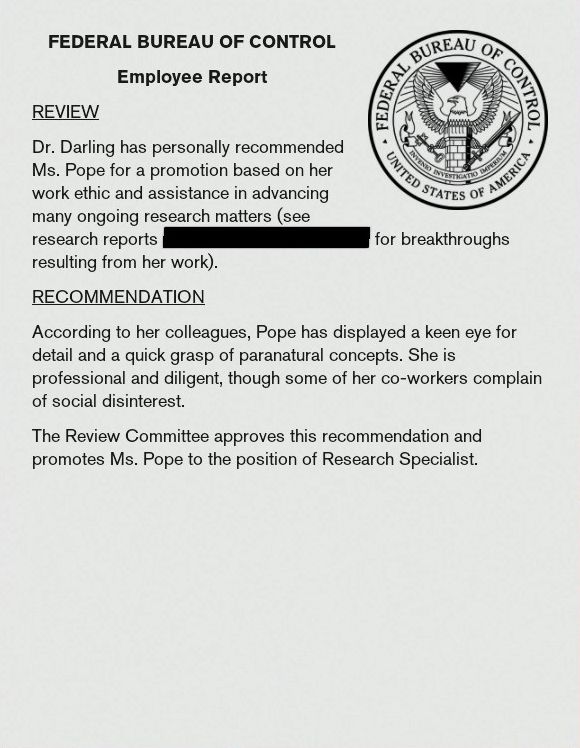 EMPLOYEE NAME
Pope Emily
EMPLOYEE POSITION
Junior Researcher
REPORT TYPE
Promotion - Oustanding Performance

FEDERAL BUREAU OF CONTROL
Employee Report
REVIEW
Dr. Darling has personally recommended Ms. Pope for a promotion based on her work ethic and assistance in advancing many ongoing research matters (see research reports

probably some familiar numbers

for breakthroughs resulting from her work).
RECOMMENDATION
According to her colleagues, Pope has displayed a keen eye for detail and a quick grasp of paranatural concepts. She is professional and diligent, though some of her co-workers complain of social disinterest.
The Review Committee approves this recommendation and promotes Ms. Pope to the position of Research Specialist.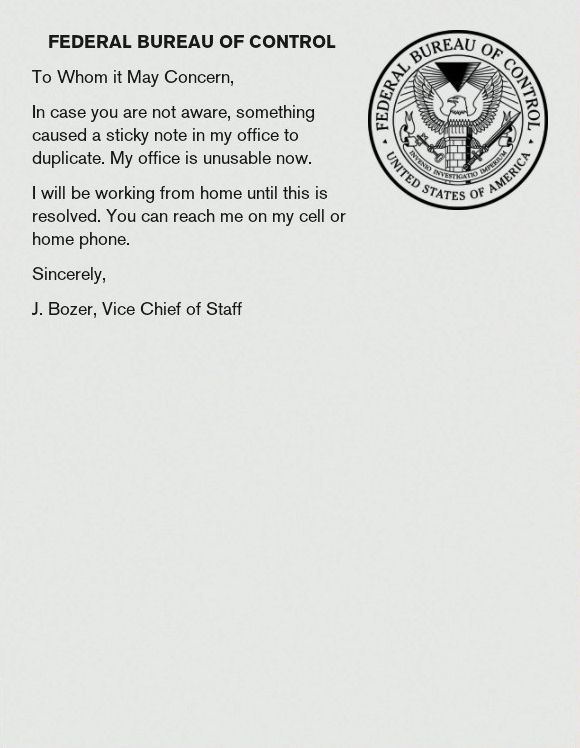 FEDERAL BUREAU OF CONTROL
To Whom it May Concern,
In case you are not aware, something caused a sticky note in my office to duplicate. My office is unusable now.
I will be working from home until this is resolved. You can reach me on my cell or home phone.
Sincerely,
J. Bozer, Vice Chief of Staff