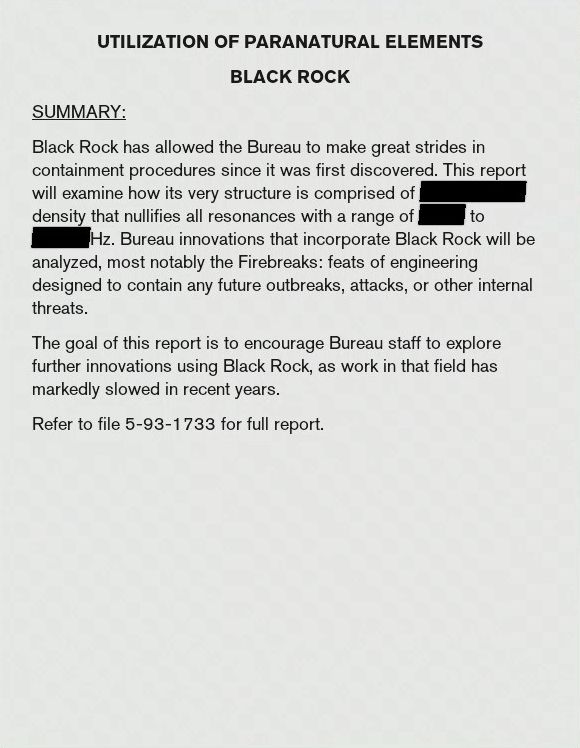 COMPILED BY
Dr. Casper Darling, Head of Research
BY ORDER OF
n/a

UTILIZATION OF PARANATURAL ELEMENTS
BLACK ROCK
SUMMARY:
Black Rock has allowed the Bureau to make great strides in containment procedures since it was first discovered. This report will examine how its very structure is comprised of

non-uniform?

density that nullifies all resonances with a range of

50?

to

1500?

Hz. Bureau innovations that incorporate Black Rock will be analyzed, most notably the Firebreaks: feats of engineering designed to contain any future outbreaks, attacks, or other internal threats.
The goal of this report is to encourage Bureau staff to explore further innovations using Black Rock, as work in that field has markedly slowed in recent years.
Refer to file 5-93-1733 for full report.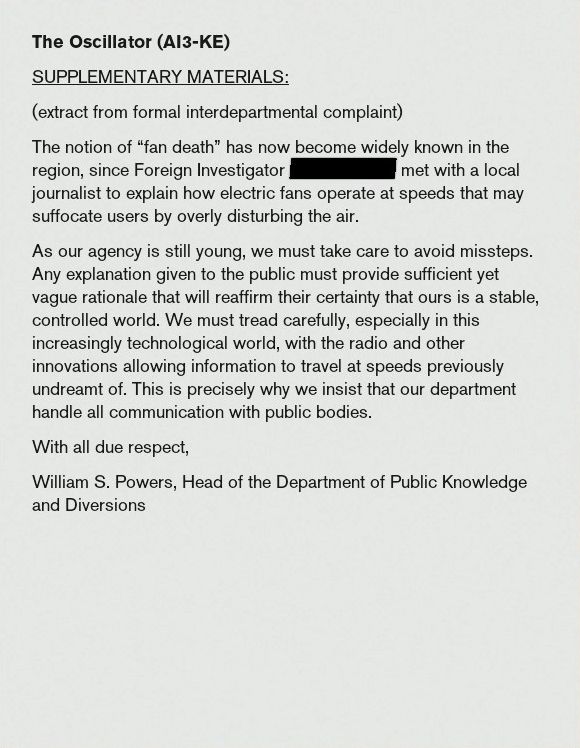 ID
The Oscillator (AI3-KE)
ACQUISITON DATE
07/28/1954
CONTAINMENT LOCATION
Panopticon — Floor 01, Unit 15

The Oscillator (AI3-KE)
SUPPLEMENTARY MATERIALS:
(extract from formal interdepartmental complaint)
The notion of "fan death" has now become widely known in the region, since Foreign Investigator

John Maxwell? (why not?)

met with a local journalist to explain how electric fans operate at speeds that may suffocate users by overly disturbing the air.
As our agency is still young, we must take care to avoid missteps. Any explanation given to the public must provide sufficient yet vague rationale that will reaffirm their certainty that ours is a stable, controlled world. We must tread carefully, especially in this increasingly technological world, with the radio and other innovations allowing information to travel at speeds previously undreamt of. This is precisely why we insist that our department handle all communication with public bodies.
With all due respect,
William S. Powers, Head of the Department of Public Knowledge and Diversions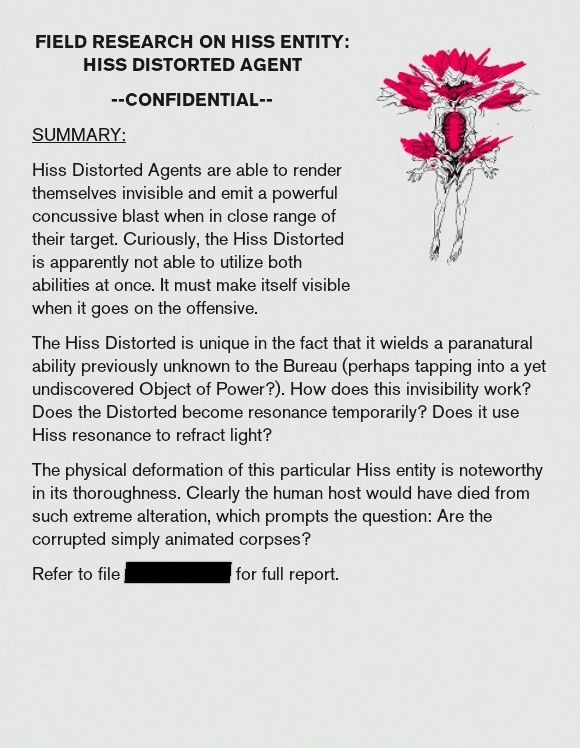 COMPILED BY
Emily Pope, Research Specialist
BY ORDER OF
Director Jesse Faden

FIELD RESEARCH ON HISS ENTITY:
HISS DISTORTED AGENT
--CONFIDENTIAL--
SUMMARY:
Hiss Distorted Agents are able to render themselves invisible and emit a powerful concussive blast when in close range of their target. Curiously, the Hiss Distorted is apparently not able to utilize both abilities at once. It must make itself visible when it goes on the offensive.
The Hiss Distorted is unique in the fact that it wields a paranatural ability previously unknown to the Bureau (perhaps tapping into a yet undiscovered Object of Power?). How does this invisibility work? Does the Distorted become resonance temporarily? Does it use Hiss resonance to refract light?
The physical deformation of this particular Hiss entity is noteworthy in its thoroughness. Clearly the human host would have died from such extreme alteration, which prompts the question: Are the corrupted simply animated corpses?
Refer to file

some number

for full report.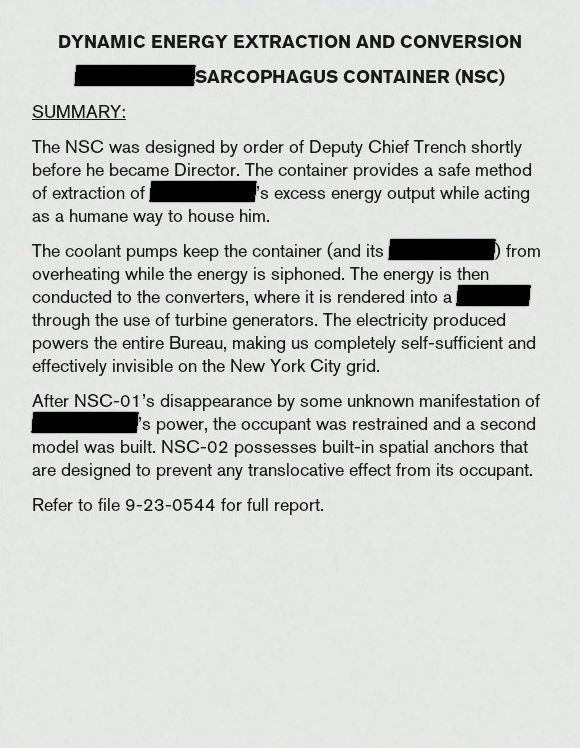 COMPILED BY
Dr. Casper Darling, Head of Research
BY ORDER OF
n/a

DYNAMIC ENERGY EXTRACTION AND CONVERSION


NORTHMOOR

SARCOPHAGUS CONTAINER (NSC)
SUMMARY:
The NSC was designed by order of Deputy Chief Trench shortly before he became Director. The container provides a safe method of extraction of

Northmoor

's excess energy output while acting as a humane way to house him.
The coolant pumps keep the container (and its

occupant

) from overheating while the energy is siphoned. The energy is then conducted to the converters, where it is rendered into a

power source

through the use of turbine generators. The electricity produced powers the entire Bureau, making us completely self-sufficient and effectively invisible on the New York City grid.
After NSC-01's disappearance by some unknown manifestation of

Northmoor

's power, the occupant was restrained and a second model was built. NSC-02 possesses built-in spatial anchors that are designed to prevent any translocative effect from its occupant.
Refer to file 9-23-0544 for full report.

OOP5 is, of course, the Floppy Disk. As always, I did a search for rental services near lakes on Vancouver Island and picked some names that sounded plausible. I can't imagine they're meant to correspond to actual places at this point.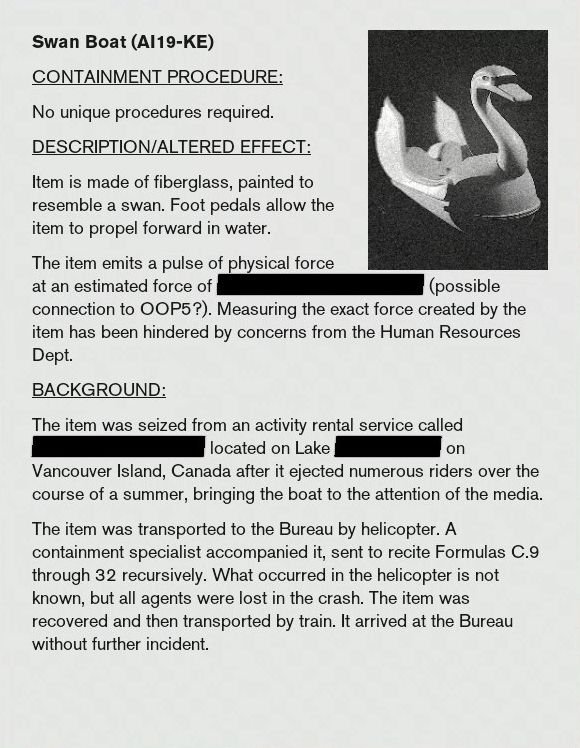 ID
Swan Boat (AI19-KE)
ACQUISITION DATE
06/24/1983
CONTAINMENT LOCATION
Panopticon — Floor 05, Unit 10

Swan Boat (AI19-KE)
CONTAINMENT PROCEDURE:
No unique procedures required.
DESCRIPTION/ALTERED EFFECT:
Item is made of fiberglass, painted to resemble a swan. Foot pedals allow the item to propel forward in water.
The item emits a pulse of physical force at an estimated force of

no idea, but clearly enough to cause some serious damage

(possible connection to OOP5?). Measuring the exact force created by the item has been hindered by concerns from the Human Resources Dept.
BACKGROUND:
The item was seized from an activity rental service called

Kaatza Rentals?

located on Lake

Cowichan?

on Vancouver Island, Canada after it ejected numerous riders over the course of a summer, bringing the boat to the attention of the media.
The item was transported to the Bureau by helicopter. A containment specialist accompanied it, sent to recite Formulas C.9 through 32 recursively. What occurred in the helicopter is not known, but all agents were lost in the crash. The item was recovered and then transported by train. It arrived at the Bureau without further incident.