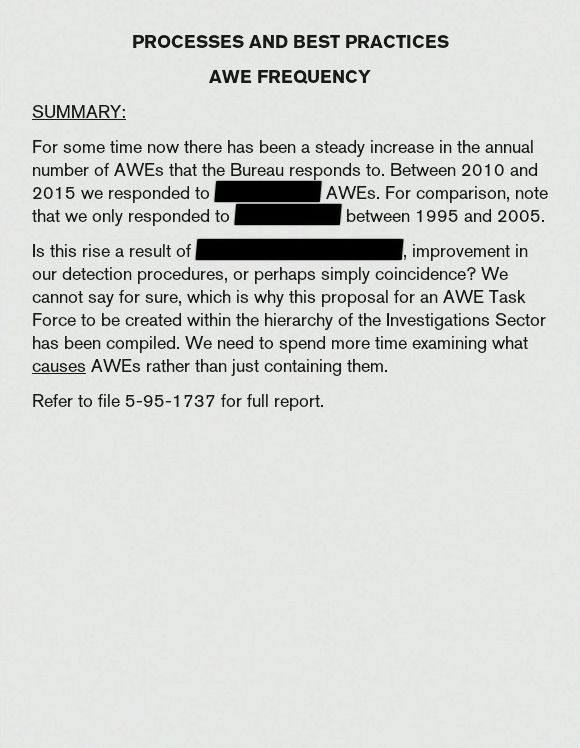 COMPILED BY
Agent Lisa Keenum, External Investigator
BY ORDER OF
n/a

PROCESSES AND BEST PRACTICES
AWE FREQUENCY
SUMMARY:
For some time now there has been a steady increase in the annual number of AWEs that the Bureau responds to. Between 2010 and 2015 we responded to

twenty?

AWEs. For comparison, note that we only responded to

eight?

between 1995 and 2005.
Is this rise a result of

black market-produced AIs

, improvement in our detection procedures, or perhaps simply coincidence? We cannot say for sure, which is why this proposal for an AWE Task Force to be created within the hierarchy of the Investigations Sector has been compiled. We need to spend more time examining what causes AWEs rather than just containing them.
Refer to file 5-95-1737 for full report.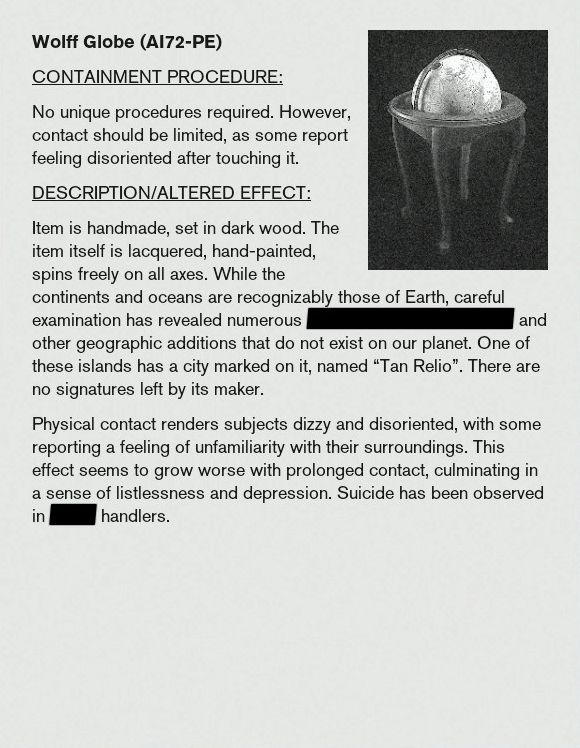 ID
Wolff Globe (AI72-PE)
ACQUISITION DATE
04/12/2010
CONTAINMENT LOCATION
Panopticon — Floor 02, Unit 09

Wolff Globe (AI72-PE)
CONTAINMENT PROCEDURE:
No unique procedures required. However, contact should be limited, as some report feeling disoriented after touching it.
DESCRIPTION/ALTERED EFFECT:
Item is handmade, set in dark wood. The item itself is lacquered, hand-painted, spins freely on all axes. While the continents and oceans are recognizably those of Earth, careful examination has revealed numerous

features in incorrect locations?

and other geographic additions that do not exist on our planet. One of these islands has a city marked on it, named "Tan Relio". There are no signatures left by its maker.
Physical contact renders subjects dizzy and disoriented, with some reporting a feeling of unfamiliarity with their surroundings. This effect seems to grow worse with prolonged contact, culminating in a sense of listlessness and depression. Suicide has been observed in

older? maybe just a number

handlers.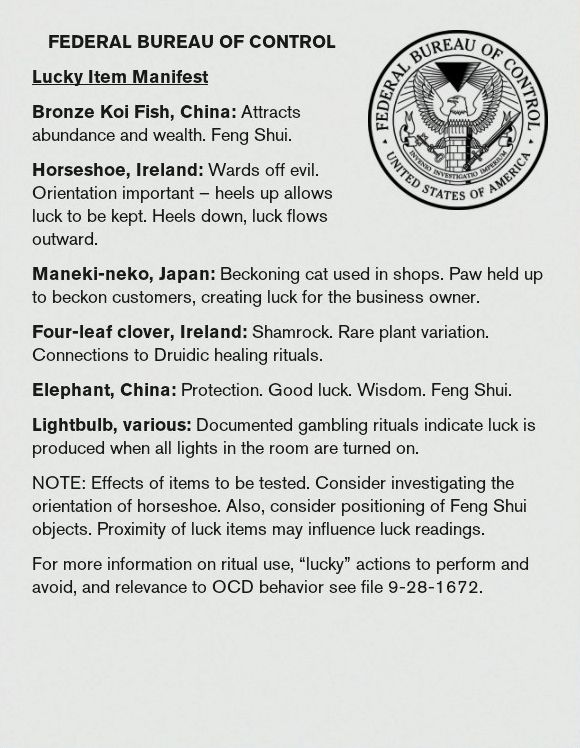 FEDERAL BUREAU OF CONTROL
Lucky Item Manifest
Bronze Koi Fish, China: Attracts abundance and wealth. Feng Shui.
Horseshoe, Ireland: Wards off evil. Orientation important — heels up allows luck to be kept. Heels down, luck flows outward.
Maneki-neko, Japan: Beckoning cat used in shops. Paw held up to beckon customers, creating luck for the business owner.
Four-leaf clover, Ireland: Shamrock. Rare plant variation. Connections to Druidic healing rituals.
Elephant, China: Protection. Good luck. Wisdom. Feng Shui.
Lightbulb, various: Documented gambling rituals indicate luck is produced when all lights in the room are turned on.
NOTE: Effects of items to be tested. Consider investigating the orientation of horseshoe. Also, consider positioning of Feng Shui objects. Proximity of luck items may influence luck readings.
For more information on ritual use, "lucky" actions to perform and avoid, and relevance to OCD behavior see file 9-28-1672.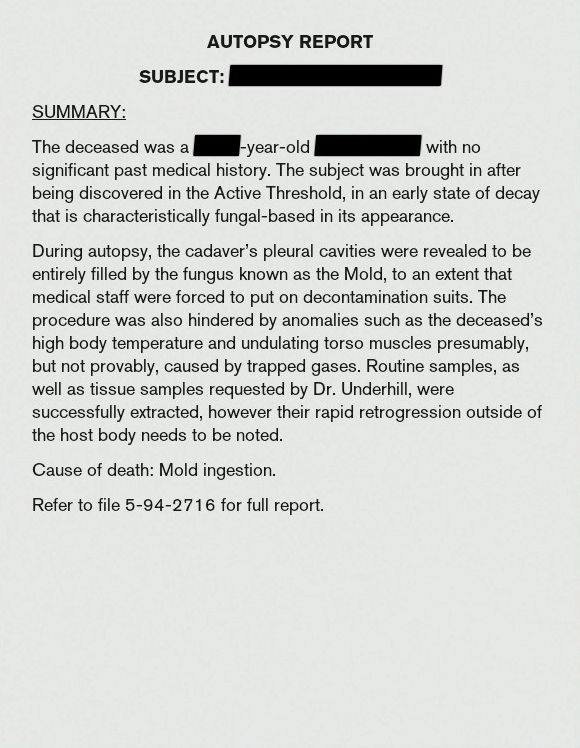 COMPILED BY
Dr. Suvi Patton, Coroner
BY ORDER OF
Dr. Raya Underhill, Contract Threshold Specialist

AUTOPSY REPORT
SUBJECT:

Subject Name Here


SUMMARY:
The deceased was a

twenty?

-year-old

probably demographic information I can't speculate on

with no significant past medical history. The subject was brought in after being discovered in the Active Threshold, in an early state of decay that is characteristically fungal-based in its appearance.
During autopsy, the cadaver's pleural cavities were revealed to be entirely filled by the fungus known as the Mold, to an extent that medical staff were forced to put on decontamination suits. The procedure was also hindered by anomalies such as the deceased's high body temperature and undulating torso muscles presumably, but not provably, caused by trapped gases. Routine samples, as well as tissue samples requested by Dr. Underhill, were successfully extracted, however their rapid retrogression outside of the host body needs to be noted.
Cause of death: Mold ingestion.
Refer to file 5-94-2716 for full report.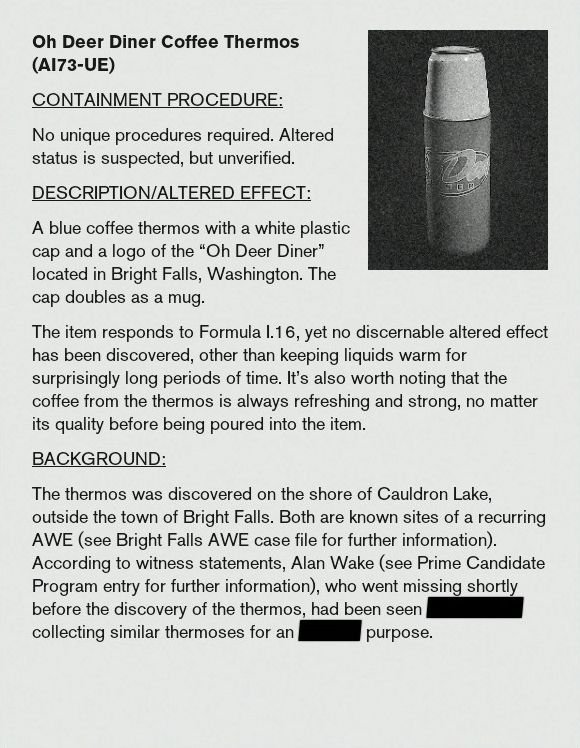 ID
Oh Deer Diner Coffee Thermos (AI73-UE)
ACQUISITION DATE
09/20/2010
CONTAINMENT LOCATION
Panopticon — Floor 05, Unit 05

Oh Deer Diner Coffee Thermos
(AI73-UE)
CONTAINMENT PROCEDURE:
No unique procedures required. Altered status is suspected, but unverified.
DESCRIPTION/ALTERED EFFECT:
A blue coffee thermos with a white plastic cap and a logo of the "Oh Deer Diner" located in Bright Falls, Washington. The cap doubles as a mug.
The item responds to Formula I.16, yet no discernable altered effect has been discovered, other than keeping liquids warm for surprisingly long periods of time. It's also worth noting that the coffee from the thermos is always refreshing and strong, no matter its quality before being poured into the item.
BACKGROUND:
The thermos was discovered on the shore of Cauldron Lake, outside the town of Bright Falls. Both are known sites of a recurring AWE (see Bright Falls AWE case file for further information). According to witness statements, Alan Wake (see Prime Candidate Program entry for further information), who went missing shortly before the discovery of the thermos, had been seen

obsessively?

collecting similar thermoses for an

unknown

purpose.