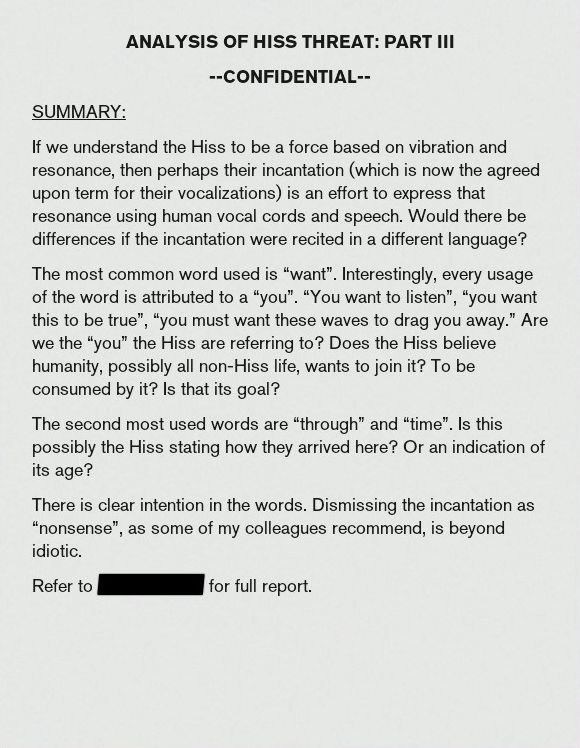 COMPILED BY
Emily Pope, Research Specialist
BY ORDER OF
Director Jesse Faden

ANALYSIS OF HISS THREAT: PART III
--CONFIDENTIAL--
SUMMARY:
If we understand the Hiss to be a force based on vibration and resonance, then perhaps their incantation (which is now the agreed upon term for their vocalizations) is an effort to express that resonance using human vocal cords and speech. Would there be differences if the incantation were recited in a different language?
The most common word used is "want". Interestingly, every usage of the word is attributed to a "you". "You want to listen", "you want this to be true", "you must want these waves to drag you away." Are we the "you" the Hiss are referring to? Does the Hiss believe humanity, possibly all non-Hiss life, wants to join it? To be consumed by it? Is that its goal?
The second most used words are "through" and "time". Is this possibly the Hiss stating how they arrived here? Or an indication of its age?
There is clear intention in the words. Dismissing the incantation as "nonsense", as some of my colleagues recommend, is beyond idiotic.
Refer to

some number

for full report.

For the record, I did run the Hiss Chant through Google Translate, and at a glance, "haluat/haluta" might well be the most common word. There is, as I suspected, no subject attached, and the verbs are in second person. Clearly, it was written in Finnish and translated in such a way that Emily's commentary is no longer accurate. This makes it a bit strange that they call out the question of what the chant would sound like in other languages so explicitly. I also found the translation of "A copy of a copy of a copy" interesting: "Kopio kopion kopiosta." There may be other parts that sound better in Finnish than they do in English, but the vocalization goes by really quickly.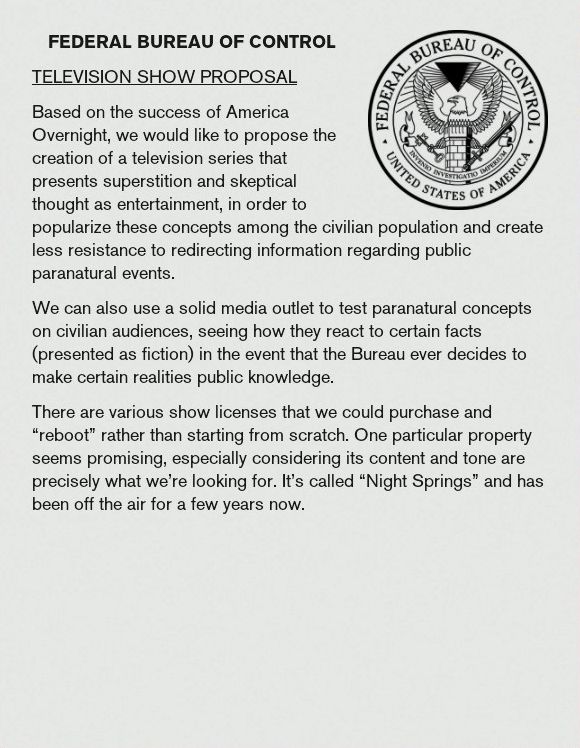 FEDERAL BUREAU OF CONTROL
TELEVISION SHOW PROPOSAL
Based on the success of America Overnight, we would like to propose the creation of a television series that presents superstition and skeptical thought as entertainment, in order to popularize these concepts among the civilian population and create less resistance to redirecting information regarding public paranatural events.
We can also use a solid media outlet to test paranatural concepts on civilian audiences, seeing how they react to certain facts (presented as fiction) in the event that the Bureau ever decides to make certain realities public knowledge.
There are various show licenses that we could purchase and "reboot" rather than starting from scratch. One particular property seems promising, especially considering its content and tone are precisely what we're looking for. It's called "Night Springs" and has been off the air for a few years now.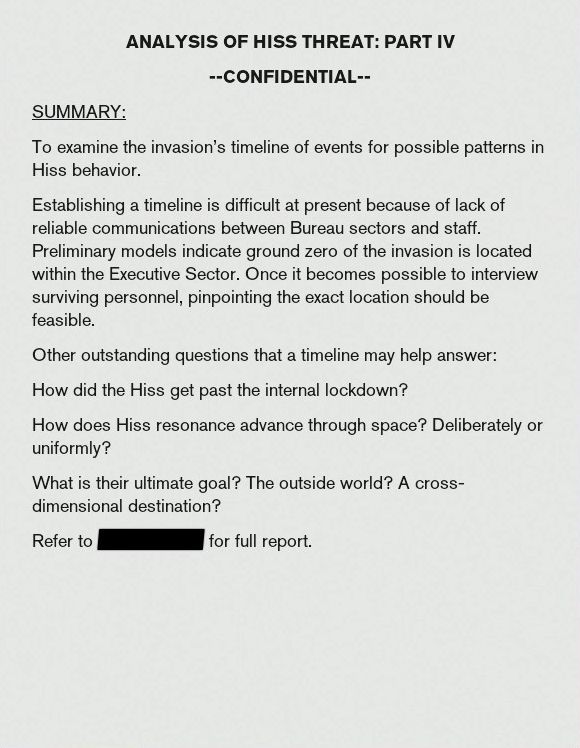 COMPILED BY
Emily Pope, Research Specialist
BY ORDER OF
Director Jesse Faden

ANALYSIS OF HISS THREAT: PART IV
--CONFIDENTIAL--
SUMMARY:
To examine the invasion's timeline of events for possible patterns in Hiss behavior.
Establishing a timeline is difficult at present because of lack of reliable communications between Bureau sectors and staff. Preliminary models indicate ground zero of the invasion is located within the Executive Sector. Once it becomes possible to interview surviving personnel, pinpointing the exact location should be feasible.
Other outstanding questions that a timeline may help answer:
How did the Hiss get past the internal lockdown?
How does Hiss resonance advance through space? Deliberately or uniformly?
What is their ultimate goal? The outside world? A cross-dimensional destination?
Refer to

some number

for full report.