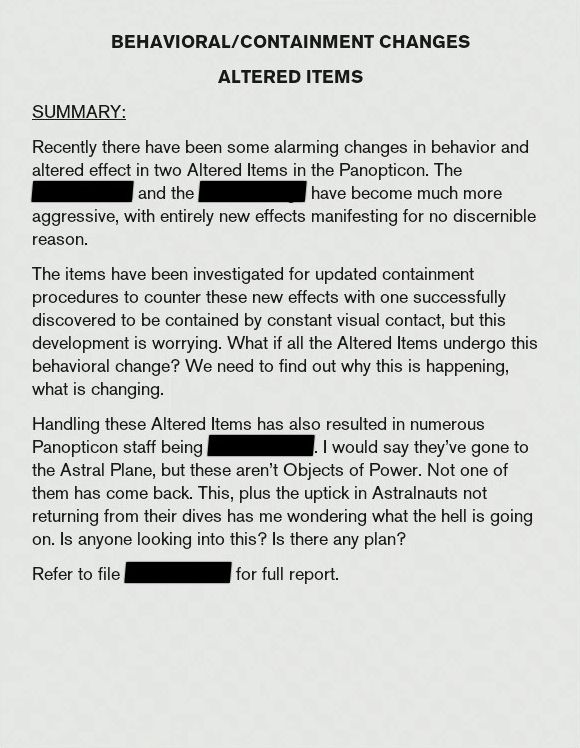 COMPILED BY
Frederick Langston, Panopticon Supervisor
BY ORDER OF
n/a

BEHAVIORAL/CONTAINMENT CHANGES
ALTERED ITEMS
SUMMARY:
Recently there have been some alarming changes in behavior and altered effect in two Altered Items in the Panopticon. The

Arctic Queen fridge

and the

weather flamingo?

have become much more aggressive, with entirely new effects manifesting for no discernible reason.
The items have been investigated for updated containment procedures to counter these new effects with one successfully discovered to be contained by constant visual contact, but this development is worrying. What if all the Altered Items undergo this behavioral change? We need to find out why this is happening, what is changing.
Handling these Altered Items has also resulted in numerous Panopticon staff being

mind-wiped?

. I would say they've gone to the Astral Plane, but these aren't Objects of Power. Not one of them has come back. This, plus the uptick in Astralnauts not returning from their dives has me wondering what the hell is going on. Is anyone looking into this? Is there any plan?
Refer to file

some number

for full report.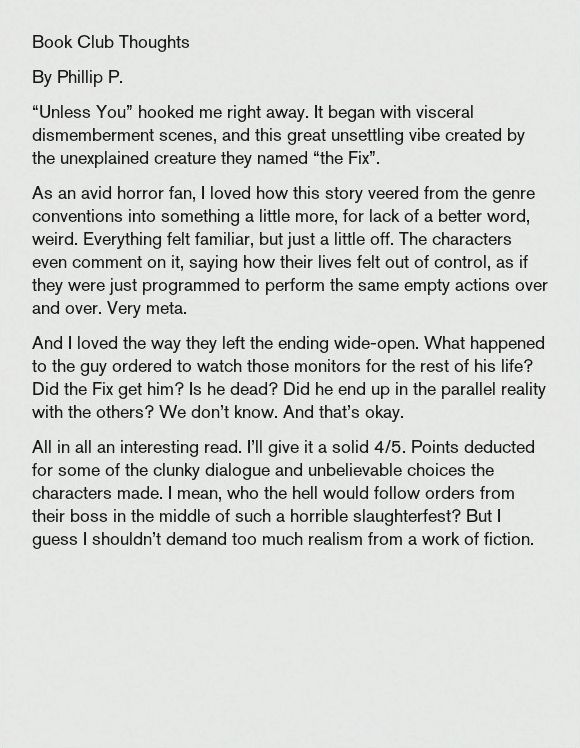 Book Club Thoughts
By Phillip P.

"Unless You" hooked me right away. It began with visceral dismemberment scenes, and this great unsettling vibe created by the unexplained creature they named "the Fix".
As an avid horror fan, I loved how this story veered from the genre conventions into something a little more, for lack of a better word, weird. Everything felt familiar, but just a little off. The characters even comment on it, saying how their lives felt out of control, as if they were just programmed to perform the same empty actions over and over. Very meta.
And I loved the way they left the ending wide-open. What happened to the guy ordered to watch those monitors for the rest of his life? Did the Fix get him? Is he dead? Did he end up in the parallel reality with the others? We don't know. And that's okay.
All in all an interesting read. I'll give it a solid 4/5. Points deducted for some of the clunky dialogue and unbelievable choices the characters made. I mean, who the hell would follow orders from their boss in the middle of such a horrible slaughterfest? But I guess I shouldn't demand too much realism from a work of fiction.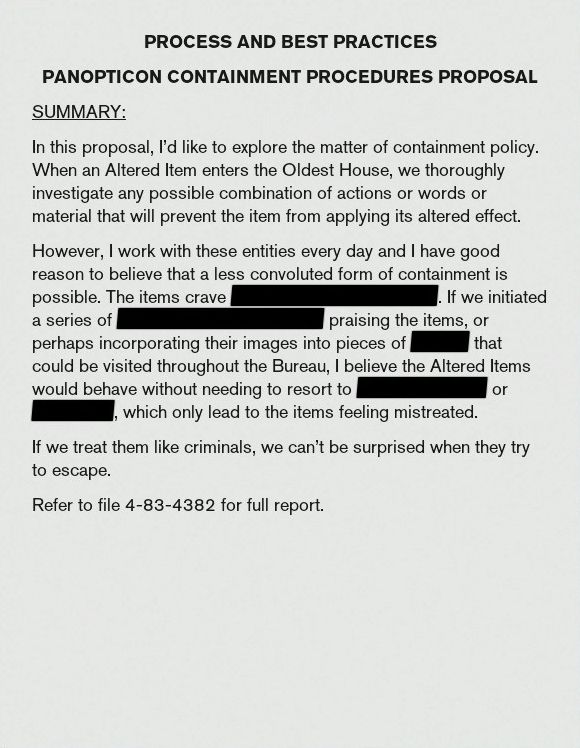 COMPILED BY
Frederick Langston, Panopticon Supervisor
BY ORDER OF
n/a

PROCESS AND BEST PRACTICES
PANOPTICON CONTAINMENT PROCEDURES PROPOSAL
SUMMARY:
In this proposal, I'd like to explore the matter of containment policy. When an Altered Item enters the Oldest House, we thoroughly investigate any possible combination of actions or words or material that will prevent the item from applying its altered effect.
However, I work with these entities every day and I have good reason to believe that a less convoluted form of containment is possible. The items crave

attention and/or worship

. If we initiated a series of

religious-style tracts?

praising the items, or perhaps incorporating their images into pieces of

art?

that could be visited throughout the Bureau, I believe the Altered Items would behave without needing to resort to

imprisonment

or

formulas

, which only lead to the items feeling mistreated.
If we treat them like criminals, we can't be surprised when they try to escape.
Refer to file 4-83-4382 for full report.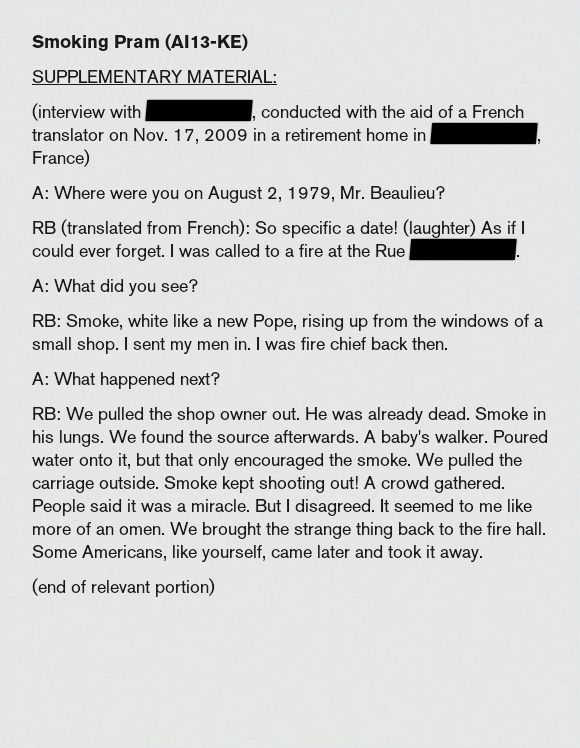 ID
Smoking Pram (AI13-KE)
ACQUISITION DATE
08/05/1979
CONTAINMENT LOCATION
Panopticon — Floor 02, Unit 11

Smoking Pram (AI13-KE)
SUPPLEMENTARY MATERIAL:
(interview with

R. Beaulieu

conducted with the aid of a French translator on Nov. 17, 2009 in a retirement home in France)
A: Where were you on August 2, 1979, Mr. Beaulieu?
RB (translated from French): So specific a date! (laughter) As if I could ever forget. I was called to a fire at the Rue

Landau en Feu

.
A: What did you see?
RB: Smoke, white like a new Pope, rising up from the windows of a small shop. I sent my men in. I was fire chief back then.
A: What happened next?
RB: We pulled the shop owner out. He was already dead. Smoke in his lungs. We found the source afterwards. A baby's walker. Poured water onto it, but that only encouraged the smoke. We pulled the carriage outside. Smoke kept shooting out! A crowd gathered. People said it was a miracle. But I disagreed. It seemed to me like more of an omen. We brought the strange thing back to the fire hall. Some Americans, like yourself, came later and took it away.
(end of relevant portion)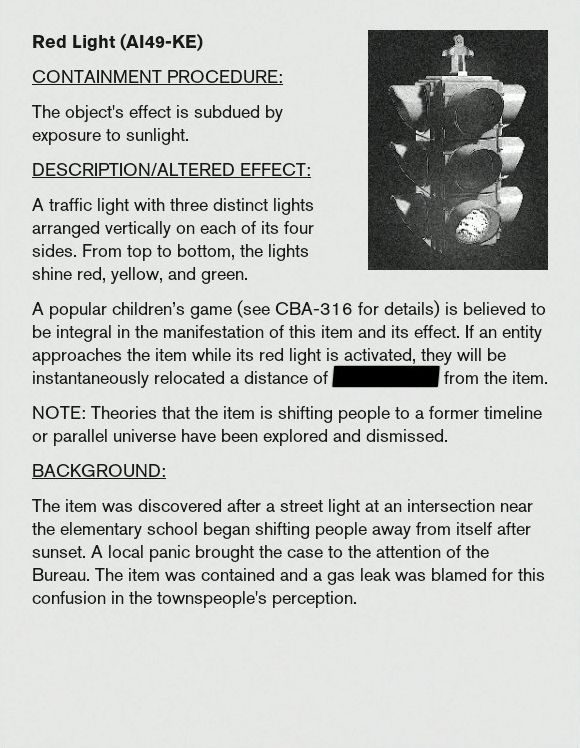 ID
Red Light (AI49-KE)
ACQUISITION DATE
05/16/1999
CONTAINMENT LOCATION
Panopticon — Floor 04, Unit 10

Red Light (AI49-KE)
CONTAINMENT PROCEDURE:
The object's effect is subdued by exposure to sunlight.
DESCRIPTION/ALTERED EFFECT:
A traffic light with three distinct lights arranged vertically on each of its four sides. From top to bottom, the lights shine red, yellow, and green.
A popular children's game (see CBA-316 for details) is believed to be integral in the manifestation of this item and its effect. If an entity approaches the item while its red light is activated, they will be instantaneously relocated a distance of

one skareen length

from the item.
NOTE: Theories that the item is shifting people to a former timeline or parallel universe have been explored and dismissed.
BACKGROUND:
The item was discovered after a street light at an intersection near the elementary school began shifting people away from itself after sunset. A local panic brought the case to the attention of the Bureau. The item was contained and a gas leak was blamed for this confusion in the townspeople's perception.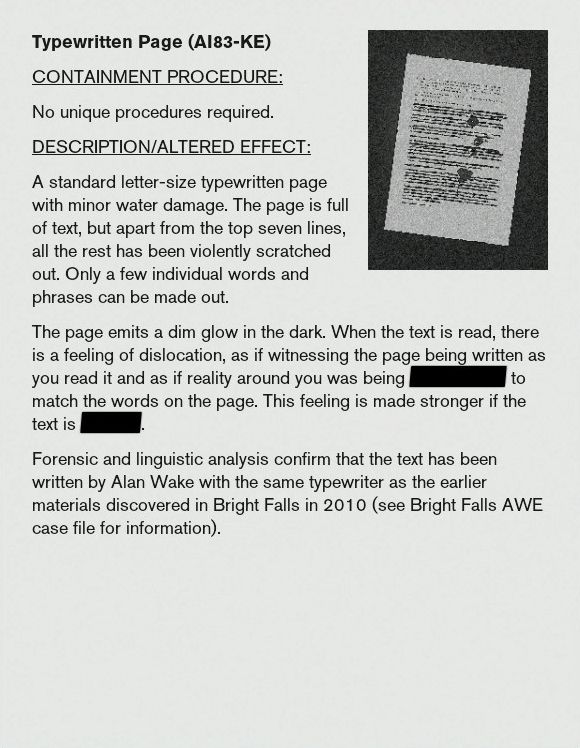 ID
Typewritten Page (AI83-KE)
ACQUISITION DATE
08/27/2019
CONTAINMENT LOCATION
Panopticon — Floor 05, Unit 06

Typewritten Page (AI83-KE)
CONTAINMENT PROCEDURE:
No unique procedures required.
DESCRIPTION/ALTERED EFFECT:
A standard letter-size typewritten page with minor water damage. The page is full of text, but apart from the top seven lines, all the rest has been violently scratched out. Only a few individual words and phrases can be made out.
The page emits a dim glow in the dark. When the text is read, there is a feeling of dislocation, as if witnessing the page being written as you read it and as if reality around you was being

altered

to match the words on the page. This feeling is made stronger if the text is

read aloud

.
Forensic and linguistic analysis confirm that the text has been written by Alan Wake with the same typewriter as the earlier materials discovered in Bright Falls in 2010 (see Bright Falls AWE case file for information).