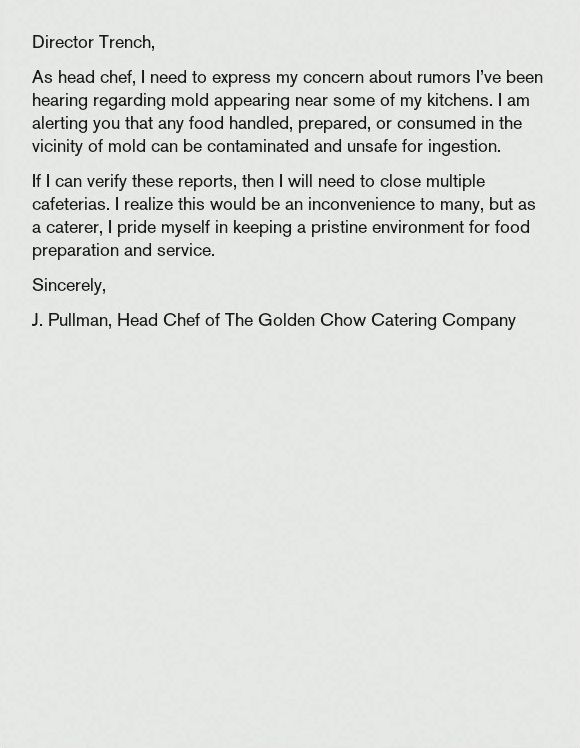 Director Trench,
As head chef, I need to express my concern about rumors I've been hearing regarding mold appearing near some of my kitchens. I am alerting you that any food handled, prepared, or consumed in the vicinity of mold can be contaminated and unsafe for ingestion.
If I can verify these reports, then I will need to close multiple cafeterias. I realize this would be an inconvenience to many, but as a caterer, I pride myself in keeping a pristine environment for food preparation and service.
Sincerely,
J. Pullman, Head Chef of The Golden Chow Catering Company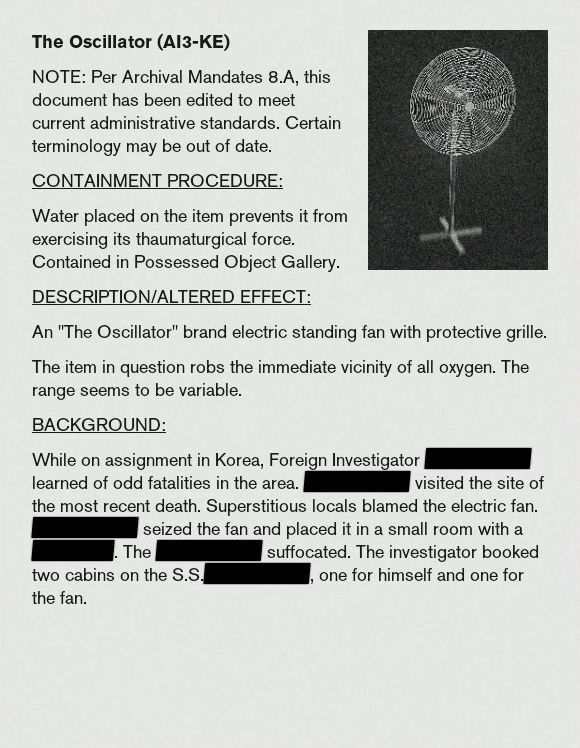 ID
The Oscillator (AI3-KE)
ACQUISITON DATE
07/28/1954
CONTAINMENT LOCATION
Panopticon — Floor 01, Unit 15

The Oscillator (AI3-KE)
NOTE: Per Archival Mandates 8.A, this document has been edited to meet current administrative standards. Certain terminology may be out of date.
CONTAINMENT PROCEDURE:
Water placed on the item prevents it from exercising its thaumaturgical force.
Contained in Possessed Object Gallery.
DESCRIPTION/ALTERED EFFECT:
An "The Oscillator" brand electric standing fan with protective grille.
The item in question robs the immediate vicinity of all oxygen. The range seems to be variable.
BACKGROUND:
While on assignment in Korea, Foreign Investigator

Caesar Fornlands

learned of odd fatalities in the area.

Fornlands

visited the site of the most recent death. Superstitious locals blamed the electric fan.

Fornlands

seized the fan and placed it in a small room with a

guinea pig?

. The

guinea pig

suffocated. The investigator booked two cabins on the S.S.

Boaty McBoatface

, one for himself and one for the fan.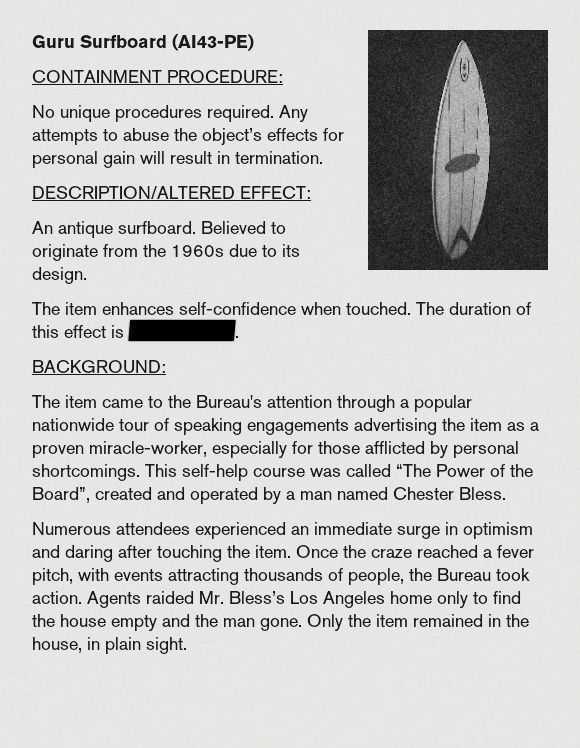 ID
Guru Surfboard (AI43-PE)
ACQUISITION DATE
07/03/1994
CONTAINMENT LOCATION
Panopticon — Floor 03, Unit 05

Guru Surfboard (AI43-PE)
CONTAINMENT PROCEDURE:
No unique procedures required. Any attempts to abuse the object's effects for personal gain will result in termination.
DESCRIPTION/ALTERED EFFECT:
An antique surfboard. Believed to originate from the 1960s due to its design.
The item enhances self-confidence when touched. The duration of this effect is

not long enough (sad emoji)

.
BACKGROUND:
The item came to the Bureau's attention through a popular nationwide tour of speaking engagements advertising the item as a proven miracle-worker, especially for those afflicted by personal shortcomings. This self-help course was called "The Power of the Board", created and operated by a man named Chester Bless.
Numerous attendees experienced an immediate surge in optimism and daring after touching the item. Once the craze reached a fever pitch, with events attracting thousands of people, the Bureau took action. Agents raided Mr. Bless's Los Angeles home only to find the house empty and the man gone. Only the item remained in the house, in plain sight.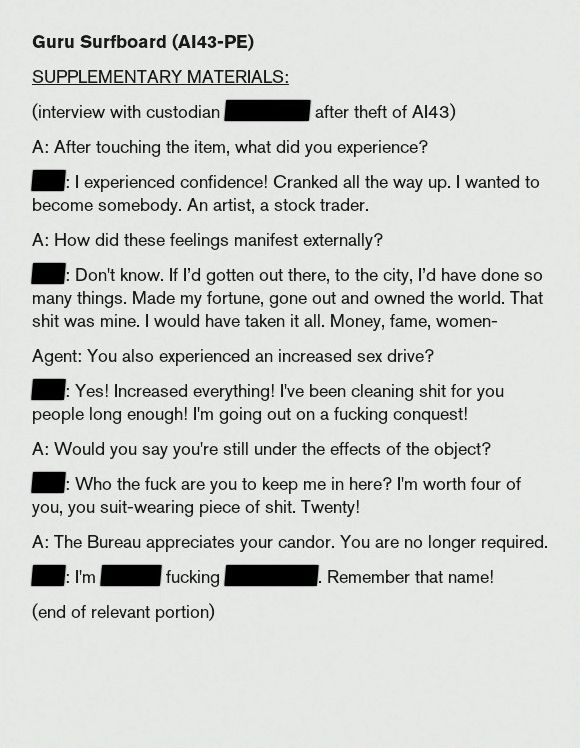 ID
Guru Surfboard (AI43-PE)
ACQUISITION DATE
07/03/1994
CONTAINMENT LOCATION
Panopticon — Floor 03, Unit 05

Guru Surfboard (AI43-PE)
SUPPLEMENTARY MATERIALS:
(interview with custodian

Bill Everett?

after theft of AI43)
A: After touching the item, what did you experience?


Bill

: I experienced confidence! Cranked all the way up. I wanted to become somebody. An artist, a stock trader.
A: How did these feelings manifest externally?


Bill

: Don't know. If I'd gotten out there, to the city, I'd have done so many things. Made my fortune, gone out and owned the world. That shit was mine. I would have taken it all. Money, fame, women-
Agent: You also experienced an increased sex drive?


Bill

: Yes! Increased everything! I've been cleaning shit for you people long enough! I'm going out on a fucking conquest!
A: Would you say you're still under the effects of the object?


Bill

: Who the fuck are you to keep me in here? I'm worth four of you, you suit-wearing piece of shit. Twenty!
A: The Bureau appreciates your candor. You are no longer required.


Bill

: I'm

Bill

fucking

Everett

. Remember that name!
(end of relevant portion)