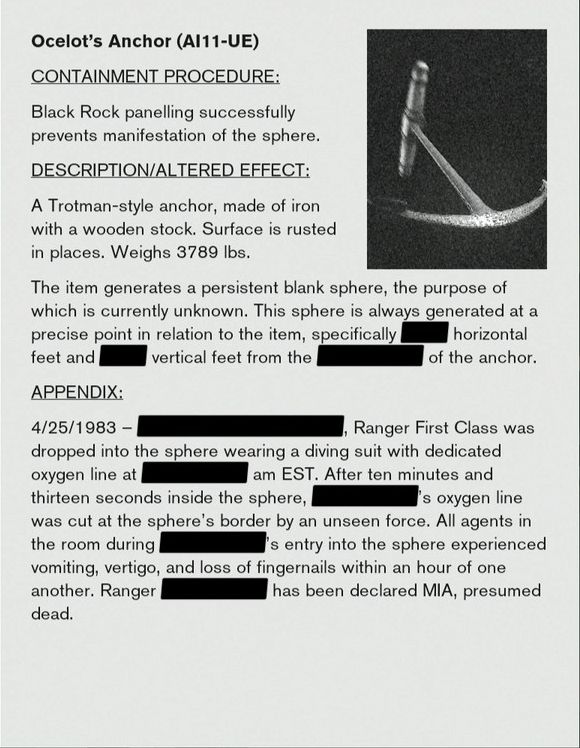 ID
Ocelot's Anchor (AI11-UE)
ACQUISITON DATE
09/28/1976
CONTAINMENT LOCATION
Panopticon — Floor 03, Unit 07

Ocelot's Anchor (AI11-UE)
CONTAINMENT PROCEDURE:
Black Rock panelling successfully prevents manifestation of the sphere.
DESCRIPTION/ALTERED EFFECT:
A Trotman-style anchor, made of iron with a wooden stock. Surface is rusted in places. Weighs 3789 lbs.
The item generates a persistent blank sphere, the purpose of which is currently unknown. This sphere is always generated at a precise point in relation to the item, specifically

not many?

horizontal feet and

maybe more?

vertical feet from the

centroid? Seriously, why is this redacted

of the anchor.
APPENDIX:
4/25/1983 -

S. Fixiated

, Ranger First Class was dropped into the sphere wearing a diving suit with dedicated oxygen line at

ten to dead o'clock

am EST. After ten minutes and thirteen seconds inside the sphere,

Fixiated

's oxygen line was cut at the sphere's border by an unseen force. All agents in the room during

Fixiated

's entry into the sphere experienced vomiting, vertigo, and loss of fingernails within an hour of one another. Ranger

Fixiated

has been declared MIA, presumed dead.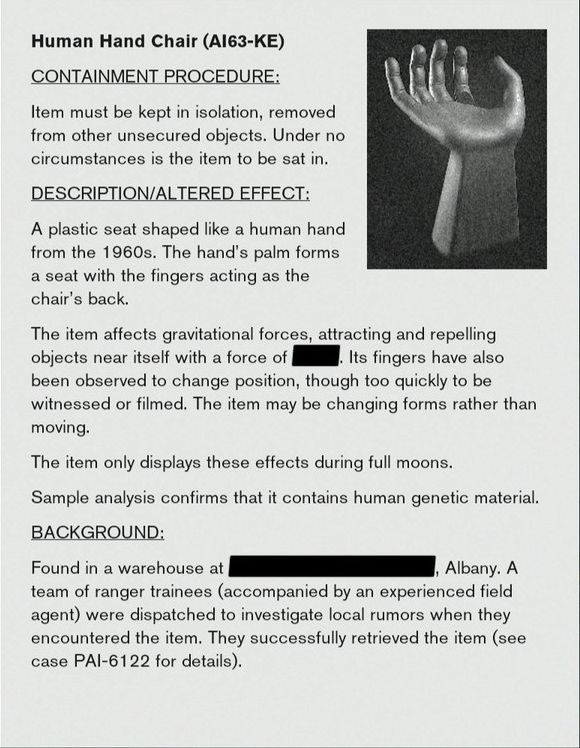 ID
Human Hand Chair (AI63-KE)
ACQUISITION DATE
02/10/2006
CONTAINMENT LOCATION
Panopticon Floor 04, Unit 12

Human Hand Chair (AI63-KE)
CONTAINMENT PROCEDURE:
Item must be kept in isolation, removed from other unsecured objects. Under no circumstances is the item to be sat in.
DESCRIPTION/ALTERED EFFECT:
A plastic seat shaped like a human hand from the 1960s. The hand's palm forms a seat with the fingers acting as the chair's back.
The item affects gravitational forces, attracting and repelling objects near itself with a force of

grip-strength?

. Its fingers have also been observed to change position, though too quickly to be witnessed or filmed. The item may be changing forms rather than moving.
The item only displays these effects during full moons.
Sample analysis confirms that it contains human genetic material.
BACKGROUND:
Found in a warehouse at

the warehouse district

, Albany. A team of ranger trainees (accompanied by an experienced field agent) were dispatched to investigate local rumors when they encountered the item. They successfully retrieved the item (see case PAI-6122 for details).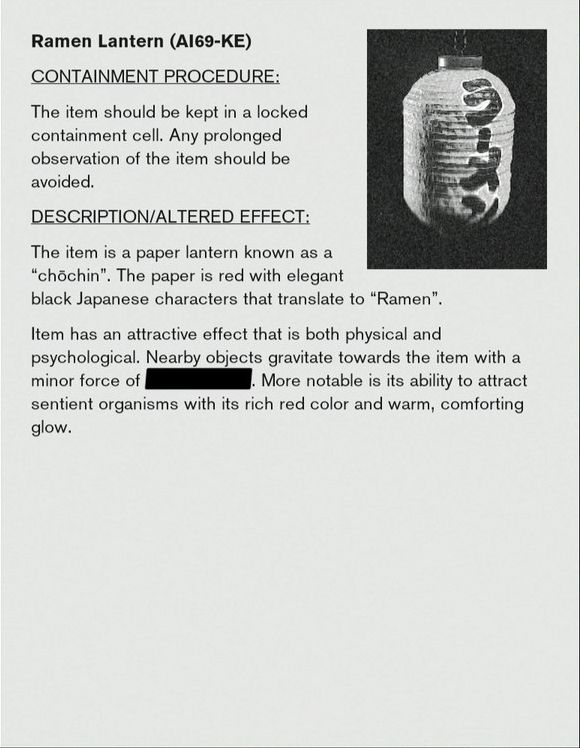 ID
Ramen Lantern (AI69-KE)
ACQUISITION DATE
03/01/2008
CONTAINMENT LOCATION
Panopticon — Floor 04, Unit 13

Ramen Lantern (AI69-KE)
CONTAINMENT PROCEDURE:
The item should be kept in a locked containment cell. Any prolonged observation of the item should be avoided.
DESCRIPTION/ALTERED EFFECT:
The item is a paper lantern known as a "chöchin". The paper is red with elegant black Japanese characters that translate to "Ramen".
Item has an attractive effect that is both physical and psychological. Nearby objects gravitate towards the item with a minor force of

soumeny Newtons

. More notable is its ability to attract sentient organisms with its rich red color and warm, comforting glow.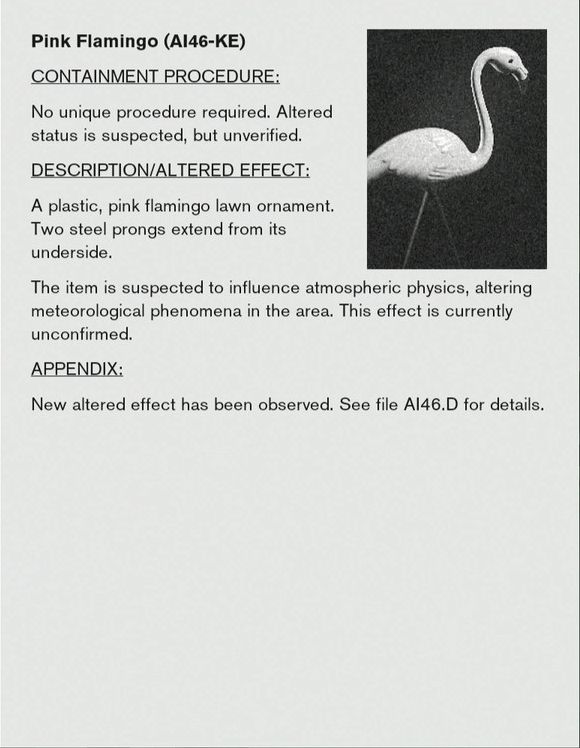 ID
Pink Flamingo (AI46-KE)
ACQUISITION DATE
08/12/1997
CONTAINMENT LOCATION
Panopticon — Floor 04, Unit 16

Pink Flamingo (AI46-KE)
CONTAINMENT PROCEDURE:
No unique procedure required. Altered status is suspected, but unverified.
DESCRIPTION/ALTERED EFFECT:
A plastic, pink flamingo lawn ornament. Two steel prongs extend from its underside.
The item is suspected to influence atmospheric physics, altering meteorological phenomena in the area. This effect is currently unconfirmed.
APPENDIX:
New altered effect has been observed. See file AI46.D for details.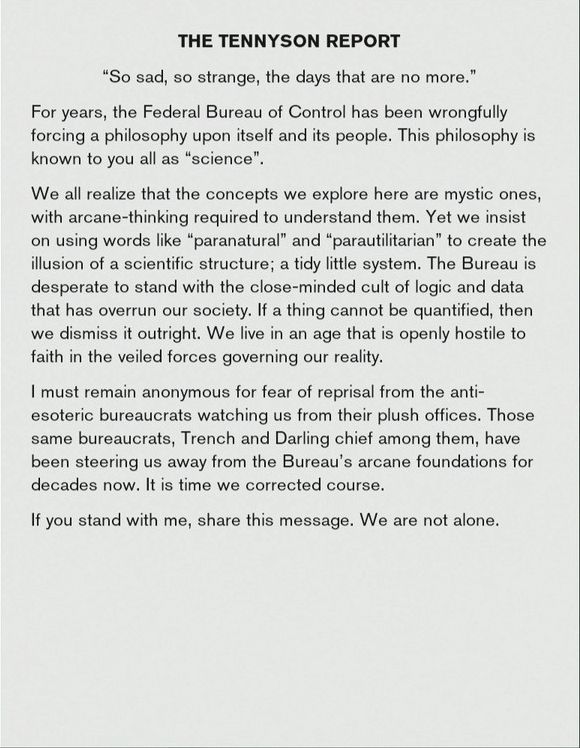 AUTHORED BY
A True Believer

THE TENNYSON REPORT
"So sad, so strange, the days that are no more."
For years, the Federal Bureau of Control has been wrongfully forcing a philosophy upon itself and its people. This philosophy is known to you all as "science".
We all realize that the concepts we explore here are mystic ones, with arcane-thinking required to understand them. Yet we insist on using words like "paranatural" and "parautilitarian" to create the illusion of a scientific structure; a tidy little system. The Bureau is desperate to stand with the close-minded cult of logic and data that has overrun our society. If a thing cannot be quantified, then we dismiss it outright. We live in an age that is openly hostile to faith in the veiled forces governing our reality.
I must remain anonymous for fear of reprisal from the anti-esoteric bureaucrats watching us from their plush offices. Those same bureaucrats, Trench and Darling chief among them, have been steering us away from the Bureau's arcane foundations for decades now. It is time we corrected course.
If you stand with me, share this message. We are not alone.