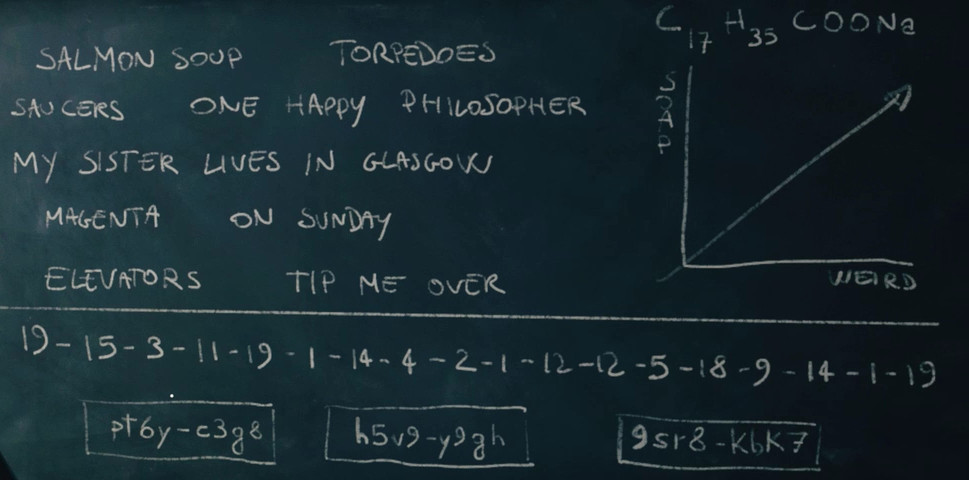 pre:

SALMON SOUP	TORPEDOES

SAUCERS		ONE HAPPY PHILOSOPHER

MY SISTER LIVES IN GLASGOW

MAGENTA		ON SUNDAY

ELEVATORS	TIP ME OVER


C17H35COONa

A graph depicting a direct correlation between "SOAP" and "WEIRD"

19-15-3-11-19-1-14-4-2-1-12-12-5-18-9-14-1-19
(This spells "SOCKSANDBALLERINAS" in alphanumeric code)

Finally, three Bandcamp codes that I won't bother transcribing because they've been used up.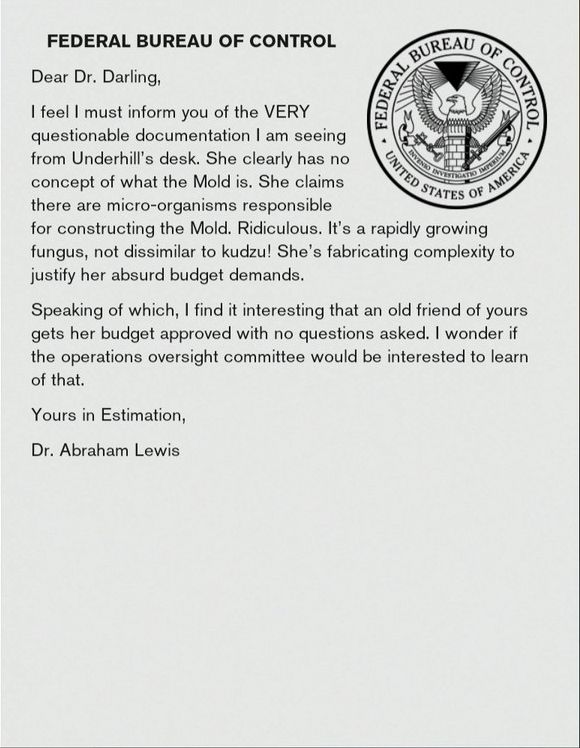 TO
C. Darling
FROM
A. Lewis
SUBJECT
Underhill's Questionable Work

FEDERAL BUREAU OF CONTROL
Dear Dr. Darling,
I feel I must inform you of the VERY questionable documentation I am seeing from Underhill's desk. She clearly has no concept of what the Mold is. She claims there are micro-organisms responsible for constructing the Mold. Ridiculous. It's a rapidly growing fungus, not dissimilar to kudzu! She's fabricating complexity to justify her absurd budget demands.
Speaking of which, I find it interesting that an old friend of yours gets her budget approved with no questions asked. I wonder if the operations oversight committee would be interested to learn of that.
Yours in Estimation,
Dr. Abraham Lewis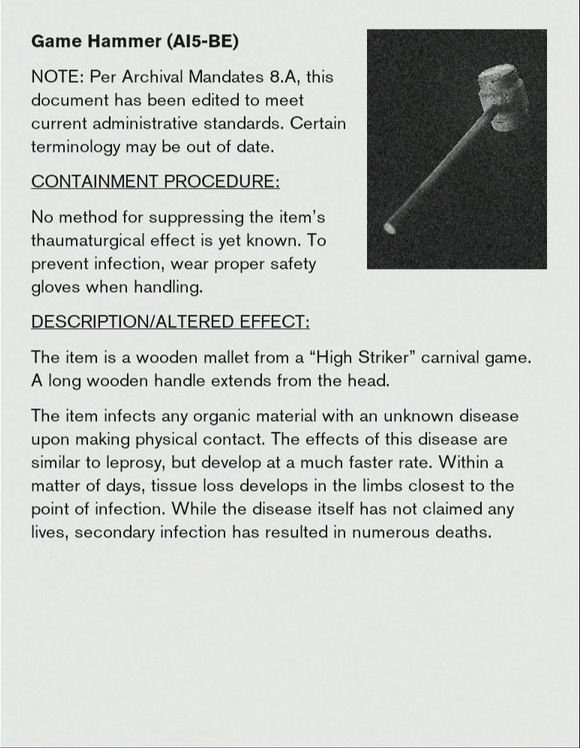 ID
Game Hammer (AI5-BE)
ACQUISITION DATE
11/02/1959
CONTAINMENT LOCATION
Panopticon — Floor 01, Unit 16

Game Hammer (AI5-BE)
NOTE: Per Archival Mandates 8.A, this document has been edited to meet current administrative standards. Certain terminology may be out of date.
CONTAINMENT PROCEDURE:
No method for suppressing the item's thaumaturgical effect is yet known. To prevent infection, wear proper safety gloves when handling.
DESCRIPTION/ALTERED EFFECT:
The item is a wooden mallet from a "High Striker" carnival game. A long wooden handle extends from the head.
The item infects any organic material with an unknown disease upon making physical contact. The effects of this disease are similar to leprosy, but develop at a much faster rate. Within a matter of days, tissue loss develops in the limbs closest to the point of infection. While the disease itself has not claimed any lives, secondary infection has resulted in numerous deaths.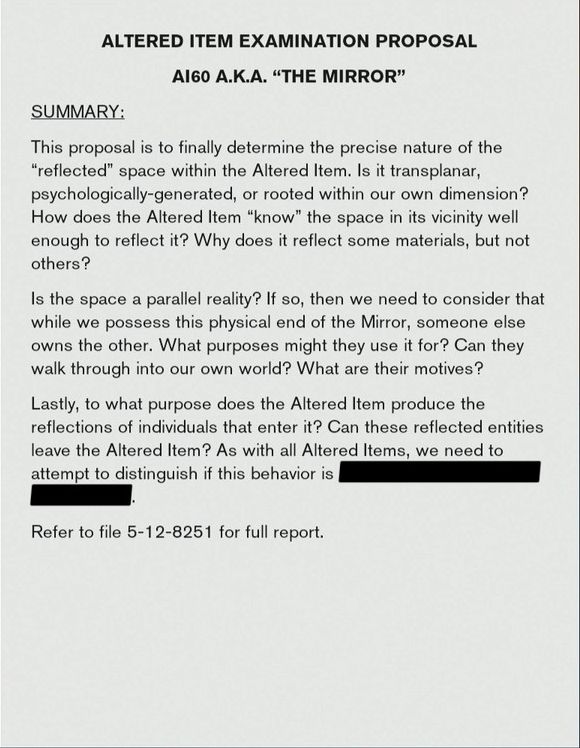 COMPILED BY
Dr. Hubert Tan and Dr. Carla Vaughn, Research Specialists
BY ORDER OF
Dr. Casper Darling, Head of Research

ALTERED ITEM EXAMINATION PROPOSAL
AI60 A.K.A. "THE MIRROR"
SUMMARY:
This proposal is to finally determine the precise nature of the "reflected" space within the Altered Item. Is it transplanar, psychologically-generated, or rooted within our own dimension? How does the Altered Item "know" the space in its vicinity well enough to reflect it? Why does it reflect some materials, but not others?
Is the space a parallel reality? If so, then we need to consider that while we possess this physical end of the Mirror, someone else owns the other. What purposes might they use it for? Can they walk through into our own world? What are their motives?
Lastly, to what purpose does the Altered Item produce the reflections of individuals that enter it? Can these reflected entities leave the Altered Item? As with all Altered Items, we need to attempt to distinguish if this behavior is

a conscious reaction to its manner of creation?

.
Refer to file 5-12-8251 for full report.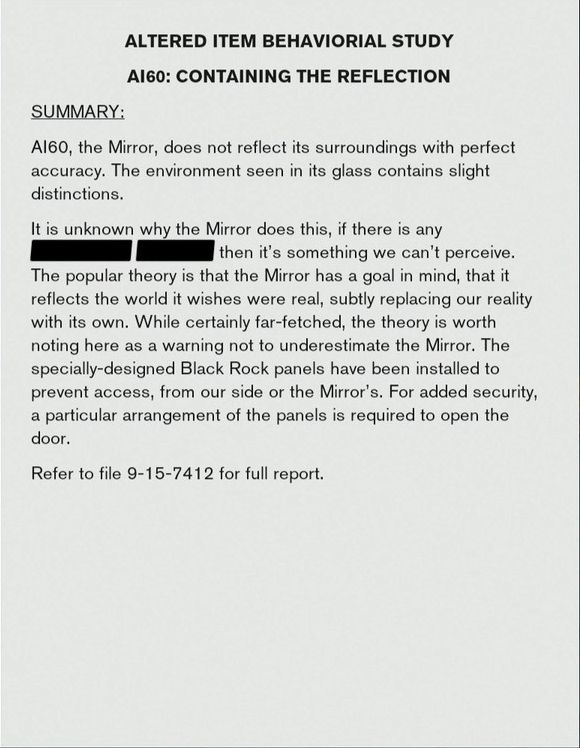 COMPILED BY
Dr. Jerrod Gronson, Synchronicity Department Chief
BY ORDER OF
n/a

ALTERED ITEM BEHAVIORIAL STUDY
AI60: CONTAINING THE REFLECTION
SUMMARY:
AI60, the Mirror, does not reflect its surroundings with perfect accuracy. The environment seen in its glass contains slight distinctions.
It is unknown why the Mirror does this, if there is any

intentional

pattern

then it's something we can't perceive. The popular theory is that the Mirror has a goal in mind, that it reflects the world it wishes were real, subtly replacing our reality with its own. While certainly far-fetched, the theory is worth noting here as a warning not to underestimate the Mirror. The specially-designed Black Rock panels have been installed to prevent access, from our side or the Mirror's. For added security, a particular arrangement of the panels is required to open the door.
Refer to file 9-15-7412 for full report.