Chapter 45: Side Story 3: Bonus Round (why am I still doing this)

So, for this edition of bonus stuff, I thought I'd cover more than just my thoughts on the relevant anime episodes. We'll get to those too, but there's more to show. First up, the scene I missed when I decided not to help Mishima harass random strangers in Harajuku:

Music: Beneath the Mask (Instrumental Version)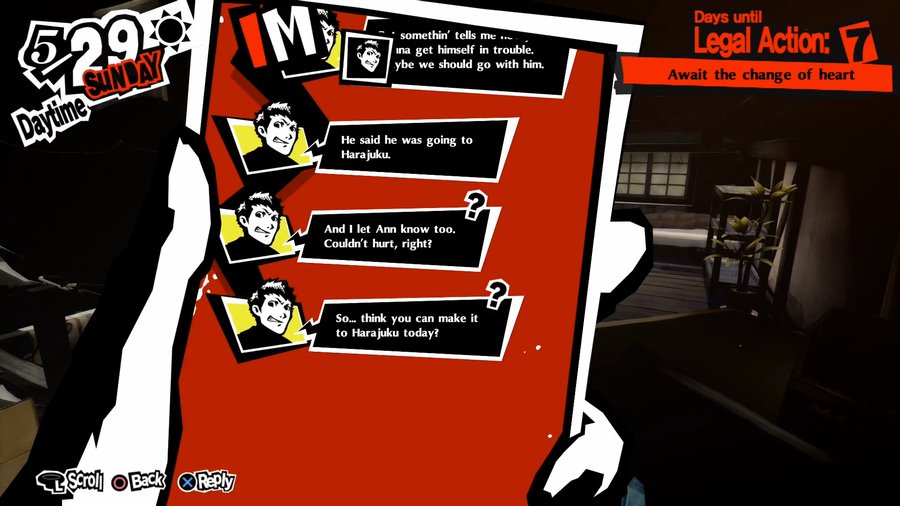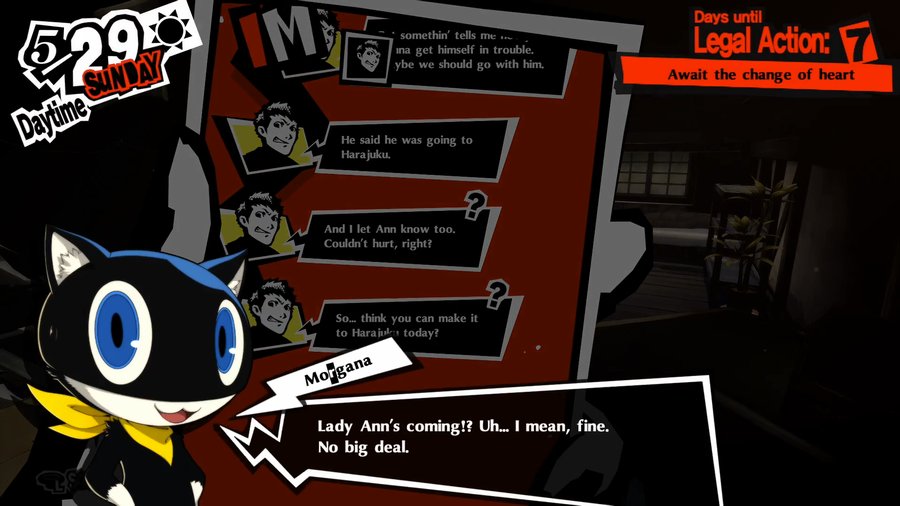 But you still don't know Tokyo very well. This might be a good chance to get more familiar with the area… or something. So, what are your thoughts? Will you go to Harajuku with Ryuji?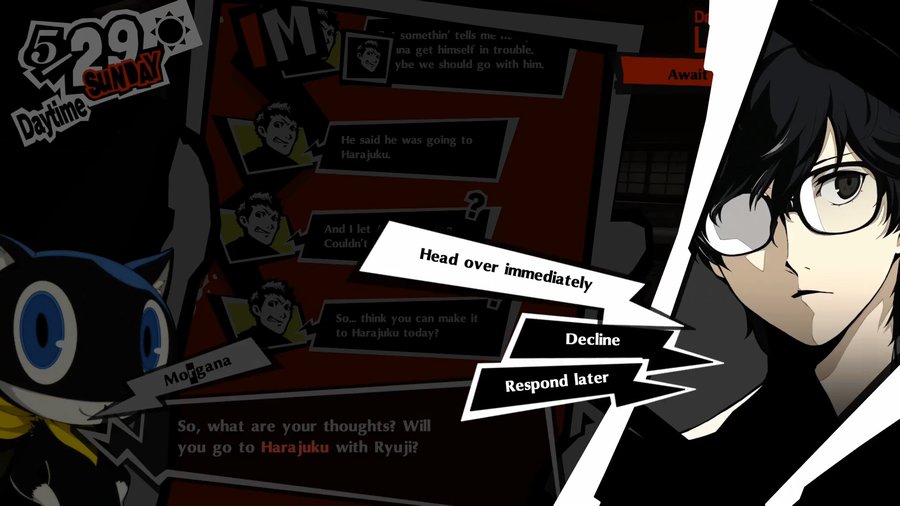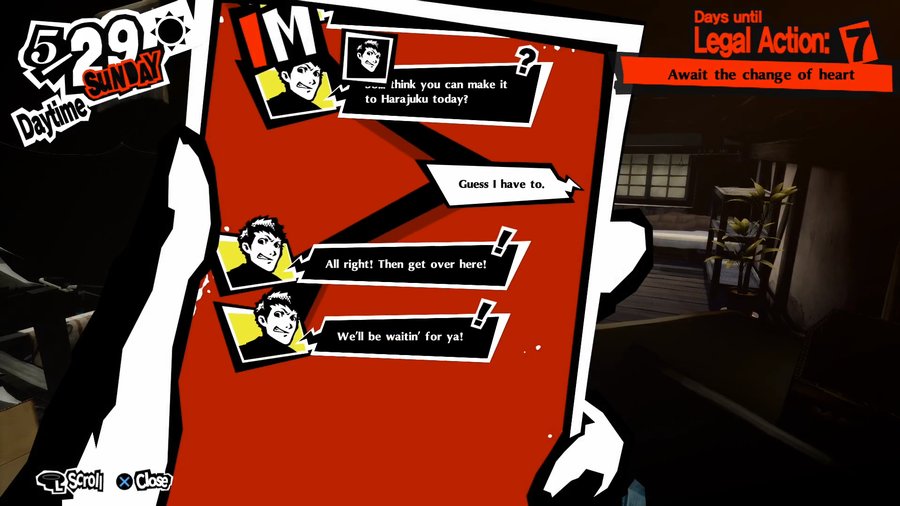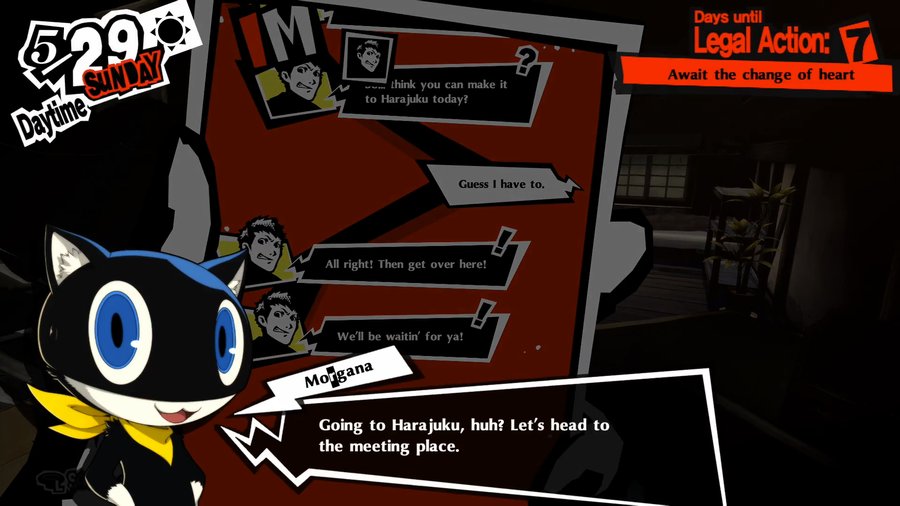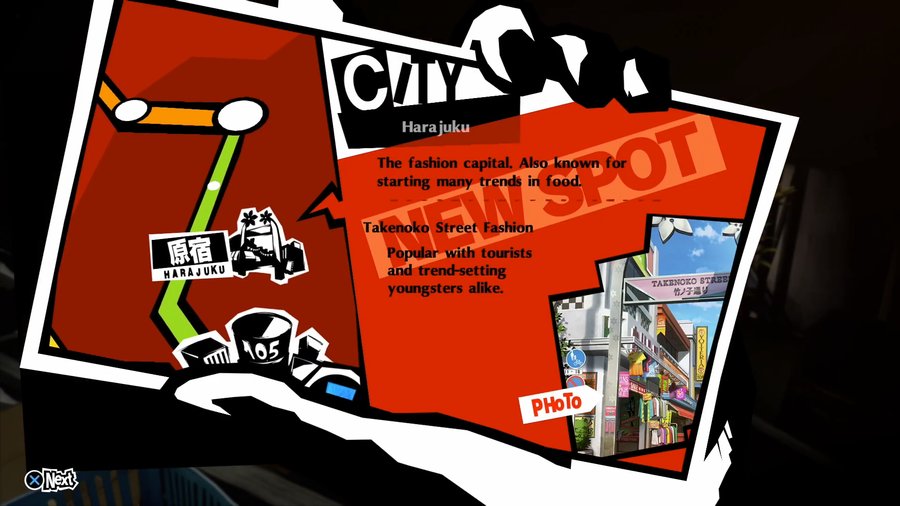 Music:
Break it Down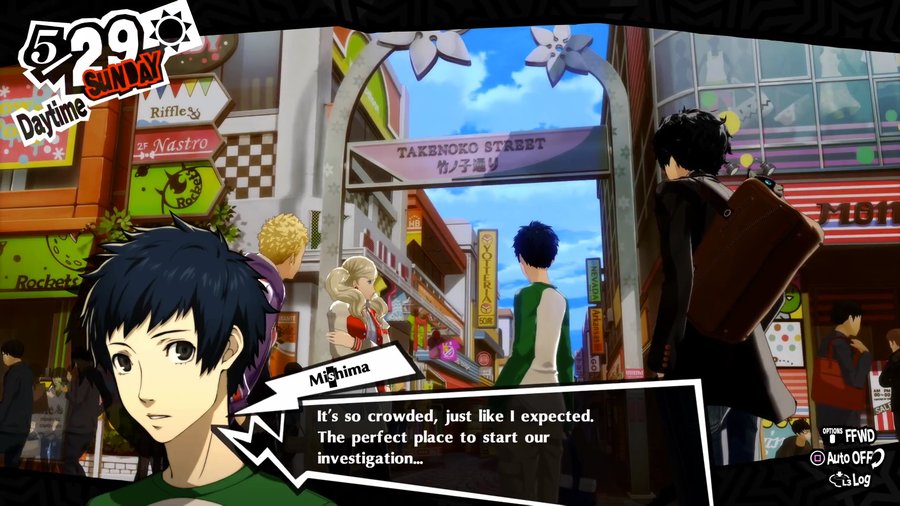 But I gotta say, I wasn't expecting all of you to come along.


I had a photoshoot nearby, so I figured, why not?


But why Harajuku, Mishima?


Well, Harajuku's this big cultural hub, right? People from all over the world come here. So that means there might be all kinds of international villains walking around in broad daylight!


I dunno if I get that logic…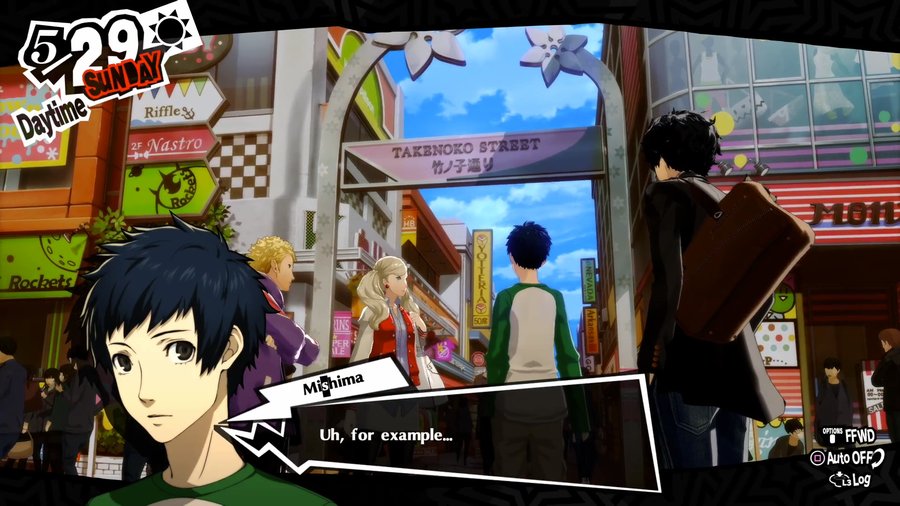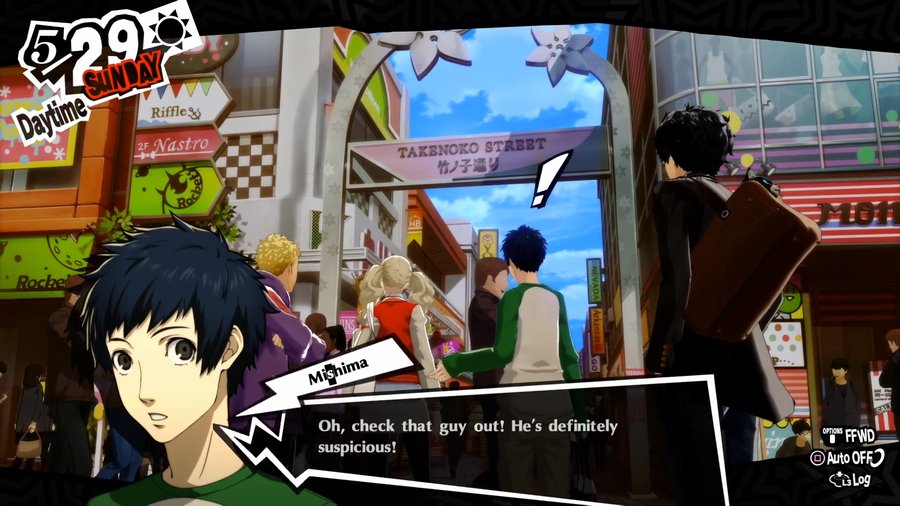 I mean, who wears black leather longcoats at this time of year!? He's gotta be shady! And all those belts must be supplies so he can tie people up…

What, are we scoping out Tetsuya Nomura? …Only the timeliest of jokes in this LP! The cutting edge of comedy!



Oh man… Do you think he's an escaped convict?


No, I'm pretty sure that's just a goth style.


But my phantom thief senses are tingling! Don't you think he's suspicious, Hamiru?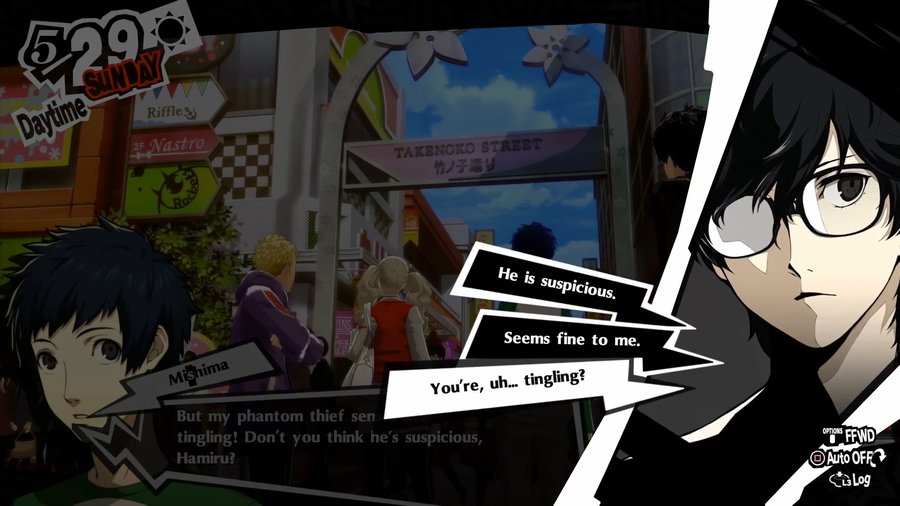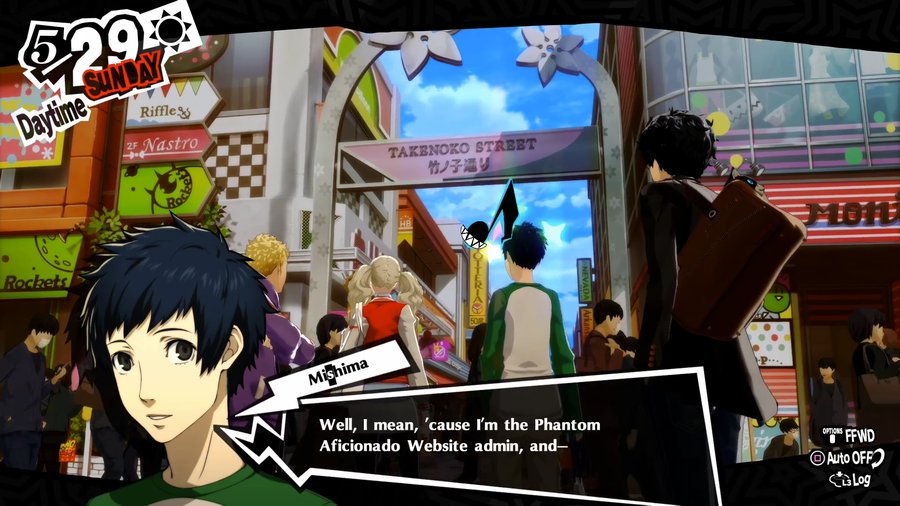 …Look, that's not important! You know what I mean!


If you think he's that suspicious, then go talk to him.


Huh? Me?


You're the one who's all hyped up about this investigation, right? So hey. Go up to the guy and ask. "Yo, Captain Trenchcoat! Sorry to bother you, but are you an escaped convict?"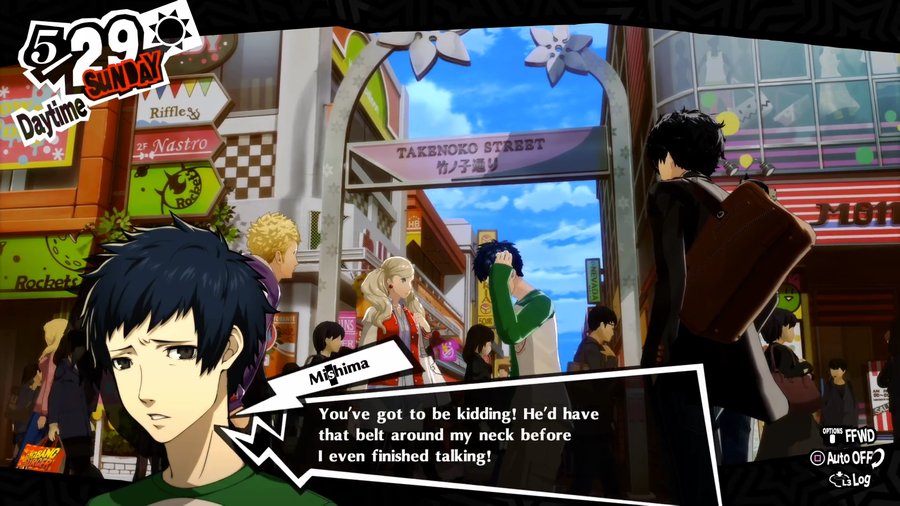 *sigh* …It's normal to see people dressed in unusual clothes here.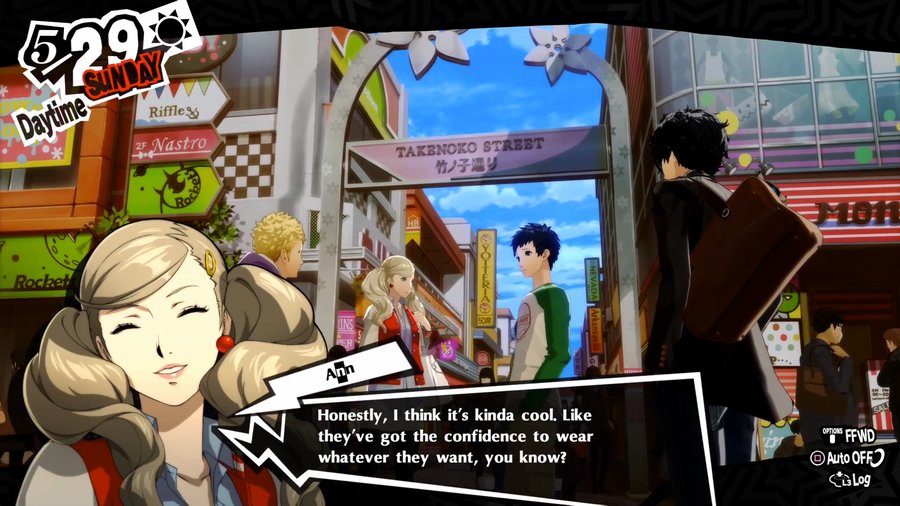 Like… nothing's gonna keep them from expressing their own style.


Cool or not, they're definitely not lettin' anyone hold them back.


What do you think about unique fashion like this, Maaku?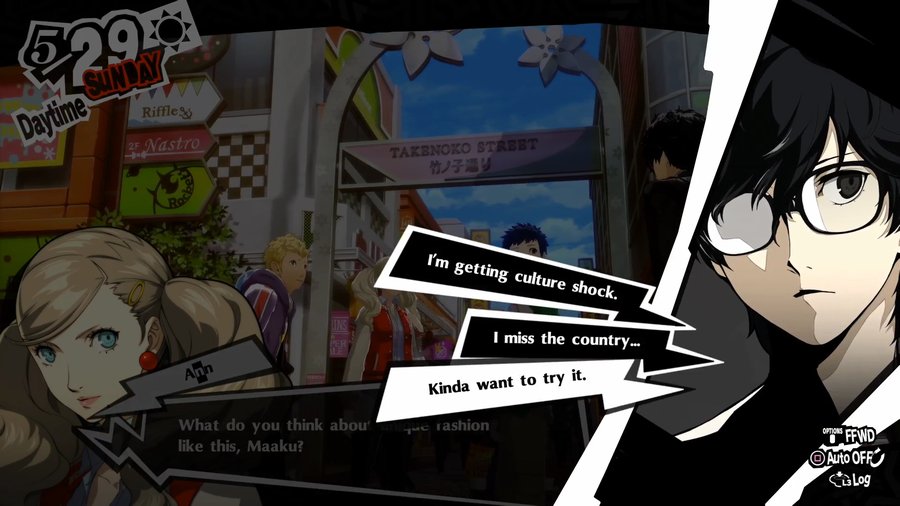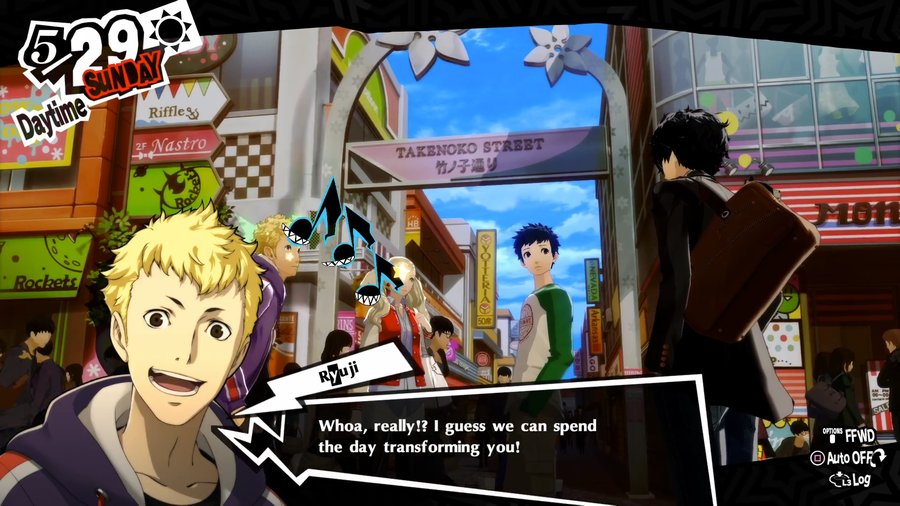 I'm thinkin' heart-shaped glasses… dye your hair red and blue… and we'll get you a big puffy laminated coat.


You just wanna make him wear the weirdest stuff you can find. I'll coordinate Maaku's wardrobe.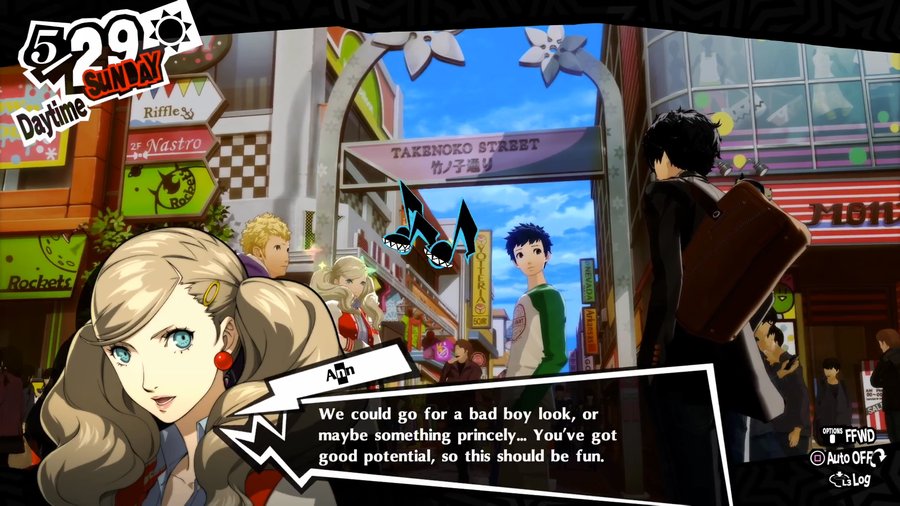 Anyway, no more judging people by their appearance. If they're wearing what they want to wear, that's something to admire. Heck, I'd say it means they're honest. Not like people who seem nice on the outside, but turn out to be terrible.


I guess you're right…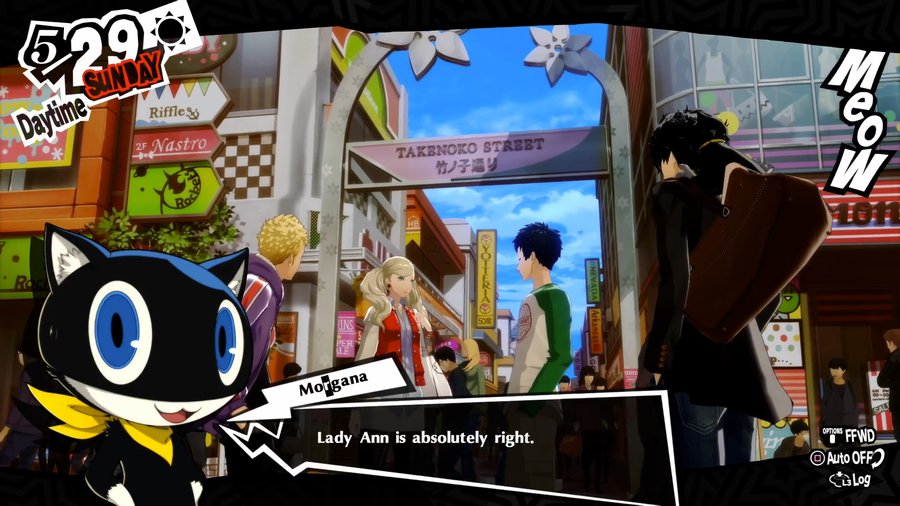 After all, I look like a cat, but I'm actually a dashing, noble gentleman!


Now that I think about it, it's kinda Harajuku-ey to walk around with a cat in a bag.


True! He's like a really specialized fashion accessory.


Is… that a compliment?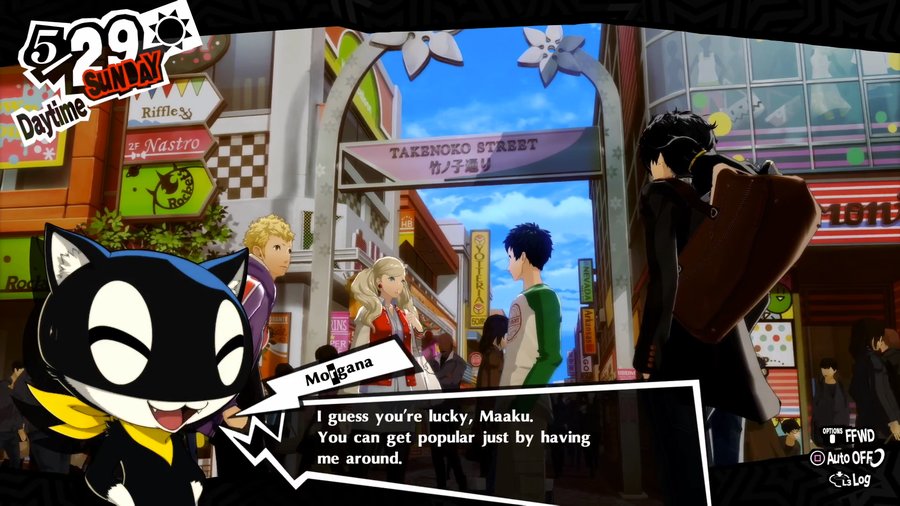 So, Mishima… I take it you didn't actually have any leads here.


…Nope.


*sigh* Yeah, figures. Well, as long as we're here, let's have some fun.


Then let's get Maaku dressed up! Oh, and Mishima too. Maybe Ann can get rid of some of your weird anti-Harajuku prejudice.


Huh!? Me too!?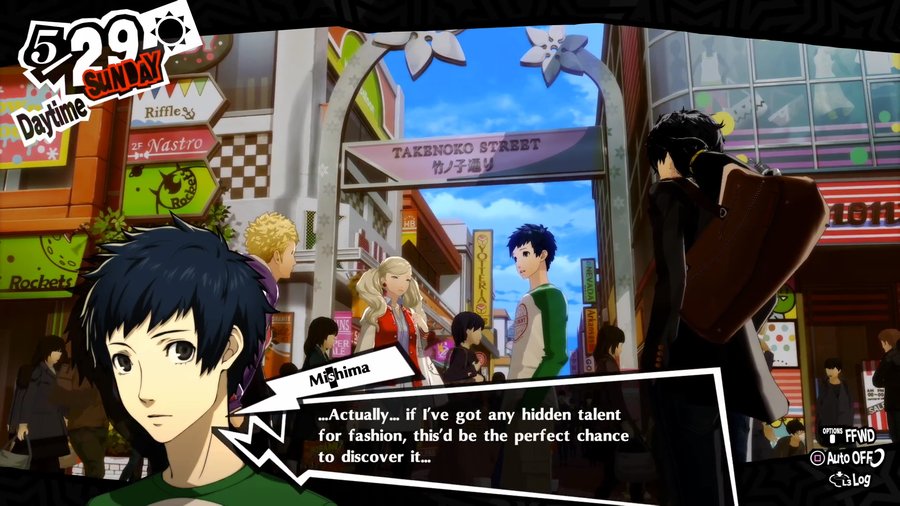 Lady Ann, Lady Ann! Help me get all fashionable too!


All right! We can squeeze in a trip to the pet shop for Morgana!


I'm not a pet!


You know, Hamiru… sometimes it sounds like your cat's really joining in on the conversation…


Then let's get going! Just follow me—I know a place!


It's all you, Ms. Fashionista!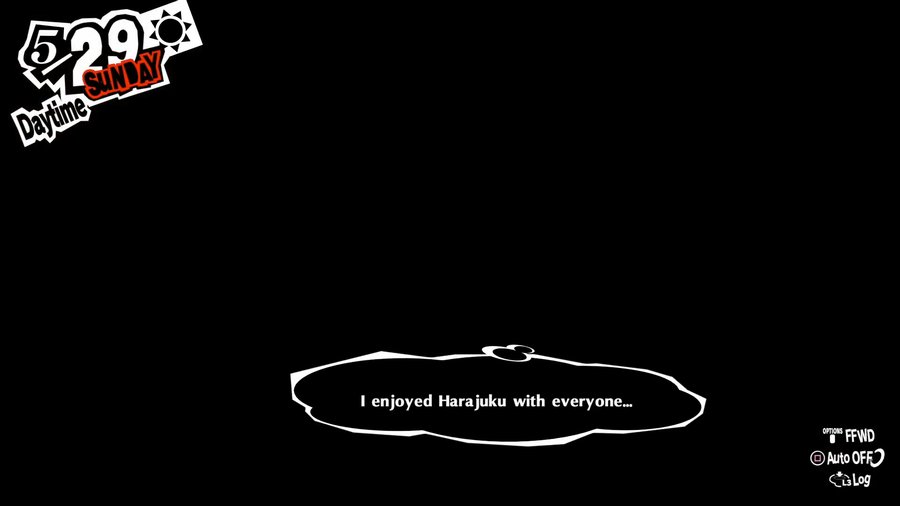 Nifty.

Next up, I was asked after a recent update if I'll ever cover a specific few bits of cut content that didn't make it into the final release of Royal, specifically pertaining to a bunch of "memory" scenes that I believe would have played when you picked up Kamoshida and Madarame's Will Seeds. Well, the answer is "sort of." The only source for this cut content is YouTube videos, and I don't feel all that great about leeching off of the YouTubers who actually captured and translated this stuff, so I won't be screenshotting any of it. What I will do is just link to those videos, they're really interesting and you should just watch them yourself. Credit to YouTubers "Faz" and "bainz", by the way, who've got tons of cut content on their channels.

Video: Kamoshida Memories

The Kamoshida memories tell a decent little story of Kamoshida committing a "youthful" (because his model is exactly the same) indiscretion, trying to own up to it, but going unpunished so that his handler can keep making money off of him. It serves its purpose well and contextualizes the person he became.

Video: Madarame Memories

Madarame's also clarifies that, yep, he absolutely did just let Yusuke's mom die, whoopsidoodle! Other than that, his first and second flashbacks seem to use placeholder models because there is no "younger" version of him in the game, which is a little funny.

Unfortunately, there aren't any of these for most of the other Palace holders. Okumura is the only one remaining with scenes like this dummied out in any version of the game (these scenes were apparently found in the Chinese version files, for the record). There's a lot more cut content, some of which is even dubbed because, I'm guessing, localization is a fucking nightmare and the way the files are organized it's probably safest to just dub everything that was originally voiced even if you know it's not in the game. I'll go into more at a later date.

Now, it's time for the part no one cares about, my thoughts on episodes 5-8 of the anime!

Episode 5


There's an added scene at the start of this one with Akechi and it's where I realize I forgot how weird and bad this show can look at times, both in terms of quality of drawings and how they move.
Lmao, they have to casually drop the "Ann's a model" thing in this buffet scene.
This show loves to jump around in time to make its scenes more efficient, but it's honestly pretty disorienting
Shido! His face is weirdly… angular.
Are they not gonna mention Ren semi-recognizing Shido? That plot point was kinda dumb in the game so whatever
Cutting out the dude actively shoving Ryuji to get him to back away from the elevator really makes this "adults suck, let's keep being the Phantom Thieves!" scene a lot pettier, though at least they show Ann's grievance unlike in the game
Shido is only 53. For some reason I'm surprised by that.
Like 30% of this show by volume is comprised of back-and-forth narration from the characters over montage
YOUNG ROCKER SIGHTED
Why even have them name the team if it's just going to be "The Phantoms?" It sounds lame and they'll probably never actually say it again.
Wow, someone actually acknowledged the blackboard drawing
Mishima's a lot pushier about the Phan-Site than in the game
Okay, the principal sounds real weird here. It's still Richard Epcar, but he's doing a weird older affectation instead of just using his normal voice.
Ah fuck it's the Mementos music
It sounds like they got Nakanohara's voice actor back for this, which is surprising because I have never heard of him before Good on Aniplex, I gue--OH SHIT HE WAS VULCAN RAVEN
Okay, yeah, in context the All-Out Attack looks really goddamn bad. That said, I'm more distracted by that All-out Attack being the literal entirety of the Nakanohara "fight"
Oh my god Ren, do not ingest the mysterious white powder Takemi gave you
They're really shoving Akechi down our throats early huh?
This ED is fucking amazing still
Why is Mishima's chat icon the number 3?
Akechi: stupid (according to Ryuji) with a serious sweet tooth. Yeah, that tracks.

Episode 6


Max Mittelman is giving 110% on every single line read, to the point it's honestly a little distracting
Why is Ryuji playing shogi with Morgana?
Another original song for the anime during this scene where they confront Yusuke about the rumors. That's what, two? Not counting the OP and ED?
Okay, so Yusuke invites them inside this time and shows them an art book with a picture of Sayuri in it instead of bringing it up on his phone. They also move Morgana finding the door to here. I suppose these are sensible changes to consolidate a couple of scenes? Seems like they're probably going to move Yusuke's blackmail to the end of this episode too. It makes sense, but it's still a little funky because you still need to have the latter scene where they push the issue and piss off Yusuke, they haven't actually obviated the need for that scene.
They don't even check the Meta-Nav before writing off Madarame as a Palace holder here, it just pipes up and nags them to do it right when they give up.
Ren, it's really obvious that the Palace would be a museum, you don't have to mind palace this
WHY ARE THE CLOUDS INSIDE THE PALACE MOVING SO QUICKLY (Okay, I actually went and reviewed my game footage for this one, this is not on the anime. They move really quickly in the game as well, it's just harder to notice because of the camera angles. Weird effect nonetheless)
There's a weird beat where Morgana jumps off a railing and lands lack on it with a goofy sound effect and I cannot for the life of me figure out why it exists
I never got the impression that Yusuke was trying to paint a nude portrait of Ann before the blackmail. Part of that's because he didn't ask for permission like an absolute creep!
Holy shit they're skipping the blackmail-as-deadline!? That… works, I suppose?
They're leaning way harder into Ren denying that he's a Phantom Thief to Mishima
And Ren isn't letting Nakanohara see his face during the meetup! Actual intelligence!

Episode 7


Yeah, yeah, Ohya's in this… when the fuck is Tora gonna show up!?
Another weird out-of-order choice, not explaining the change in cognition for the door before the "Ann models for Yusuke" scene.
They fucking cut the music for a second to emphasize Ryuji telling Ann she's "gotta do the nude," and god have mercy on my soul, I actually got a chuckle out of it
Okay, and then one second later Ryuji tells Ann she's gotta "drop trou" like he's a member of motherfucking Tenacious D
Don't think I like that Ren is being a horndog about this
Oh my GOD, Morgana in cat form trying to manipulate a lockpick with his paw
And now Ann throws her bra at Yusuke. Comedy!
Oh weird, they moved the room with the giant painting portals to here
"We can't find our way because we don't have any artistic sense!" Real subtle, Ryuji
For some reason Yusuke landing on his feet catching Ann and immediately getting taken out by Morgana falling was way funnier here.
Kyle Hebert's Madarame sounds totally different under this voice filter
Ever since that fucking Smash Bros. trailer, I have been unable to take Joker having a gun seriously any time I see it. Free me from this agony
Oh my fucking god, this shot:




Goemon sounds completely different than he did in the game
There's a cool shot or two in Yusuke's awakening, when it doesn't look like complete ass
On that note, I think the biggest problem with the art is the flat style. It does the material no favors.
Shadow Madarame can FLY!? Wait, I think he's being lifted by a Koppa Tengu. Still, weird.
"For real?"
They cut Yusuke realizing he doesn't have any money! Fuck this shit!
Though they do add Ryuji's amazing reasoning for rejecting "Da Vinci" as Yusuke's thief name: "It's way too cool."
Aburaage joke still does not fucking land
Ren is responsible here for calling Yusuke "Inari" for the first time. Guess it rubs off on your gremlin sister, huh?
Also realizing they cut the "deactivating security" bit, which makes it pretty weird that Ren and Ryuji had any job at all while Ann and Morgana were unlocking the door
Whoa, Ren, stop yelling at Igor, he's here to help! Well, not really, but whatever!

Episode 8


They're making up for Iwai not getting many lines by getting Kaiji Tang to voice a bunch of one-off characters like the dude who tells Madarame about the calling card
Oh, lol, they're going to handle the Morgana hook plan via recap
Ren, you're getting kind of deep in the weeds with this explanation to Sae. She doesn't actually need to hear that he tricked you and then you fought another shitty CG render, it's implied
Speaking of said render, OH GOD THE TEETH
This is a bit of a tangent, but you know how some animated works will try to convey some eldritch, disgusting, otherworldly evil by making it 3D when everything else is 2D? I understand what they're going for and respect the attempt, but I don't think I've ever once seen it done well (not even in FMA: Brotherhood), which may just mean you actually can't do it convincingly, idk
Ann resists fire, anime! Get it right!
This visual of the face projectile vomiting black paint everywhere is incredibly funny
Looking at the episodes I've covered this time, outside of the Akechi stuff in 5 there's really not a lot of re-interpretation going on here. I don't love every choice made by the P4 anime but it made some interesting changes at least that this one does not.
Right as I finish typing that I realize Madarame didn't tell them about the Black Mask, what the hell!? Maybe they're saving that for a midseason reveal after Kaneshiro?
They tried to replicate the crying Madarame portrait, at least
Please tell me there's at least one scene of Makoto stalking Ren, you can't possibly cut this you stupid show, I need this
Thinking about how the team would need to position their hands so Morgana could get in on the group fistbump and laughing
How are there eight minutes left in this episode? Gonna guess they're gonna move up the scene where the group goes to Leblanc for the first time to fill time
I was right, go me
It's nice that Takemi showed up here even if it was for no reason whatsoever and she got no lines
I haven't recorded this scene yet for Royal so my memories are a little fuzzier, but I'm glad they cut the part where Ann has to shoo off the attempt to look up her skirt
This is actually a good place to put some of this character information for Ryuj--wait, no, this was here in the game too, never mind
Pretty good anime-original song replacing the ED


Finally, if you made it this far, I have an extra treat for you. Well, kind of, it was meant to be in the last Mementos update, but I forgot to actually put it in that update, so I might as well just share it now.

Enjoy.