...Ow ow ow, did we make it through the hole?



That shook a lot less than I thought it would, though.



Akyu, can you check the situation around us?



Yes, the dust is disappati-



Wait, everyone, look outside!



...!



No way! The entire ship fits in the corridor?!



Heeey! This is Marisa, calling from the deck! Something weird's going on here. It's crazy how wide this hallway is.



Yes, I was just noticing that myself. It didn't look nearly this big from the outside...



Doesn't seem like an illusion though. The hallways itself is what's weird here.



How can you make that conclusion so easily?

Because she's Reimu.



Understood. We'll do our own investigation on our end too. Keep a careful eye on your surroundings, and report in if you notice anything.



Yeah, yeah. Hanging up now.



...As you've just heard, it seems we've entered the mansion along with the entire vessel.



If what Reimu said is true, then is there some kind of spatial magic in effect here?



Ran, can you analyze the spell?



I can make an attempt, but I can't seem to grasp its true nature. It does seem to a wide-range spell over the entire mansion though.



Could this be a trap? It's so quiet, it's kind of unnerving.



Even if it is, that doesn't mean we have the option of retreating. This isn't the first time we've encountered something unusual, after all.



We didn't even know our enemies were Lunarians at first, after all~!



Oh yeah, what IS a Lunarian anyway?



Just as it sounds: someone who lives on the moon. Some believe that they have an advanced culture, far beyond what we have on the surface.



Really? I figured there'd be nothing but bunnies up there.



Fundamentally, they're supposed to have been a quiet people who pay the surface no heed. Of course, our current enemies left the moon over a thousand years ago, so I couldn't say if that applies to them as well.



If even Yukari thinks that, then we mustn't get careless.



They have a deep connection to the youkai of the surface, after all.



If we don't know anything, why don't we just ask someone who does? Like her.



Who, me?!



Good idea. I especially wanna ask about that Eirin Yagokoro person.



Rabbit, if you don't mind, could you tell us what you know?



Fine, I get it. I don't know anything more than what's common knowledge on the moon though.



On the moon, everyone knows the name Eirin Yagokoro. She's a famous fugitive.



A wanted woman?!



Yeah, she's a criminal who threw away her life on the moon and fled to the surface. According to the rumors, she was sent down to Earth as the leader of the Lunar emissaries, but once she was there, she slaughtered her entire entourage and vanished.



She killed her own allies? Quite the sinner.



Well, I mean, this happened way in the past, so it might just be a rumor. And anyway, you never hear anything about the higher ups sending anyone to catch her.



Hmm, but as they say: where's there's smoke, there's fire.



If it's true though, then it probably has something to do with what's going on. The full moon is the sole key that binds the Earth to the Moon. By hiding it, she's cutting off travel to and from the moon.



So if she does that, then she can stop pursuers.



...But if that's case, the question becomes why now, after all this time?



Though now that I think about it, the incident began shortly after YOU arrived on the surface...



Ah, maybe she's trying to shelter me?! I bet she sympathized with me as a fellow fugitive!



Nah, that sounds a bit too convenient to me.



We'll just have to ask her in person. Why don't we capture Eirin Yagokoro first?



Then the Palanquin Ship will continue its current course. I'll contact the people who went outside too.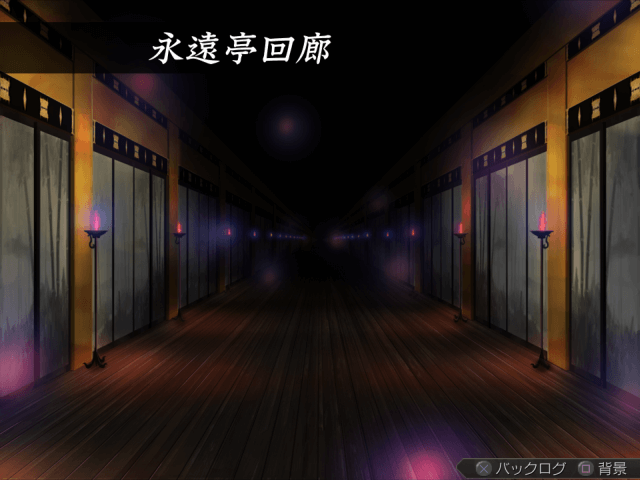 quote:

House of Eternity - Hall
Music: What's the Strategy?

...Got it, so we keep it up.



Yes, and let us know the moment you see anything suspicious.



We'll be on standby to deploy at any time.



What did she say we should do, Hatate?



Just keep it up, she says. We're covering the perimeter.



Yeesh, I shouldn't have stepped out for some fresh air.



Yeah, that's for sure. It's kinda creepy out here.



If being in enemy territory gives you goosebumps, how can you expect to cover this story?



I-I know that! I never said I was scared!



So far, there hasn't been anything unusual. Other than this crazy big hallway, anyway.



I thought Sakuya was the only one who could mess with space like this.



I'm surprised too. It feels strange.



It's not just wide, you know. I'm more interested in all the furnishings. There's not a single thing below a 5 on my rarity meter, and every last one of them is in perfect condition too.



It's almost as if they're brand new.



...But the silence here reminds me of the Netherworld. Doesn't it feel almost like time has been stopped?



True, it might be somewhat similar to that. If it weren't for the urgent situation, this might be enjoyable.



That's right, we have to resolve this incident as quickly as possible, for the Mistress. Who knows what Lady Flan is getting up to, even as we speak?



Oh yeah, your mistress was looking after her little sister. If you ask me, it would've been fine for her to come too though, just this once.



The Mistress has her own designs. As for us, we simply need to resolve this incident as soon as possible.



Don't be hasty, we still don't know what our enemy can do. If we attack thoughtlessly, this may not end in merely a close battle.



She's right, you can't afford to fail. If you get hurt, Remilia would cry her pants off.



What are you implying? I'm just a human, she would never worry about me. To the mistress, humans are just a toy to be play with and thrown away.



She probably means it when she says it, too. Scary.



What's the situation outside, everyone? You haven't contacted us in a while, so we're getting worried.



Yeah, sorry about that. Nothing out of the ordinary. We'll be sure to let you know if the enemy shows up.



Roger that. Then keep up the patrols-



!



Reimu, I sense bloodlust to your left!



Wha-?!

Reimu dodges a big old laser.



No way, I missed again?!



Your shot was perfect too. She's pretty lucky!



That long hair... It's the rabbit we fought before!



Well, this IS the enemy's stronghold. So it's an ambush?



Th-This is bad! I need to retreat...

Reisen and Tewi beat it.



Hey, what's going on down there?!



That rabbit from earlier set another trap! She ran into that door over there!



Tell everyone else that we're going after her!

------



...Oh, you stopped the game. Thanks for your troubles.



But you know, your training is still insufficient. If you ever wish to get even a little stronger, come again soon.



I will be waiting here. Let's meet again in the next battle.